Map
In computing, associative containers refer to a group of class templates in the standard library of the C++ programming language that implement ordered associative arrays.[1] Being templates, they can be used to store arbitrary elements, such as integers or custom classes. The following containers are defined in the current revision of the C++ standard: set, map, multiset, multimap. Each of these containers differ only on constraints placed on their elements. The associative containers are similar to the unordered associative containers in C++ standard library, the only difference is that the unordered associative containers, as their name implies, do not order their elements.
Associative containers (C++)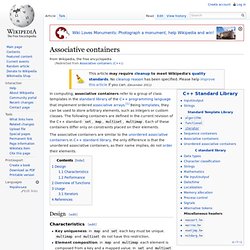 Sparse array example: (why hold space for thousands of elements when all we have is five) Compile: g++ testMap.cpp Run: ./a.out Employees[3374]=Charlie M.
C++: STL Map and MultiMap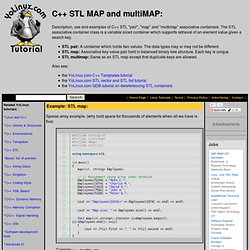 STL Tutorial - Map Class
Suppose that you're working with some data that has values associated with strings -- for instance, you might have student usernames and you want to assign them grades. How would you go about storing this in C++? One option would be to write your own hash table.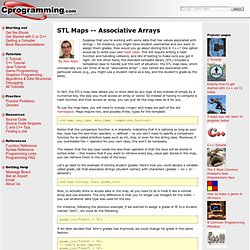 map
map::insert