Java
Get flash to fully experience Pearltrees
Debug Tomcat using Eclipse
SUNY Geneseo, Department of Computer Science by Doug Baldwin Java has a rich toolkit for generating random numbers, in a class named "Random". This document is a quick guide to using Random. Random can generate many kinds of random number, not all of which I discuss here. The best way to think of class Random is that its instances are random number generator objects -- objects that go around spitting out random numbers of various sorts in response to messages from their clients.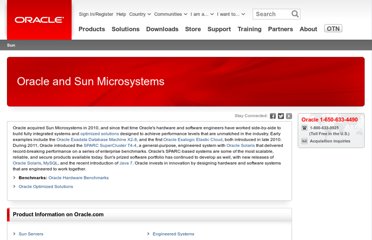 Oracle acquired Sun in 2010, and since that time Oracle's hardware and software engineers have worked side-by-side to build fully integrated systems and optimized solutions designed to achieve performance levels that are unmatched in the industry. Early examples include the Oracle Exadata Database Machine X2-8 , and the first Oracle Exalogic Elastic Cloud , both introduced in late 2010. During 2011, Oracle introduced the SPARC SuperCluster T4-4 , a general-purpose, engineered system with Oracle Solaris that delivered record-breaking performance on a series of enterprise benchmarks. Oracle's SPARC-based systems are some of the most scalable, reliable, and secure products available today. Sun's prized software portfolio has continued to develop as well, with new releases of Oracle Solaris , MySQL , and the recent introduction of Java 7 . Oracle invests in innovation by designing hardware and software systems that are engineered to work together.
Oracle Oracle Technology Network > Java Article Why, Where, and How JavaFX Makes Sense CaptainCasa moved from Swing to JavaFX for front-end infrastructure, explaining that implementing an employee desktop front end with native technology is a valid approach and that JavaFX is a good fit.
Richard G Baldwin (512) 223-4758, baldwin@austin.cc.tx.us , http://www2.austin.cc.tx.us/baldwin/ Command-Line Arguments Java Programming, Lecture Notes # 32, Revised 10/03/99.