Developer
Get flash to fully experience Pearltrees
Go to the next section. @shorttitlepage GNU Make Copyright (C) 1988, '89, '90, '91, '92, '93, '94 Free Software Foundation, Inc.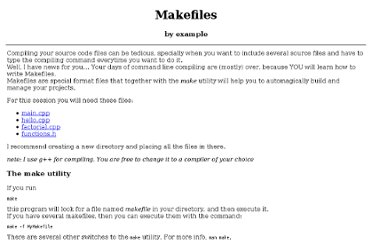 Compiling your source code files can be tedious, specially when you want to include several source files and have to type the compiling command everytime you want to do it.
Introduction Small C/C++ applications with a couple of modules are easy to manage. Developers can recompile them easily by calling the compiler directly, passing source files as arguments.