Mediacenter
Important Notice: Orb shutting down (more info) Orb is committed to giving you seamless access to all your media - where you want it, when you want it. Around the home. Around the globe.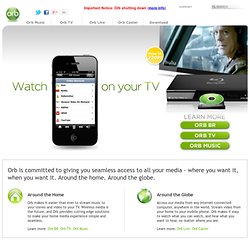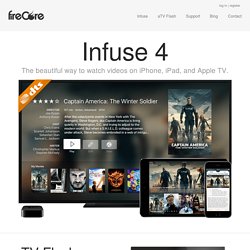 Infuse 2 Learn More The beautiful way to watch videos Ignite your video content with Infuse – the beautiful way to watch videos on an iPhone and iPad.
aTV Flash for Mac - Fire Core, LLC
Sapphire Browser - Home
Sapphire Browser is a plug-in designed to take all the hassle out of managing media collections connected to your Mac or AppleTV. Sapphire has the ability to identify TV Shows and Movies simply by looking at the filename. Once identified, Sapphire will download show/movie information and cover art (from TVRage / IMDB / IMPAwards ) turning your stale file list into something worth looking at. More detailed information can be found in the Screenshots section and under the Resources to the right. Beta 8.0.6 Released, supporting AppleTV Version 3.0Note: Sapphire 1.0b7.8+ contains a component that cannot be redistributed without permission.Sapphire_1.0b8.0.7.zip -or- Sapphire_1.0b8.0.7.shBeta 8 Release Notes Sapphire Browser (1.0b4+) runs on ANY Leopard Mac (Intel / PPC).