Architecture
Architecture and design practice Plystudio have completed an apartment interior called J-Loft in Singapore. The project involved removing all interior walls from the apartment and installing box-shaped divisions and furniture along one side of the 1,200 square foot space. The installed elements comprise storage, fixed seating, worktop surfaces, a bay window and stairs to the attic. The interior is constructed from 12mm plywood, clad in maple veneer. The floor is covered in white-washed teak. Find more information about the project on Plystudio's blog and on their website .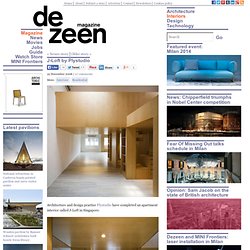 J-Loft by Plystudio
DYNAMIC ARCHITECTURE | ROTATING TOWER
Chanel Mobile Art
Spa Tschuggen Berg OaseMario Botta Architetto
Inca jewellery and Peruvian minery-inspired bridge in development by OOIIO Architecture Designed by Madrid-based practice OOIIO Architecture, the Miraflores-Barranco Pedestrian Bridge is destined to draw strong ties between these two thriving districts in Lima, Peru. Conceptualised as a new landmark for the city, the bridge is currently in design development with an expected completion date of 2016. For OOIIO Architecture this is more than a basic bridge scheme; it is an 'open-air building'. The design has been inspired by Peruvian minery, 'Latin Special Day Objects' such as piñatas, and spiked Inca jewellery.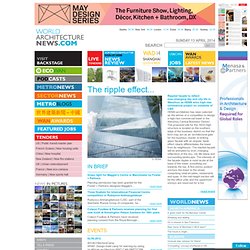 iPhone style icon tutorial
Roof escape window Fire safety and escape consideration, like many safety issues are a topic most people sometimes like to put to one side. Thankfully, virtually all are correct believing 'It will never happen to me'. However, safety issues are regulated and you and future occupants will be pleased to know things are in order.
Loft Conversions fire Resistance Gyprock
MATHAROO ASSOCIATES, Ahmedabad, Architecture