Lectoescritura
Pequeño LdN
Comics
Ordena las palabras y construye oraciones
REGLAS DE ACENTUACIÓN. USO DE LA TILDE
LAS RIMAS
Diccionario de Rimas
The Biographicon
Enlace permanente « Manuel Guerrero Lengua-Literatura » Actualizado el 11.10.09/09:27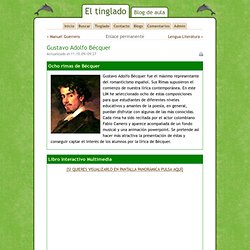 8 rimas de Bequer en un libro interactivo precioso.
Hemeroteca de ABC en linea
crea historias y compártelas en una hoja como la del cuaderno
Historia Interactiva de la Literatura española (muy recomendado)
Activiades para el aprendizaje de la lectoescritura
Museo Internacional del Estudiante - Colecciones
Actividades TIC
Recursos de lectoescritura del CNICE
Lo sentimos, la página solicitada no fue encontrada. Sorry, the requested page was not found. La página solicitada ha cambiado de dirección o ya no existe. The page you are looking for might have been removed, had its name changed, or is temporarily unavailable. Por favor, intente lo siguiente:
PELALLO.LA LENGUA ESCRITA.infantil
Juegos Educativos Vedoque.Lectoescritura infantil
APRENDO UNA NUEVA LETRA.INFANTIL
LEO Y ESCRIBO.INFANTIL
Taller interactivo para el primer y segundo ciclo
Cuentos interactivos segundo ciclo
Cuentos interactivos tercer ciclo
Página con libros escuchados!!!