Fitzgerald
MyStart by Smilebox.com
Les Ressources Humaines sur Internet
mail Orange
Info Obs - "Des Héros ordinaires", la supercherie de Joly - Off de l'Obs
Prochain coup médiatique d'Eva Joly, candidate à la primaire écolo : le lancement d'un site internet consacré aux "héros ordinaires". Une référence au titre de son livre publié en avril 2009 aux éditions Les Arènes. Sur la couverture, son nom s'affichait alors en grosses lettres, au-dessus de celui, plus discret, de Maria Malagardis. Or la journaliste est bien davantage qu'un coauteur ; elle est la rédactrice quasi exclusive de l'ouvrage. Quasi, car on trouve aussi la plume de l'éditeur Laurent Beccaria dans les neuf pages de préambule censées pourtant être écrites par Eva Joly.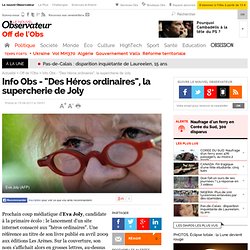 Influences du web et d'Internet sur la société
Les sociétés militaires privées
Welcome to the JLPT Kanji Project A resource to aid the learning of Japanese Kanji. Included in this site is a listing of the full Jouyou Kanji, classified into JLPT levels, with a lookup of vocabulary for each JLPT level. Including printable kanji lists ( Example list ), save kanji and vocab to your folder, and kanji and vocabulary level marks to indicate JLPT level.