Supplies
FREE Downloadable Catalog
LIVING FELT Felting Supplies And Needle Felting Supplies
Living Felt! "I wanted to let you know how much I appreciate your positive attitude you "display" on all of your orders. It's so refreshing to deal with such a kind and uplifting company. I received my first order from you about 3 weeks ago and have placed several orders since.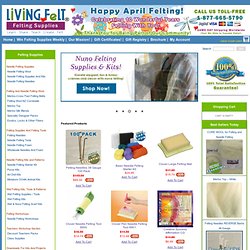 WOOD MINIATURES AND NOVELTIES 9 Pages (388KB) Round Wood Boxes, Wooden Eggs, Apples, Sewing Buttons, Beads, Angel Doll, Bowling Pins, Bats, Yo-Yo, Honey Dipper, Bell, Rings, Napkin Rings, Milk Bottles, Salt and Pepper Set, Bowls, Flower Pots, Scoops, Snowman, Christmas Trees, Wood Blocks, Spools. WOOD CUT-OUTS AND SHAPES 7 Pages (240KB) Wood Hearts, Stars, Holiday, Door Hanger, Country Cut-outs, Christmas Shapes, Boxes Ready to Paint, Transfers for Ready to Paint Boxes.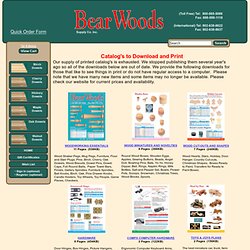 Download Bear Woods Supply Catalog
Canadian Waldorf Toys and Supplies
SURMA -- THE UKRAINIAN SHOP 11 East 7th Street · New York · NY 10003 · USATel: 212 / 477-0729 · Fax: 212 / 473-0439 · Email: surma@brama.comShop Hours: 11am-6pm M-F, 11am-4pm Sat., Closed Sun. · Established 1918 Call us with your order at: 212- 477-0729 or Print this order form directly from your browser and fax it to: 212 - 473-0439. Please use a BLACK MARKER and PRINT LEGIBLY. We accept Visa, MasterCard and American Express.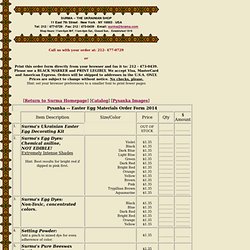 SURMA - The Ukrainian Shop
Egg Shells
Mill Stores - Discount Furniture Outlets - Since 1958
Wood People Pegs
Various Seconds : Caseyswood.com:  Maine based online supplier for wood craft parts
Blown Eggs (Eggshells)
NAKED FURNITURE - TORONTO, ONTARIO, CANADA