Horse crafts
How to Make Model Horse Tied Halters: 20 steps (with pictures) Edit Article Edited by Horsegirl123, Flickety, IsabelleZita, Domin123 and 4 others Making model horse halters is fun, but be warned that it takes a lot of fiddly effort!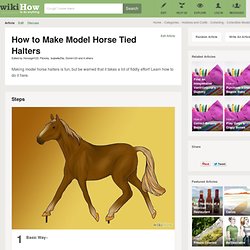 Mighty Minis by Model Horse Jumps. How to Care for a Toy Horse: 23 steps. Edit Article Big BuildingLittle BuildingCareTack Edited by Teresa, Maluniu, Flickety, Jklmo456 and 16 others.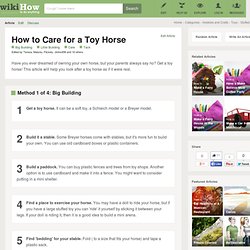 Assemble the Parts of the Jump on the Jump Cups. To fit the parts of the model horse jump together, fit the jump cups into the holes on the rails (not for play use!)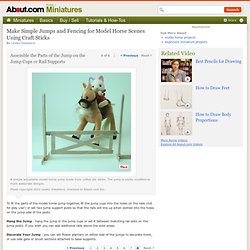 Or set two jump support posts so that the rails will line up when slotted into the holes on the jump side of the posts. Hang the Jump - hang the jump in the jump cups or set it between matching rail slots on the jump posts. If you wish you can add additional rails above the solid areas. Decorate Your Jump - you can set flower planters on either side of the jumps to decorate them, or use side gate or brush sections attached to base supports.