Standards
MPEG LA confirme le statut libre de droit du standard H.264: C'est ce matin que la société MPEG LA a annoncé que... http://bit.ly/998HK2
Ces dernières semaine j'ai vu passer un certain nombre d'articles qui annonçait la mort prochaine de Flash avec l'avènement de HTML 5. Je dois bien avouer ne pas du tout comprendre cette "polémique" dans la mesure où ce sont deux technologies qui ne peuvent pas réellement être comparées. A la limite nous pourrions peut-être comparer les usages que l'on peut en faire (au travers des applications) mais là encore c'est très limité. Avant toute chose remettons tout de suite les choses à leur place : Flash est aujourd'hui déployé sur près de 99% des ordinateurs, alors que HTML5 n'est supporté que par les navigateurs de dernière génération qui représentent à peine 10% du marché (et encore…). Vous pourriez me dire que les parts de marché de ces fameux navigateurs progressent vite, mais il faudra sûrement une décennie avant que HTML5 devienne un standard de facto (pénétration supérieure à 90%).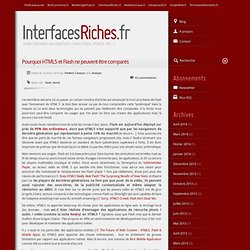 Interfaces riches > Pourquoi HTML5 et Flash ne peuvent être comparés
Maurice Bloggue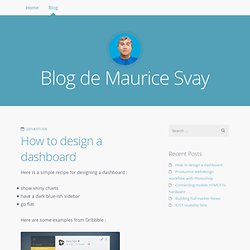 Here is a simple recipe for designing a dashboard : show shiny chartshave a dark blue-ish sidebargo flat Here are some examples from Dribbble : This post is a collection of documents and tools that can improve your Photoshop workflow. It's probably not useful by itself, but is a good place to start when you want to work more efficiently.