Plugins
Windows Live Writer - des plugins et 1 astuce. Ajouter des champs personnalisés au contenu de vos articles ! sur Geekeries.fr | Découvrir WordPress. 137 407 téléchargements - Version 2.1 Note : 4 /5 sur 165 avis. est un plugin spécialement conçue pour la création de champs personnalisés.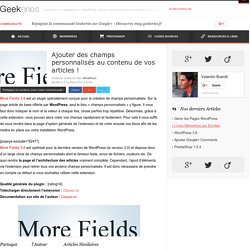 Sur la page article de base offerte par , seul le bloc y figure. Créer un portfolio avec WordPress. Concevoir un portfolio avec WordPress est une question récurrente sur le Web.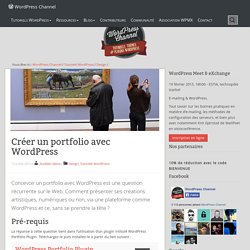 Comment présenter ses créations artistiques, numériques ou non, via une plateforme comme WordPress et ce, sans se prendre la tête ? Pré-requis La réponse à cette question tient dans l'utilisation d'un plugin intitulé WordPress Portfolio Plugin. Téléchargez-le puis installez-le à partir du lien suivant : 20 Must Have WordPress Plugins For Every Website | Carsonified. Une galerie dynamique à intégrer dans vos articles ! sur Geekeries.fr | Découvrir WordPress. 12 034 téléchargements - Version 0.2.5 Note : 4.5 /5 sur 16 avis. est un plugin vous permettant d'intégrer une dynamiques dans vos articles WordPress.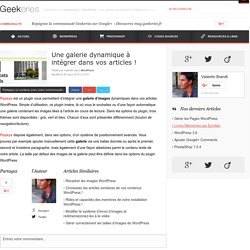 Simple d'utilisation, ce plugin insère, là où vous le souhaitez ou d'une façon automatique une galerie contenant les images liées à l'article en cours de lecture. Dans les options du plugin, trois thèmes sont disponibles : gris, vert et bleu. Chacun d'eux sont présentés différemment ( ). The Ultimate Roundup of WordPress Tutorials, Themes and Guides | Graphic and Web Design Blog. WordPress is the most popular blog software in use today.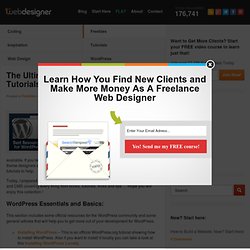 Also developers number is growing so every developer is interested with WordPress development to offer better products for his clients. One of the great things about working with WordPress and developing your own themes is the community and all of the resources that are available. 15 Unconventional Uses of WordPress in Action. Blogging Pro News, plugins and themes for blogging applications.
---