Mystique
Customizing WordPress theme Mystique « Ruben Woudsma
Theme Mystique customization For one of the websites I am maintaining I implemented the Mystique theme of Digital Nature. I was already familiar with the theme's of Digital Nature as I am using it for my own website.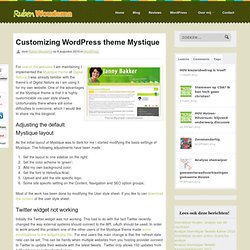 Tribute To Mystique « Tribute To Mystique users
*Buy a new .COM, get one new .INFO for FREE for 1st year only. Not valid on renewals or transfers. Plus ICANN fee of 18¢ per domain per year. † Good for one 1-year registration of any available .COM, .US, .BIZ, .INFO, .NET or .ORG **New .COs, first year only. Offer ends 7/31/2012. ‡ Annual discounts available on NEW purchases only.
Advertisement WordPress' popularity has grown exponentially as of late. This rise in popularity is due in part to WordPress' custom fields.