Headers
15+ Beautiful and Classy Headline Designs. Creating beautiful type treatments is hard work.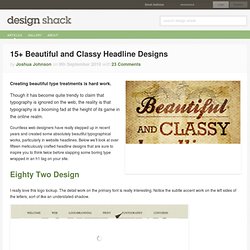 Though it has become quite trendy to claim that typography is ignored on the web, the reality is that typography is a booming fad at the height of its game in the online realm. Countless web designers have really stepped up in recent years and created some absolutely beautiful typographical works, particularly in website headlines. Below we'll look at over fifteen meticulously crafted headline designs that are sure to inspire you to think twice before slapping some boring type wrapped in an h1 tag on your site.
35 Beautiful Web Designs Inspired by Nature. When creating a beautiful and memorable web design, many designers turn to nature to be inspired by the beauty of what surrounds us.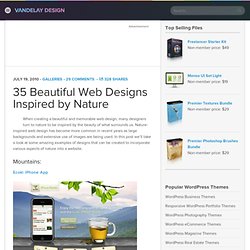 Nature-inspired web design has become more common in recent years as large backgrounds and extensive use of images are being used. In this post we'll take a look at some amazing examples of designs that can be created to incorporate various aspects of nature into a website. Looking for hosting? WPEngine offers secure managed WordPress hosting. You'll get expert WordPress support, automatic backups, and caching for fast page loads. 20 Design Blogs Worth Reading. With so many web design blogs available on the Internet it can be hard to know which ones are worth checking out, so we have compiled a list of 20 web design/development blogs we think you should try and read.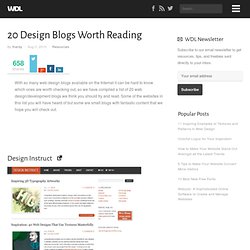 Some of the websites in this list you will have heard of but some are small blogs with fantastic content that we hope you will check out. Design Instruct Design Instruct is a regularly updated web magazine for designers and digital artists where you can find and learn design tips and tricks. Free Web Page Headers - Main Index. CSS3 Design Contest Results - Smashing Magazine. Advertisement To get you really excited about CSS3, last month we announced the CSS3 Design Contest and encouraged designers to experiment and get creative with CSS3.
As expected, we have received many creative and original submissions. To choose the winners of the contest, we considered the originality of the technique or approach and its uniqueness. Heads Up 100 + Beautiful Wordpress Blog Headers | WPin.me Release the Wordpress in you. 35 Fresh FreeFonts for Designers and Developers | Fonts. It's essential for Designers to have a good understanding of typography and selection as the importance of typography in design can't be neglected.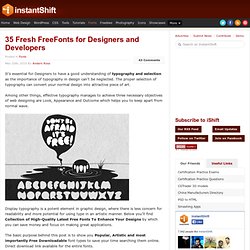 The proper selection of typography can convert your normal design into attractive piece of art. Among other things, effective typography manages to achieve three necessary objectives of web designing are Look, Appearance and Outcome which helps you to keep apart from normal wave. Display typography is a potent element in graphic design, where there is less concern for readability and more potential for using type in an artistic manner. Below you'll find Collection of High-Quality Latest Free Fonts To Enhance Your Designs by which you can save money and focus on making great applications. The basic purpose behind this post is to show you Popular, Artistic and most importantly Free Downloadable font types to save your time searching them online.
---