Women & Democracy
The Ayatollah Under the Bed(sheets) - By Karim Sadjadpour
In the early years of the Iranian Revolution, an obscure cleric named Ayatollah Gilani became a sensation on state television by contemplating bizarre hypotheticals at the intersection of Islamic law and sexuality. One of his most outlandish scenarios -- still mocked by Iranians three decades later -- went like this: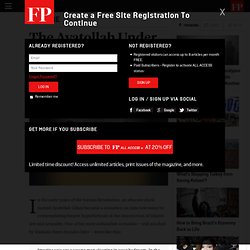 Military court hears evidence in Egyptian "virginity tests" case
February 27, 2012 by Shahira Amin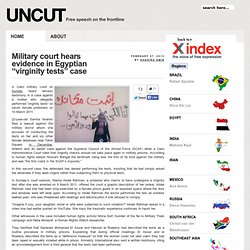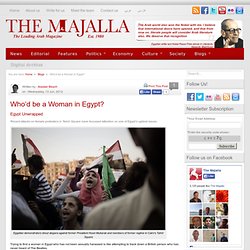 Who'd be a Woman in Egypt?
on : Wednesday, 13 Jun, 2012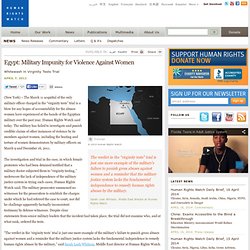 Egypt: Military Impunity for Violence Against Women
(New York) – The March 11 acquittal of the only military officer charged in the "virginity tests" trial is a blow for any hopes of accountability for the abuses women have experienced at the hands of the Egyptian military over the past year, Human Rights Watch said today. The military has failed to investigate and punish credible claims of other instances of violence by its members against women, including the beating and torture of women demonstrators by military officers on March 9 and December 16, 2011.
Who Cares How Many Women Are in Parliament? - By Joshua Foust and Melinda Haring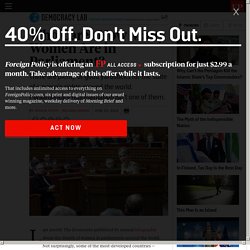 Last month The Economist published its annual infographic about the dearth of women in parliaments around the world.
To Be a Woman in Pakistan: Six Stories of Abuse, Shame, and Survival - Zara Jamal - International
Interviews with a handful of the country's 88 million women and girls Brides-to-be wait during a mass wedding ceremony in Karachi.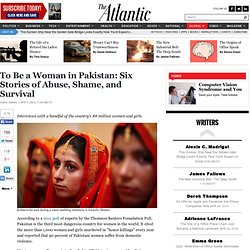 I had been working at a trauma center in Baghdad for some time when an opportunity came up to transfer back to my old job — at a maternity hospital in Sadr City.
In a Baghdad E.R., Women's Psychological Wounds Go Untreated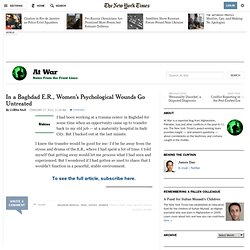 (Beirut) –A court decision on April 22, 2012, cancelling a ministerial order barring women from entry-level jobs at the Justice Ministry is an important victory against legally-sanctioned discrimination in Kuwait, Human Rights Watch said today.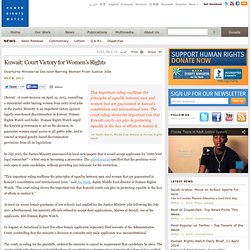 Kuwait: Court Victory for Women's Rights
Status of Women in 'Reformist' Morocco
Just three years ago, a teenager from Western Sahara (which has long been occupied by Morocco) left a human rights meeting, at which point she was accosted, as she reveals in a YouTube video, by six plainclothes Moroccan policemen.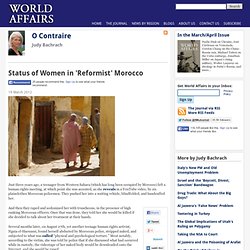 On 9 May 2012, Manal al-Sharif was awarded the Havel Prize for Creative Dissent at the Oslo Freedom Forum in Norway. This came shortly after al-Sharif was honored as one of TIME's 100 Most Influential People in the World at a Gala in New York City.
Saudi Feminism: Between Mama Amreeka and Baba Abdullah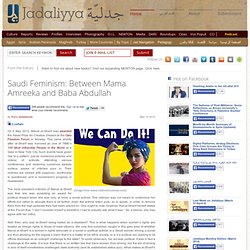 Why Afghan Women Risk Death to Write Poetry
The electoral success of Islamic parties in Egypt, Tunisia and Morocco, has raised worries about policy and legislation on family and gender issues, this despite re-assuring noises from leading figures. Earlier electoral successes of Islamists in Iraq had brought about a disorderly mix of family policies and rule of disparate religious authorities, accompanied by much constraint and intimidation. This may be a good time to reflect on the record of various Middle Eastern countries on these issues over the course of the twentieth and twenty-first century and their relations to political regimes.
Women, democracy and dictatorship
Women's rights and the regulation of gender and sex norms in the Arab world have long been put under the spotlight by local and international activists in addition to local and international politicians and nongovernmental organizations (NGOs). This year, the ongoing uprisings in the Arab world have brought into focus some dominant ways that sexual and bodily rights are framed, gendered, and politicized. These can be grouped under three loose themes, each of which deserves further study: One is the equation of gender with women and/or sexual and gender minorities.
The Uprisings Will be Gendered
Amina Filali was a young Moroccan girl who was raped at the age of 15 then forced to marry her rapist.
Young Women Demanding Justice and Dignity: By All Means Necessary
Women, democracy and dictatorship
Inas Fathy's transformation into a secret agent for the rebels began weeks before the first shots were fired in the Libyan uprising that erupted in February 2011.
Women: The Libyan Rebellion's Secret Weapon | People & Places
How Not to Study Gender in the Middle East
One: Gender is not the study of what is evident, it is an analysis of how what is evident came to be. Two: Before resolving to write about gender, sexuality, or any other practice or aspect of subjectivity in the Middle East, one must first define what exactly the object of study is.
Setbacks For Arab Women Have Outpaced Gains
Culture versus Rights Dualism: a myth or a reality?
Why Do They Hate Us? - By Mona Eltahawy
Between You and Me
Hatred and misogyny in the Middle East, a response to Mona el Tahawy
Politics at the Tip of the Clitoris: Why, in Fact, Do They Hate Us?
Let's Talk About Sex
War of Position and War of Maneuver: Sexperts, Sex Pervs, and Sex Revolutionaries