Women & Democracy
The Ayatollah Under the Bed(sheets) - By Karim Sadjadpour
In the early years of the Iranian Revolution, an obscure cleric named Ayatollah Gilani became a sensation on state television by contemplating bizarre hypotheticals at the intersection of Islamic law and sexuality. One of his most outlandish scenarios -- still mocked by Iranians three decades later -- went like this: Imagine you are a young man sleeping in your bedroom. Military court hears evidence in Egyptian "virginity tests" case
February 27, 2012 by Shahira Amin A Cairo military court on Sunday heard witness testimony in a case against a soldier who allegedly performed "virginity tests" on seven female protesters on 10 March 2011. 22-year-old Samira Ibrahim filed a lawsuit against the military doctor whom she accuses of conducting the tests on her and six other female detainees near Tahrir Square. In December, Ibrahim won an earlier case against the Supreme Council of the Armed Force (SCAF) when a Cairo Administrative Court ruled that virginity checks should not take place again in military prisons.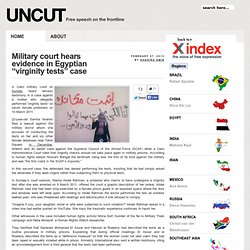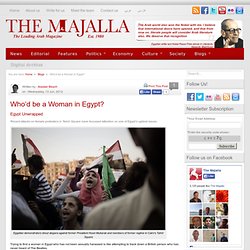 Who'd be a Woman in Egypt?
on : Wednesday, 13 Jun, 2012 Egypt Unwrapped Recent attacks on female protesters in Tahrir Square have focussed attention on one of Egypt's ugliest issues. Egyptian demonstrators shout slogans against former President Hosni Mubarak and members of former regime in Cairo's Tahrir Square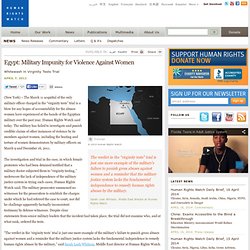 Egypt: Military Impunity for Violence Against Women
(New York) – The March 11 acquittal of the only military officer charged in the "virginity tests" trial is a blow for any hopes of accountability for the abuses women have experienced at the hands of the Egyptian military over the past year, Human Rights Watch said today. The military has failed to investigate and punish credible claims of other instances of violence by its members against women, including the beating and torture of women demonstrators by military officers on March 9 and December 16, 2011. The investigation and trial in the case, in which female protesters who had been detained testified that a military doctor subjected them to "virginity testing," underscore the lack of independence of the military justice system in trying such cases, Human Rights Watch said.
Who Cares How Many Women Are in Parliament? - By Joshua Foust and Melinda Haring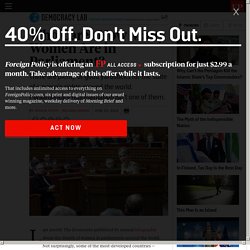 Last month The Economist published its annual infographic about the dearth of women in parliaments around the world. Not surprisingly, some of the most-developed countries -- Sweden, Germany, New Zealand -- top the charts. (Also present are two African countries, Rwanda and South Africa, that have mandated parliamentary quotas for women.) Equitable representation of women in politics and government is an ideal promoted by every development organization and to which every Western government aspires.
To Be a Woman in Pakistan: Six Stories of Abuse, Shame, and Survival - Zara Jamal - International
Interviews with a handful of the country's 88 million women and girls Brides-to-be wait during a mass wedding ceremony in Karachi. Reuters According to a 2011 poll of experts by the Thomson Reuters Foundation Poll, Pakistan is the third most dangerous country for women in the world. It cited the more than 1,000 women and girls murdered in "honor killings" every year and reported that 90 percent of Pakistani women suffer from domestic violence. Westerners usually associate the plight of Pakistani women with religious oppression, but the reality is far more complicated.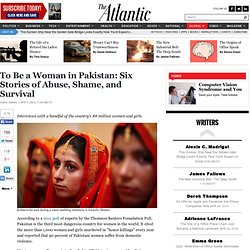 I had been working at a trauma center in Baghdad for some time when an opportunity came up to transfer back to my old job — at a maternity hospital in Sadr City. But I backed out at the last minute. I knew the transfer would be good for me: I'd be far away from the stress and drama of the E.R., where I had spent a lot of time. I told myself that getting away would let me process what I had seen and experienced.
In a Baghdad E.R., Women's Psychological Wounds Go Untreated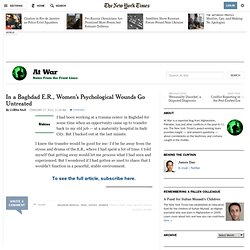 (Beirut) –A court decision on April 22, 2012, cancelling a ministerial order barring women from entry-level jobs at the Justice Ministry is an important victory against legally-sanctioned discrimination in Kuwait, Human Rights Watch said today. Human Rights Watch urged the Kuwaiti government to act on the decision, to guarantee women equal access to all public jobs, and to amend or repeal gender-based discriminatory provisions from all its legislation. In July 2011, the Justice Ministry announced in local newspapers that it would accept applicants for "entry level legal researcher" – a first step to becoming a prosecutor. The advertisement specified that the positions were only open to male candidates, without providing any rationale for the restriction.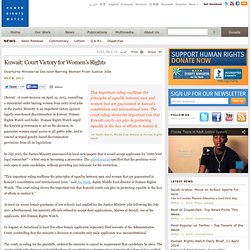 Kuwait: Court Victory for Women's Rights
Status of Women in 'Reformist' Morocco
Just three years ago, a teenager from Western Sahara (which has long been occupied by Morocco) left a human rights meeting, at which point she was accosted, as she reveals in a YouTube video, by six plainclothes Moroccan policemen. They pushed her into a waiting vehicle, blindfolded, and handcuffed her. And then they raped and sodomized her with truncheons, in the presence of high ranking Moroccan officers. Once that was done, they told her she would be killed if she decided to talk about her treatment at their hands. Several months later, on August 27th, yet another teenage human rights activist, Nguia el-Haouassi, found herself abducted by Moroccan police, stripped naked, and subjected to what was called "physical and psychological torture."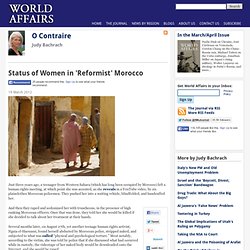 On 9 May 2012, Manal al-Sharif was awarded the Havel Prize for Creative Dissent at the Oslo Freedom Forum in Norway. This came shortly after al-Sharif was honored as one of TIME's 100 Most Influential People in the World at a Gala in New York City. Such events have given rise to a pattern: just as numerous pictures and videos of activists attending various conferences and receiving numerous awards surface, waves of criticism pour in. Their motives are viewed with suspicion, worthiness is questioned, and a movement's progress is reassessed. The most prevalent criticism of Manal al-Sharif was that she was accepting an award for political dissent when she was only, at most, a social activist. This criticism was not meant to undermine her efforts but rather to allocate them a bit further down the activist totem pole, so to speak, in order to remove them from the high pedestal they had been placed on.
Saudi Feminism: Between Mama Amreeka and Baba Abdullah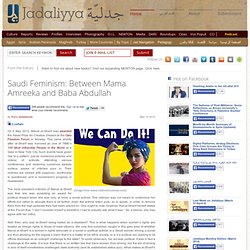 Why Afghan Women Risk Death to Write Poetry
The electoral success of Islamic parties in Egypt, Tunisia and Morocco, has raised worries about policy and legislation on family and gender issues, this despite re-assuring noises from leading figures. Earlier electoral successes of Islamists in Iraq had brought about a disorderly mix of family policies and rule of disparate religious authorities, accompanied by much constraint and intimidation. This may be a good time to reflect on the record of various Middle Eastern countries on these issues over the course of the twentieth and twenty-first century and their relations to political regimes.
Women, democracy and dictatorship
Women's rights and the regulation of gender and sex norms in the Arab world have long been put under the spotlight by local and international activists in addition to local and international politicians and nongovernmental organizations (NGOs). This year, the ongoing uprisings in the Arab world have brought into focus some dominant ways that sexual and bodily rights are framed, gendered, and politicized. These can be grouped under three loose themes, each of which deserves further study: One is the equation of gender with women and/or sexual and gender minorities.
The Uprisings Will be Gendered
Amina Filali was a young Moroccan girl who was raped at the age of 15 then forced to marry her rapist. She was battered, bruised, and starved until she committed suicide in March 2012. She was 16 years old. Contributing to Amina's suicide are her rapist turned husband, article 475 of the Moroccan penal code that absolves an aggressor of his crime once he consents to marrying his rape victim, the judge who called for a mediation instead of a prosecution against the offender, the police, and the religious clerics who have given their blessings to the rapist.
Young Women Demanding Justice and Dignity: By All Means Necessary
Women, democracy and dictatorship
Inas Fathy's transformation into a secret agent for the rebels began weeks before the first shots were fired in the Libyan uprising that erupted in February 2011. Inspired by the revolution in neighboring Tunisia, she clandestinely distributed anti-Qaddafi leaflets in Souq al-Juma, a working-class neighborhood of Tripoli. Then her resistance to the regime escalated. "I wanted to see that dog, Qaddafi, go down in defeat." A 26-year-old freelance computer engineer, Fathy took heart from the missiles that fell almost daily on Col.
Women: The Libyan Rebellion's Secret Weapon | People & Places
How Not to Study Gender in the Middle East
One: Gender is not the study of what is evident, it is an analysis of how what is evident came to be. Two: Before resolving to write about gender, sexuality, or any other practice or aspect of subjectivity in the Middle East, one must first define what exactly the object of study is. Be specific. What country, region, and time period forms the background picture of your study? Furthermore, the terms "Middle East," "the Islamic World" and the "Arab world" do not refer to the same place, peoples, or histories, but the linkages between them are crucial. Moreover, the "state" is a relatively new phenomenon in the Middle East.
Setbacks For Arab Women Have Outpaced Gains
Culture versus Rights Dualism: a myth or a reality?
Why Do They Hate Us? - By Mona Eltahawy
Between You and Me
Hatred and misogyny in the Middle East, a response to Mona el Tahawy
Politics at the Tip of the Clitoris: Why, in Fact, Do They Hate Us?
Let's Talk About Sex
War of Position and War of Maneuver: Sexperts, Sex Pervs, and Sex Revolutionaries