War on Drugs
Mind & Brain::News::December 27, 2011:: ::Email::Print Overstating the dangers of methamphetamine may impede treatment of drug abusers, asserts a review by Columbia University researchers By Gary Stix Crystal methamphetamineImage:
Meth Hype Could Undermine Good Medicine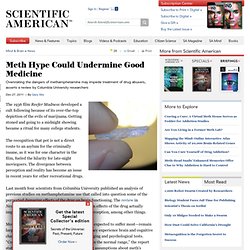 Bath Salts: Deep in the Heart of America's New Drug Nightmare
David Nutt, former adviser to the UK government, says the ban on drugs like ecstasy is hampering neuroscience How do the drug laws in most countries affect scientific research?
Criminalising drugs is harming medical research - opinion - 12 June 2012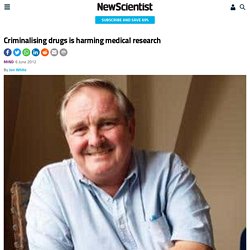 Image: Sébastien Thibault
Experts Tell the Truth about Pot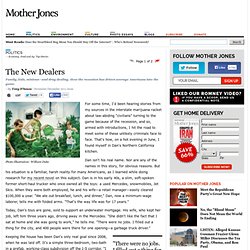 The New Dealers
Photo Illustration: William Duke For some time, I'd been hearing stories from my sources in the interstate marijuana racket about law-abiding "civilians" turning to the game because of the recession, and so, armed with introductions, I hit the road to meet some of these unlikely criminals face to face. That's how, on a hot evening in June, I found myself in Dan's Northern California kitchen.
Shipping Mexican cartel bosses to the U.S. for prosecution could be a recipe for more violence. There were 15 of them, some in tan jumpsuits, all in shackles. It took three flights and throngs of law enforcement officers to transfer them.
How (Not) To Deal with Drug Kingpins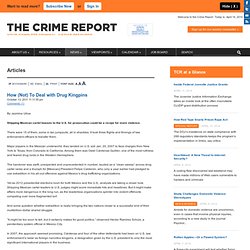 Extraditing Christopher Coke and a Massacre in Jamaica
Most cemeteries replace the illusion of life's permanence with another illusion: the permanence of a name carved in stone. Not so May Pen Cemetery, in Kingston, Jamaica, where bodies are buried on top of bodies, weeds grow over the old markers, and time humbles even a rich man's grave. The most forsaken burial places lie at the end of a dirt path that follows a fetid gully across two bridges and through an open meadow, far enough south to hear the white noise coming off the harbor and the highway. Fifty-two concrete posts are set into the earth in haphazard groups of two and three. Each bears a small disk of black metal and a stencilled number.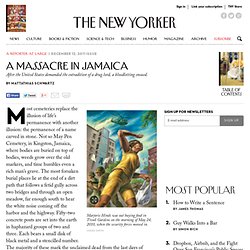 Almost 100 years after the League of Nations' first law on narcotics (drugs), the International Opium Convention of 1912, a report released yesterday, June 2, 2011, says the global war on drugs is a failure and governments need to initiate other policies, including legalizing marijuana and other currently controlled substances. The report, War on drugs by the Global Commission on Drug Policy (GCDP), a think tank that includes former UN secretary-general Kofi Annan, the current prime minister of Greece, the past presidents of Mexico, Brazil and Colombia, along with distinguished world leaders and statesmen, said "the global war on drugs has failed, with devastating consequences for individuals and societies around the world". The international war on drugs has failed – "End the criminalization, marginalization and stigmatization of people who use drugs but who do no harm to others"
War on drugs a failure says international group | photo-journ's newsblog by John Le Fevre
Matt Stoller: Who Wants Keep the War on Drugs Going AND Put You in Debtor's Prison?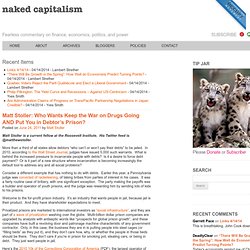 Matt Stoller is a current fellow at the Roosevelt Institute. His Twitter feed is @matthewstoller. More than a third of all states allow debtors "who can't or won't pay their debts" to be jailed. In 2010, according to the Wall Street Journal, judges have issued 5,000 such warrants. What is behind the increased pressure to incarcerate people with debts? Is it a desire to force debt payment?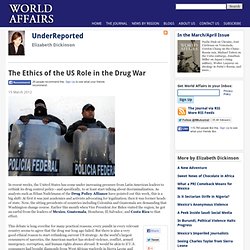 The Ethics of the US Role in the Drug War
In recent weeks, the United States has come under increasing pressure from Latin American leaders to rethink its drug control policy—and specifically, to at least start talking about decriminalization.
What more evidence does the U.S. government need to understand that the current approach to fighting the Mexican drug cartels is failing?
End the Drug War - By Fulton T. Armstrong
The Narco State - By Charles Kenny
Argentina: The New Narco State - By Haley Cohen
Photograph by Peter van Agtmael
150 Miles of Hell 
Never lose track of the load.
Mexico's Sinaloa drug cartel: DEA unravels a cocaine cartel web
Migration is said to be good for host cultures. Geographers, demographers and business people believe it is, especially in the US, where one migrant group after another – Jews, Poles, Italians, Irish – has auditioned for a role in the great musical of American identity. The competition has been bitter, especially between newcomers and predecessors, and the typecasting has been crude, yet sooner or later every minority earns its place in the chorus. Nonetheless there's a growing sense in some parts of the US that enough is enough, the stage is full to capacity and the show can no longer go on as it has. The source of this impatience is illegal immigration from Mexico, which is no longer seen primarily as a supply of service employees, farm labour and building workers, but as a threat to an indebted nation still embroiled in distant wars, with land borders to north and south that it can't patrol as effectively as it would like and unemployment hovering at around 9 per cent.
Jeremy Harding · The Deaths Map: At the Mexican Border · LRB 20 October 2011
Cracking the Mexican Cartels
Should Central America Legalize Drugs? - Ralph Espach - International
An End to the War on Drugs? by Alma Guillermoprieto
Should Central America's drug violence be considered a global crisis?
America's drug war partners are speaking their minds | The Call
Drugs policy: Pills and progress
International Groups Move to Criminalize Fake Drugs
Pot legalization: Why doesn't anyone in Washington take marijuana policy seriously?
Why Can't You Smoke Pot? Because Lobbyists Are Getting Rich Off of the War on Drugs | Drugs