War on Drugs
Meth Hype Could Undermine Good Medicine. The 1936 film Reefer Madness developed a cult following because of its over-the-top depiction of the evils of marijuana.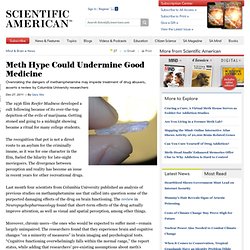 Getting stoned and going to a midnight showing became a ritual for many college students. The recognition that pot is not a direct route to an asylum for the criminally insane, as it was for one character in the film, fueled the hilarity for late-night moviegoers. The divergence between perception and reality has become an issue in recent years for other recreational drugs. Last month four scientists from Columbia University published an analysis of previous studies on methamphetamine use that called into question some of the purported damaging effects of the drug on brain functioning.
The review in Neuropsychopharmacology found that short-term effects of the drug actually improve attention, as well as visual and spatial perception, among other things. Bath Salts: Deep in the Heart of America's New Drug Nightmare. COLUMBUS, OH — On an unseasonably hot and muggy May afternoon, a squad of armed agents from the Franklin County Drug Task Force — some wearing street clothes, some wearing menacing ski masks — swarms into a storefront aptly named the Joint.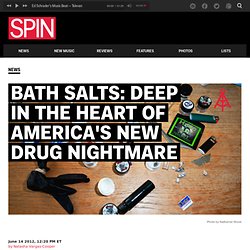 Sandwiched between a liquor store and a sex shop, and adjacent to the Ohio State University campus, the Joint is one of 18 different head shops, gas stations, carryout restaurants, and mini-marts being searched this day by seven task force teams consisting of several dozen officers from numerous local police departments and prosecutors' offices, all spearheaded by the County Sheriff here in the state capital. Make no mistake: This is no ordinary pot bust. Criminalising drugs is harming medical research - opinion - 12 June 2012. David Nutt, former adviser to the UK government, says the ban on drugs like ecstasy is hampering neuroscience How do the drug laws in most countries affect scientific research?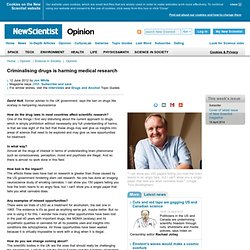 One of the things I find very disturbing about the current approach to drugs, which is simply prohibition without necessarily any full understanding of harms, is that we lose sight of the fact that these drugs may well give us insights into areas of science that need to be explored and may give us new opportunities for treatment. Experts Tell the Truth about Pot. IN THE CLASSIC 1936 cult film Reefer Madness, well-adjusted high school students who try marijuana suddenly sink into a life of addiction, promiscuity, aggression, academic failure, homicide and mental illness.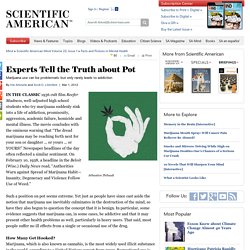 The movie concludes with the ominous warning that "The dread marijuana may be reaching forth next for your son or daughter ... or yours ... or YOURS!" Newspaper headlines of the day often reflected a similar sentiment. On February 10, 1938, a headline in the Beloit (Wisc.) Daily News read, "Authorities Warn against Spread of Marijuana Habit—Insanity, Degeneracy and Violence Follow Use of Weed." Such a position on pot seems extreme. The New Dealers. Photo Illustration: William Duke For some time, I'd been hearing stories from my sources in the interstate marijuana racket about law-abiding "civilians" turning to the game because of the recession, and so, armed with introductions, I hit the road to meet some of these unlikely criminals face to face.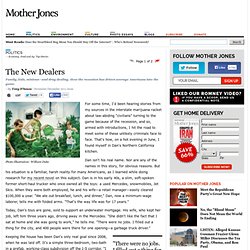 That's how, on a hot evening in June, I found myself in Dan's Northern California kitchen. How (Not) To Deal with Drug Kingpins. Shipping Mexican cartel bosses to the U.S. for prosecution could be a recipe for more violence.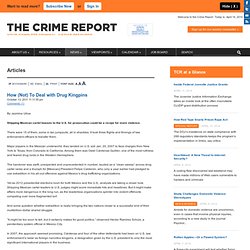 There were 15 of them, some in tan jumpsuits, all in shackles. It took three flights and throngs of law enforcement officers to transfer them. Extraditing Christopher Coke and a Massacre in Jamaica. Most cemeteries replace the illusion of life's permanence with another illusion: the permanence of a name carved in stone.
Not so May Pen Cemetery, in Kingston, Jamaica, where bodies are buried on top of bodies, weeds grow over the old markers, and time humbles even a rich man's grave. The most forsaken burial places lie at the end of a dirt path that follows a fetid gully across two bridges and through an open meadow, far enough south to hear the white noise coming off the harbor and the highway. Fifty-two concrete posts are set into the earth in haphazard groups of two and three. War on drugs a failure says international group | photo-journ's newsblog by John Le Fevre. Almost 100 years after the League of Nations' first law on narcotics (drugs), the International Opium Convention of 1912, a report released yesterday, June 2, 2011, says the global war on drugs is a failure and governments need to initiate other policies, including legalizing marijuana and other currently controlled substances.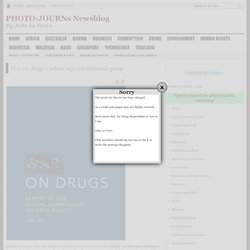 The report, War on drugs by the Global Commission on Drug Policy (GCDP), a think tank that includes former UN secretary-general Kofi Annan, the current prime minister of Greece, the past presidents of Mexico, Brazil and Colombia, along with distinguished world leaders and statesmen, said "the global war on drugs has failed, with devastating consequences for individuals and societies around the world". The international war on drugs has failed – "End the criminalization, marginalization and stigmatization of people who use drugs but who do no harm to others"
Matt Stoller: Who Wants Keep the War on Drugs Going AND Put You in Debtor's Prison? Matt Stoller is a current fellow at the Roosevelt Institute.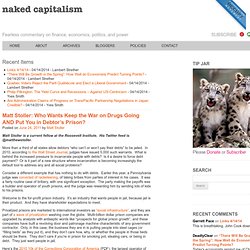 His Twitter feed is @matthewstoller. More than a third of all states allow debtors "who can't or won't pay their debts" to be jailed. In 2010, according to the Wall Street Journal, judges have issued 5,000 such warrants. What is behind the increased pressure to incarcerate people with debts? Is it a desire to force debt payment? The Ethics of the US Role in the Drug War. In recent weeks, the United States has come under increasing pressure from Latin American leaders to rethink its drug control policy—and specifically, to at least start talking about decriminalization.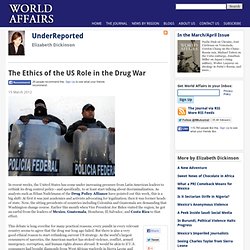 As analysts such as Ethan Nadelmann of the Drug Policy Alliance have pointed out this week, this is a big shift: At first it was just academics and activists advocating for legalization; then it was former heads of state. Now, the sitting presidents of countries including Colombia and Guatemala are demanding that Washington change course. Earlier this month when Vice President Joe Biden visited the region, he got an earful from the leaders of Mexico, Guatemala, Honduras, El Salvador, and Costa Rica to that effect. End the Drug War - By Fulton T. Armstrong. What more evidence does the U.S. government need to understand that the current approach to fighting the Mexican drug cartels is failing?
The U.S. general who commands military forces in North America testified before a Senate committee last week that, while the "decapitation strategy" has succeeded in killing some of Mexico's major drug figures, it "has not had an appreciable effect" in thwarting the drug trade. Regional leaders see it even more dimly, as evidenced by their frustrated reactions to Vice President Joseph Biden's visit to Mexico and Central America this month. That trip suggested the White House just doesn't grasp that the approach launched by George W. Bush's administration in 2007, and continued essentially unchanged by President Barack Obama, has been irrelevant at best and disastrous at worst.
Mexico is far from being a "failed state," but its skyrocketing violence threatens our interests as well as its own. The Narco State - By Charles Kenny. America's longest running war -- the one against drugs -- came in for abuse this weekend at the Summit of the Americas. The abuse is deserved. Forty years of increasingly violent efforts to stamp out the drug trade haven't worked. And the blood and treasure lost is on a scale with America's more conventional wars. Argentina: The New Narco State - By Haley Cohen. BUENOS AIRES — Last September, Argentine Judge Carlos Olivera Pastor emerged from his courthouse in the northwestern province of Jujuy to find a box next to his parked car. Numbered as if it held judicial files, Pastor removed the box's top and found instead a decapitated head, the eyes glassy and open.
In October, two men savagely assaulted a penal secretary from the same district, warning that the next time they would murder him. According to officials at SEDRONAR, a government agency that fights addiction and drug trafficking, most of the drugs that enter Argentina pass through the sparsely populated northwest of the country, and the judges, who frequently handle drug-related cases, avowed narco-traffickers were responsible for the incidents.
150 Miles of Hell  Photograph by Peter van Agtmael In late 2010, after the ninth corpse or body part had been discovered on his ranch in a span of 12 months, David Lowell sat down and drafted a document that he later took to calling, with a grain of dark pride, "my map of atrocities. " Lowell lives in southern Arizona, 11 miles north of Mexico, in a hinterland canyon in the middle of the busiest drug- and human-smuggling corridor in the United States. Lowell's map, "Sites of Recent Border Violence Within the Atascosa Ranch," renders the ranch boundary as a thick black line. Mexico's Sinaloa drug cartel: DEA unravels a cocaine cartel web. Reporting from Calexico, Calif.— Never lose track of the load. It was drilled into everybody who worked for Carlos "Charlie" Cuevas.
Jeremy Harding · The Deaths Map: At the Mexican Border · LRB 20 October 2011. Cracking the Mexican Cartels. Should Central America Legalize Drugs? - Ralph Espach - International. An End to the War on Drugs? by Alma Guillermoprieto. Should Central America's drug violence be considered a global crisis? America's drug war partners are speaking their minds | The Call. Drugs policy: Pills and progress. International Groups Move to Criminalize Fake Drugs. Pot legalization: Why doesn't anyone in Washington take marijuana policy seriously? Why Can't You Smoke Pot? Because Lobbyists Are Getting Rich Off of the War on Drugs | Drugs.
---