The Human Mind
The Emperor's New Drugs: Exploding the Antidepressant Myth by Irving Kirsch Basic Books, 226 pp., $15.99 (paper)
The Epidemic of Mental Illness: Why? by Marcia Angell
The brains of children from violent homes function like those of soldiers when it comes to detecting threats. Eamon McCrory at University College London used fMRI to scan the brains of 20 outwardly healthy children who had been maltreated and 23 "controls" from safe environments. During the scans, the children, aged 12 on average, viewed a mixture of sad, neutral and angry faces. When they saw angry faces, the maltreated children showed extra activity in the amygdala and the anterior insula, known to be involved in threat detection and anticipation of pain.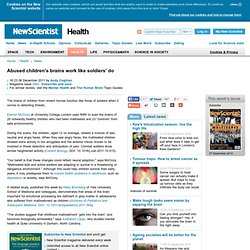 Abused children's brains work like soldiers' do - health - 06 December 2011
Does Post-Traumatic Stress Disorder Require Trauma?
Image: Lino Stress is an inevitable part of our life. Yet whether our daily hassles include the incessant gripes of a nasty boss or another hectoring letter from the Internal Revenue Service, we usually find some way of contending with them. In rare instances, though, terrifying events can overwhelm our coping capacities, leaving us psychologically paralyzed. In such cases, we may be at risk for post-traumatic stress disorder (PTSD).
Gene Study Links Stronger Memories, PTSD
BOUNCY BRAIN: Old brains preserved in gelatinous celloidin promise new insights into mental illness. But first scientists must figure out how to extract their DNA.Image: University of Indiana/Indiana Medical History Museum Among the bloodletting boxes, ether inhalers, kangaroo-tendon sutures and other artifacts stored at the Indiana Medical History Museum in Indianapolis are hundreds of scuffed-up canning jars full of dingy yellow liquid and chunks of human brains. Until the late 1960s the museum was the pathology department of the Central Indiana Hospital for the Insane. The bits of brain in the jars were collected during patient autopsies performed between 1896 and 1938. Most of the jars sat on a shelf until the summer of 2010, when Indiana University School of Medicine pathologist George Sandusky began popping off the lids.
Shelf-Preservation: Researchers Tap Century-Old Brain Tissue for Clues to Mental Illness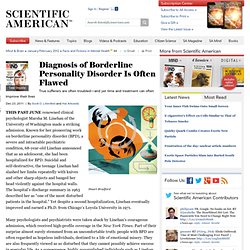 Mind & Brain::Facts and Fictions in Mental Health::January 4, 2012:: ::Email::Print See Inside True sufferers are often troubled—and yet time and treatment can often improve their lives By Scott O. Lilienfeld and Hal Arkowitz Image: Stuart Bradford
Diagnosis of Borderline Personality Disorder is Often Flawed
Very Good Description of Schizophrenia stock photos images
A new finding in brain science reveals that the voices in a schizophrenia patient's head can drown out voices in the real world — and provides hope that people with the disorder can learn to ignore hallucinatory talk. The new research pulls together two threads in earlier schizophrenia studies. Many scientists have noticed that when patients hallucinate voices, neurons in brain regions associated with processing sounds spontaneously fire despite there being no sound waves to trigger this activity.
Study: Schizophrenia's Hallucinated Voices Drown Out Real Ones | Mental Illness, Mental Disorders & Mental Health | Delusions & Hallucinations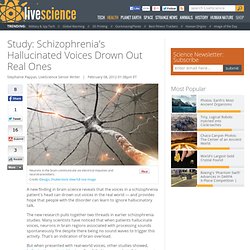 TWIN studies have shown that people with schizophrenia and bipolar disorder have changes in gene activity caused by their environment. The finding provides the strongest evidence yet that such gene changes might cause the conditions. Jonathan Mill at the Institute of Psychiatry, King's College London, and colleagues scanned the genome of 22 pairs of identical twins - chosen because one twin in each pair was diagnosed with schizophrenia or bipolar disorder. As expected, the twins had identical DNA.
Epigenetic clue to schizophrenia and bipolar disorder - health - 30 September 2011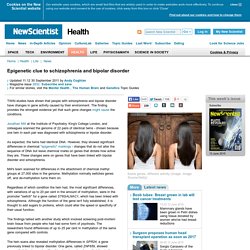 Schizophrenia's Core Genetic Features Proposed
Schizophrenia could be a profound form of jetlag in which the brain's central clock runs out of kilter with peripheral clocks around the rest of the body. People with the illness often complain of sleeping difficulties, and last month a study of 20 people with schizophrenia confirmed that sleep disruption is common and not down to their medication or lifestyle (British Journal of Psychiatry), DOI: 10.1192/bjp.bp.111.096321). Now we may be closer to understanding why: a genetic mutation that triggers schizophrenia-like symptoms in mice also appears to disrupt their circadian rhythm or body clock.
Disrupted body clock may prime you for schizophrenia - health - 19 January 2012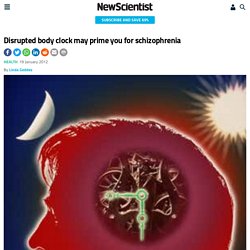 Epigenetics Offers New Clues to Mental Illness
Mind & Brain::Feature Articles::December 5, 2011:: ::Email::Print See Inside Experience may contribute to mental illness in a surprising way: by causing "epigenetic" changes—ones that turn genes on or off without altering the genes themselves By Eric J. Nestler In Brief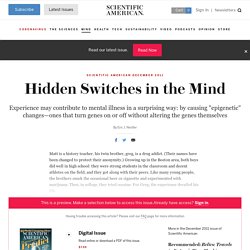 Treating schizophrenia: Game on
Michael Merzenich has courted controversy with his brain-training software. Now he is trying to get it approved by the Food and Drug Administration. The intersection of Mission and Sixth streets in San Francisco's South of Market neighbourhood is considered one of the most crime-riddled in the city. Liquor shops, adult bookshops and single-resident-occupancy hotels inhabit most of the buildings. Homeless people sit on the pavements or shuffle by, many of them showing symptoms of mental illness or drug abuse.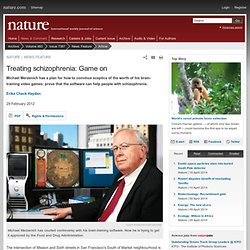 How Violent Sex Helped Ease My PTSD - Media
It was my research editor who told me it was completely nuts to willingly get fucked at gunpoint. That's what she called me when I told her the story. We were drunk and in a karaoke bar, so at the time I came up with only a wounded face and a whiny, "I'm not completely nuuuuts!"
Mind & Brain::Mind Matters::July 26, 2011:: ::Email::Print New research sheds light on how and why we remember dreams--and what purpose they are likely to serve By Sander van der Linden What is happening?
The Science Behind Dreaming
Sleeplessness Agitates The Brain
Study: Nicotine Is Good for You
Been There, Done That—or Did I?: Déjà Vu Found to Originate in Similar Scenes
Mind & Brain::News::June 6, 2012:: ::Email::Print Misplaced scene familiarity may provide an explanation for déjà vu other than superstition. The knowledge could also be applied to treatments for the memory-impaired By Charles Q. Choi
Mind & Brain::Features::February 4, 2012:: ::Email::Print Prisoners suffer disproportionately from past traumatic brain injuries. Researchers are hunting for the best tools to treat this population in an effort to help them reintegrate into society--and avoid re-incarceration By Katherine Harmon Hitting prisoners hard: Traumatic brain injuries, including previous concussions, affect a disproportionate segment of incarcerated adults--and might be to blame for behavioral issues and many cases of re-arrest.Image: iStockphoto/LOUOATES
Brain Injury Rate 7 Times Greater among U.S. Prisoners
Jolt To Brain Aids Language Recovery
Mind & Brain::News::March 13, 2012:: ::Email::Print Neurologists search for a novel genetic mutation to explain why an Australian boy's brain has been withering since birth By Ferris Jabr CEREBRAL SHRINKAGE: A 9-year-old Australian boy's brain has been shrinking since birth. He may have an unidentified neurodegenerative disorder. [Brain shown here is not Jason Egan's]Image: John A Beal, WIkimedia Commons
9-Year-Old Boy's Shrinking Brain Disorder Baffles Doctors
Explosions cause brain damage through head movement - health - 16 May 2012
Self-Worth Shattering: A Single Bomb Blast Can Saddle Soldiers with Debilitating Brain Trauma
Cracks in the Plaques: Mysteries of Alzheimer's Slowly Yielding to New Research
Cancer Drug May Have Alzheimer's Benefits
Alzheimer's Disease Advance
Protein Tweak May Trigger Alzheimer's
An Alzheimer's Gene - One Family's Saga
Like A Prion, Alzheimer's Protein Seeds Itself In The Brain
The Upside of Dyslexia
Is Pornography Driving Men Crazy? - Naomi Wolf - Project Syndicate
Cocaine Habit Ages Brain Prematurely
Elliot Krane: The mystery of chronic pain
The Brain: A Tiny Key to a Terrible Lock | Mind & Brain
Quantum dots control brain cells for the first time - health - 14 February 2012
Going Under: What we don't know about anesthetics – Boing Boing
ADHD: Backlash to the Backlash | Guest Blog
In Blur of A.D.H.D., Sleep Troubles May Be a Culprit
Not-So-Quick Fix: ADHD Behavioral Therapy May Be More Effective Than Drugs in Long Run
Listening to Xanax
Why Migraines Strike
Extreme Eaters Show Abnormal Brain Activity
Erasing Painful Memories: Drug and Behavioral Therapies Will Help Us Forget Toxic Thoughts
Gene Hunt Is On for Mental Disabilities in Children