The Americas
Haiti. Nicaragua. Brazil. The USA. Canada. Cuba. Mexico. Bolivia. Guatemala. Venezuela. Colombia. Uruguay: First to Ratify Domestic Workers Convention. (New York) – Uruguay's move to be the first country to ratify the international Domestic Workers Convention brings long overdue protections closer to reality for millions of women and girls worldwide, Human Rights Watch said today.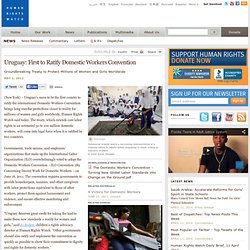 The treaty, which extends core labor rights to an estimated 50 to 100 million domestic workers, will come into legal force when it is ratified by two countries. Governments, trade unions, and employers' organizations that make up the International Labor Organization (ILO) overwhelmingly voted to adopt the Domestic Workers Convention – ILO Convention 189 Concerning Decent Work for Domestic Workers – on June 16, 2011. The convention requires governments to provide housekeepers, nannies, and other caregivers with labor protections equivalent to those of other workers, protect them against harassment and violence, and ensure effective monitoring and enforcement. "Chile in the Streets" by Ricardo Lagos. Exit from comment view mode.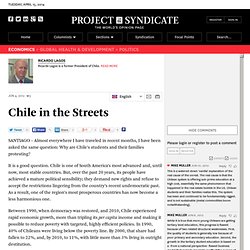 Click to hide this space SANTIAGO – Almost everywhere I have traveled in recent months, I have been asked the same question: Why are Chile's students and their families protesting? More killings as Honduran journalists "preyed on" by criminal and political network. May 17, 2012 by Ana Arana Honduran radio journalist Ángel Alfredo Villatoro was found dead on Tuesday, 15 May, six days after he was kidnapped on his way to work at HRN Radio in the capital city of Tegucigalpa.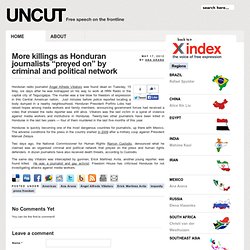 The murder was a low blow for freedom of expression in this Central American nation. Just minutes before police reported locating a body dumped in a nearby neighbourhood, Honduran President Porfirio Lobo had raised hopes among media workers and family members, announcing government forces had received a video that showed the radio reporter was still alive. Nation-building in Sri Lanka: the potential and the promise. As Sri Lanka makes its way from a post-war phase to a post-conflict phase, the potential, the challenges and the successes are worthy of reflection.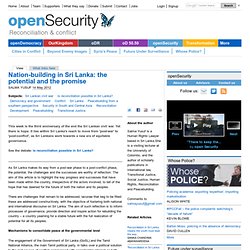 The aim of this article is to highlight the key progress and successes that have been made within the country, irrespective of the actors involved, to tell of the hope that has dawned for the future of both the nation and its peoples. There are challenges that remain to be addressed, lacunae that beg to be filled: these are addressed constructively, with the objective of fostering both national and international discourse on Sri Lanka.
El Salvador
Should Central America Legalize Drugs? - Ralph Espach - International. Some regional leaders say it could bring peace and much-needed tax revenue, but both they and supporters of the drug war are missing the real problem.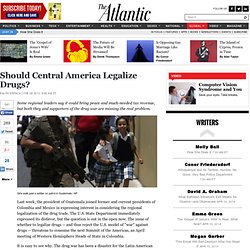 Girls walk past a soldier on patrol in Guatemala / AP Last week, the president of Guatemala joined former and current presidents of Colombia and Mexico in expressing interest in considering the regional legalization of the drug trade. The U.S. State Department immediately expressed its disfavor, but the question is out in the open now. Colombia and Mexico push for drugs debate.
The Narco State - By Charles Kenny. America's longest running war -- the one against drugs -- came in for abuse this weekend at the Summit of the Americas. The abuse is deserved. Forty years of increasingly violent efforts to stamp out the drug trade haven't worked. And the blood and treasure lost is on a scale with America's more conventional wars. On the upside, we know that an approach based around treating drugs as a public health issue reaps benefits to both users and the rest of us. President Otto Perez Molina of Guatemala opened the rhetorical offensive against the drug war last week when he wrote that "decades of big arrests and the seizure of tons of drugs" have not stopped "booming" production and consumption. An End to the War on Drugs? by Alma Guillermoprieto. As a normally pro-forma gathering of hemispheric leaders gets under way in Cartagena, Colombia, this weekend, Latin America could instead be approaching its declaration of independence from the United States.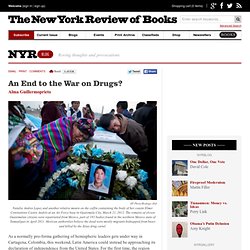 For the first time, the region might come out against a US policy. The change in what seemed to be an immovable subservience has come gradually, but the immediate cause is drugs, and the surprising agent is Otto Pérez Molina, retired general, former intelligence chief, graduate of the Pentagon's School of Americas, and now the new president of Guatemala. Pérez Molina is no stranger to the War on Drugs. He campaigned for president promising to bring out the country's dreaded Kaibil Army special forces against the drug trade; Guatemalan voters, judging crime and insecurity to be their greatest concern, elected him in November. Should Central America's drug violence be considered a global crisis? A new report from the U.N.'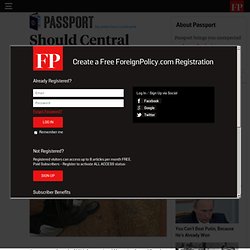 S International Narcotics Control Board contains more grim news about the drug violence in Central America: In Central America, the escalating drug-related violence involving drug trafficking, transnational and local gangs and other criminal groups has reached alarming and unprecedented levels, significantly worsening security and making the subregion one of the most violent areas in the world. Crime and drug-related violence continue to be key issues of concern in Central American countries. Drug trafficking (including fighting between and within drug trafficking and criminal organizations operating out of Colombia and Mexico), youth-related violence and street gangs, along with the widespread availability of firearms, have contributed to increasingly high crime rates in the subregion. "Beating the Drug-War Addiction" by Juan Gabriel Tokatlian. Exit from comment view mode.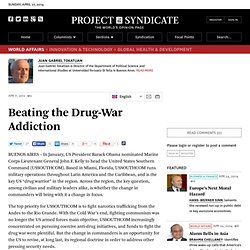 Click to hide this space BUENOS AIRES – In January, US President Barack Obama nominated Marine Corps Lieutenant General John F. Kelly to head the United States Southern Command (USSOUTHCOM). Based in Miami, Florida, USSOUTHCOM runs military operations throughout Latin America and the Caribbean, and is the key US "drug warrior" in the region. Good Times Down Latin America's Way - Jorge G. Castañeda. Exit from comment view mode.
Click to hide this space MEXICO CITY – For Latin America, 2011 was, in Frank Sinatra's terms, a very good year – and 2012 doesn't look like being so bad either. "The Andean Engagé" by Jorge G Castañeda. Exit from comment view mode. Click to hide this space MEXICO CITY – The role of the politically committed intellectual has a long and ubiquitous history. The Spanish-French novelist and screenwriter Jorge Semprún, who died recently, was for many years a member of the Spanish Communist Party's Central Committee, and subsequently served as Minister of Culture in Spain's first post-Franco Socialist government.
Dissidents like Václav Havel had a decisive impact in the downfall of Eastern Europe's communist regimes. Latin America's Monetary-Policy Test - Andrés Velasco. Exit from comment view mode. Click to hide this space SANTIAGO – On matters of sex, the citizens of mostly Roman Catholic Latin America often proclaim one thing and practice something very different. Latin America's Stymied Innovators - Andrés Velasco. Exit from comment view mode. Click to hide this space Comments View/Create comment on this paragraph SANTIAGO – First, there was one disappointed foreign entrepreneur. In December, Israeli venture capitalist Arnon Kohavi, whose firm had been lured to Chile by a government program to promote startups, announced that he was leaving. "A handful of monopolistic families control the country," Kohavi declared to an online magazine.
Southern Resilience - Paulo M. Levy. Exit from comment view mode. Click to hide this space RIO DE JANEIRO – Latin America's resilience in the aftermath of the 2008 financial crisis has been remarkable, especially when compared to the region's performance in the 1980's and 1990's. Foreign Affairs Focus On: Latin America With Christopher Sabatini. "The Summit of Muted Intentions" by Jorge G. Castañeda. Exit from comment view mode.
Click to hide this space MEXICO CITY – The Summit of the Americas, which takes place roughly every three years, could be viewed as the sort of Latin American boondoggle that convenes heads of state for a few days, either south or north of the Rio Grande, to make endless speeches that lead nowhere. But every now and then, the Summit – an American initiative launched by US President Bill Clinton in 1994 – actually helps to place key issues on the hemispheric table. One such issue was the so-called Free-Trade Area of the Americas, which was proposed by former US President George H.W. Bush in 1990, and then collapsed at the Mar del Plata summit in Argentina in 2005. The Land of Too Many Summits - By Christopher Sabatini. At Summit of the Americas, Washington Looks Behind the Times. At Historic Summit, Obama Rejects Fed Up Latin American Leaders' Calls for Drug Legalization | Drugs.
The Fallout From Washington's Time Warp on Cuba.
---