Russia & Asia
Imagine the strongman leader of a strategic, Western-friendly, Muslim-majority nation blatantly rigging an election to exclude dissident voices from his puppet parliament. Ring any bells? A year after two Arab presidents, Tunisia's Zine El Abidine Ben Ali and Egypt's Hosni Mubarak, were chased from office, launching the Arab Spring, it should sound familiar.
Will There Be a Central Asian Spring?- By Joanna Lillis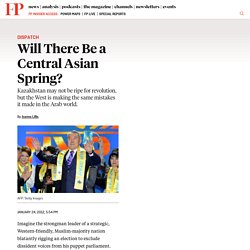 Exit from comment view mode.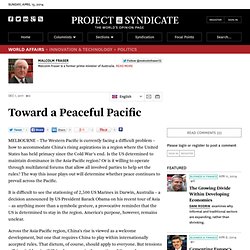 Toward a Peaceful Pacific - Malcolm Fraser - Project Syndicate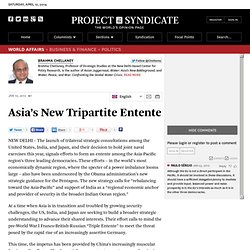 Exit from comment view mode. Click to hide this space NEW DELHI – The launch of trilateral strategic consultations among the United States, India, and Japan, and their decision to hold joint naval exercises this year, signals efforts to form an entente among the Asia-Pacific region's three leading democracies.
Asia's New Tripartite Entente - Brahma Chellaney - Project Syndicate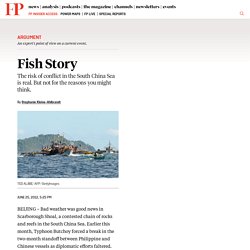 BEIJING – Bad weather was good news in Scarborough Shoal, a contested chain of rocks and reefs in the South China Sea. Earlier this month, Typhoon Butchoy forced a break in the two-month standoff between Philippine and Chinese vessels as diplomatic efforts faltered. For all it seemed the showdown was about naval power, oil resources, and China's inexorable rise, the Scarborough incident was really about one thing: the fish. Consider it a lesson in how a common fishing run-in can turn into a crisis that can bring an entire region to its knees. Despite the overwhelming preoccupation with the potentially abundant energy reserves in the South China Sea, fishing has emerged as a larger potential driver of conflict.
Fish Story - By Stephanie Kleine-Ahlbrandt
Exit from comment view mode.
"Power to Asia's Women" by Vishakha N. Desai , Astrid S. Tuminez and Gerald Rolfe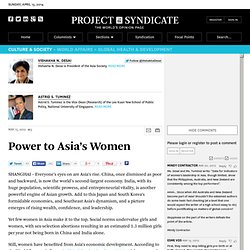 Exit from comment view mode. Click to hide this space NEW DELHI – From the armed coup that recently ousted the Maldives' first democratically elected president, Mohamed Nasheed, to the Pakistani Supreme Court's current effort to undermine a toothless but elected government by indicting Prime Minister Yousaf Raza Gilani on contempt charges, South Asia's democratic advances appear to be shifting into reverse.
"South Asia's False Spring" by Brahma Chellaney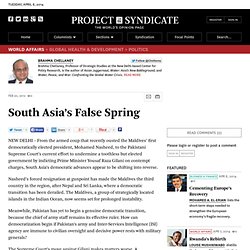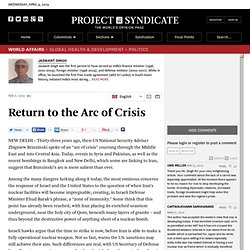 "Return to the Arc of Crisis" by Jaswant Singh
Exit from comment view mode.
Waiting for Spring - By Scott Radnitz
Present at the Asian Creation - Jaswant Singh - Project Syndicate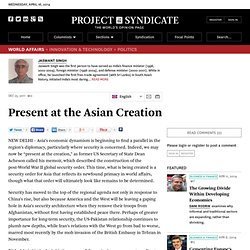 Exit from comment view mode.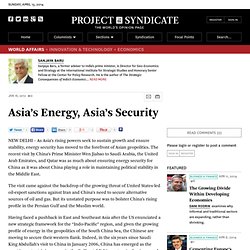 Asia's Energy, Asia's Security - Sanjaya Baru - Project Syndicate
Exit from comment view mode.
U.S.-Europe-Asia: The new strategic triangle
Back then in 1983, when I began writing about it, I knew only as much as the average Westerner about the Cambodian tragedy. But as I immersed myself in Dith Pran's story – from thousands of miles away in a flat in Notting Hill, London – it took me under its spell.
Cambodia: beyond the Killing Fields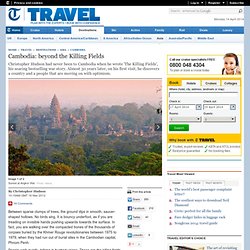 Friction between Chinese authorities and the five million Tibetans who live within the borders of China is on the rise, and nowhere is the strife more apparent than in the neighboring nation of Nepal.
News Desk: Why Is Nepal Cracking Down on Tibetan Refugees?
Mustang: Nepal's former Kingdom of Lo
Lee Kuan Yew, Singapore's storied first prime minister, gave his countrymen two things that elude most developing nations: stability and prosperity.
Overturning Lee Kuan Yew's Legacy in Singapore
The Guardian has a disturbing report on the plight of Alexander Aan, an Indonesian civil servant who is currently in custody and facing an 11-year prison sentence for expressing his atheism on Facebook. In Indonesia, the law guarantees citizens freedom of religion, but only as long as they adhere to Islam, Catholicism, Protestantism, Buddhism, Confucianism or Hinduism. By expressing his atheism Aan - who posted the phrase "God doesn't exist" on a Facebook page – is held to have breached Indonesia's official state philosophy (known as the Pancasila), which requires citizens to have "Belief in the one and only God".
New Humanist (Rationalist Association) - discussing humanism, rationalism, atheism and free thought
Banana Pancake Eaters in Vang Vieng, Laos » Old World Wandering
Vang Vieng, Laos: the world's most unlikely party town | World news | The Observer
Star-Spangled Canberra
Magazine - The Vietnam Solution
Bangkok Blues - By Joshua Kurlantzick
Thailand: Internet Trial a Major Setback for Free Speech
"Australia's Carbon-Pricing Payoff" by Frank Jotzo
Uzbekistan's policy of secretly sterilising women
Karabakh: 'frozen' conflict nears melting point
A Heroic Narrative in Violation of Good Conscience | DefendingHistory.com
"Stability on the Steppes" by Erlan Idrissov
Azerbaijan facing the music thanks to Eurovision
Azerbaijan: Authorities Violently Disperse Peaceful Rallies
What Lies Beneath - By William Tobey
The Caspian's New Sea Monsters - An FP Slide Show
Young women in Chechnya - The Big Picture