Reviews
So exclaims author Christopher Snowdon in his latest book The Art of Suppression: Pleasure, Panic and Prohibition since 1800 .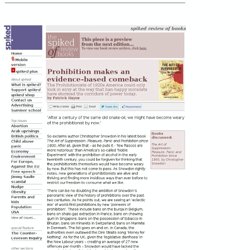 sp!ked review of books preview | Prohibition makes an evidence-based comeback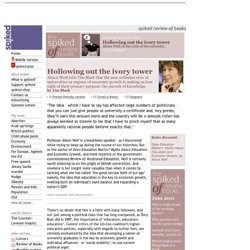 Professor Alison Wolf is a breathless speaker – as I discovered while trying to keep up during the course of our interview. But as the author of Does Education Matter?
sp!ked review of books | Hollowing out the ivory tower
An advertisement for Prozac, from The American Journal of Psychiatry , 1995 It seems that Americans are in the midst of a raging epidemic of mental illness, at least as judged by the increase in the numbers treated for it.
The Epidemic of Mental Illness: Why? by Marcia Angell
William Styron When I first met William Styron, in the summer of 2001, he was frail, barely back on his feet after a brutal bout with depression. I met him and his wife, Rose, at a bookstore where we read from Unholy Ghost , a collection of essays on depression I'd edited, and to which both Styrons had contributed.
William Styron, unlikely bard of depression. - By Nell Casey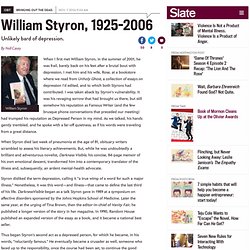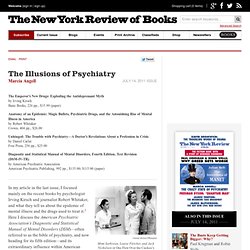 The Illusions of Psychiatry by Marcia Angell
United Artists/Photofest
The Dawn of Politics by Adam Kirsch, City Journal Spring 2011
John Gray: The Knowns And The Unknowns
Practicing on Patients
Autumn of the Empire
The God Species by Mark Lynas - review | Books
Drought-hit northern Kenya. Photograph: Stephen Morrison/EPA The political and environmental profile of climate change has been dramatically reconfigured in the past two years.
sp!ked review of books preview | Admit it: environmentalism was an ugly experiment
Last November, Channel 4 aired What the Green Movement Got Wrong , which featured prominent environmentalists, including Lynas, reflecting on the failures of environmentalism. The film claimed that environmentalists' opposition to technologies that offered environmentally benign methods of energy and crop production had impeded their aim of creating an ecologically sustainable society. Since then, the debate between pro- and anti-nuclear environmentalists has deepened, exposing the many divisions that exist within the green camp.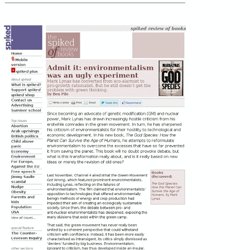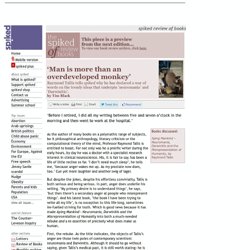 As the author of many books on a polymathic range of subjects, be it philosophical anthropology, literary criticism or the computational theory of the mind, Professor Raymond Tallis is entitled to boast.
sp!ked review of books preview | 'Man is more than an overdeveloped monkey'
Three Golden Rules for book reviewing: What are they? - By Robert Pinsky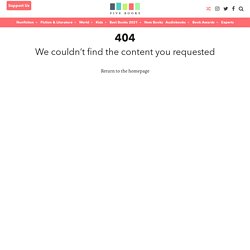 Jerry Coyne | The Browser
Your second book is the biography of Darwin by Janet Browne. She is a historian of science and edited eight volumes of Darwin's correspondence, so she knows what she's talking about. But readers on Amazon.com also said it was a real cliffhanger.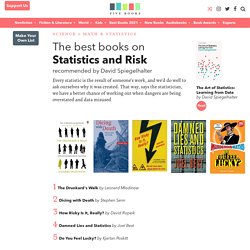 David Spiegelhalter on Statistics and Risk | The Browser
Your final choice also helps us do that. Do You Feel Lucky? by Kjartan Poskitt. This is part of the Murderous Maths series, and is my favourite book.
On to Steven Pinker's The Language Instinct, How the Mind Creates Language , which is incredibly famous. Is the virtue of this book that linguistics is an incredibly complicated subject and Pinker is somehow able to make its findings accessible to the lay reader? There are two achievements in this book.
Robert Lane Greene
Your first book choice, The Blind Watchmaker , is by the leading British atheist Richard Dawkins. He argues that the only watchmaker in nature is the blind force of physics, rather than a creator who puts us together. I think that is right. I was torn between two of Richard's books to recommend. The first one is really a classic, and that is The Selfish Gene . The Selfish Gene is an extraordinary book and I always recommend it to people who want to understand the way in which evolution can grapple with the question of self-sacrificing, altruistic behaviour, because many people regard this as a fundamental problem for evolutionary theory.
Kenneth Miller
Your next book is Forgotten Continent: The Battle for Latin America's Soul by Michael Reid, who is an editor at The Economist . Michael Reid focuses on the degrees of populism in Latin America. He looks at how populism has led countries to choose the wrong economic policies that focus mostly on immediate redistribution rather than on sustained economic growth.
Patricio Navia | The Browser
Issandr El Amrani
That makes sense, and your next book, Edward Said's Covering Islam , carries this theme on. A misunderstanding of history can lead to misconceptions which feed into the popular media. Edward Said is one of the most famous Arab intellectuals in the Western world. He wrote a book in the late 1970s called Orientalism that laid the foundation of the critique of Western approaches to the Middle East. But actually, I think that this book, although less intellectually challenging, is very important as well.
For readers not familiar with the history, what was the siege of Leningrad? The siege of Leningrad began in early September 1941, just over two months after Nazi Germany attacked the Soviet Union on June 22nd. The German armies reached the outskirts of the city in late August, having stormed through the Baltics, but at that point Hitler was persuaded by his generals to divert his tanks to the attack on Moscow. Instead of taking Leningrad by frontal assault he decided to besiege it - to surround it, not letting any food in or people out, and wait for it to collapse through starvation.
Anna Reid on the Siege of Leningrad | The Browser
Martin Bell on Reportage and War
Adam Kirsch Reviews Vasily Grossman's "Life And Fate"
Straight by Hanne Blank, reviewed
Suzanne Collins's "The Hunger Games," review
Ruth Franklin: Was 'Frankenstein' Really About Childbirth?
A Night in Arzamas - Jordan Smith
Nobel Winner Eric Kandel: 'The Age of Insight,' Memory, the Holocaust, and the Art of Vienna
Steve Hahn: If X, Then Why?
Take A Picture
Book Review: Social Conquest of Earth
The Art of the Heist: Valuing Art through Its Theft
John Gray on Critiques of Utopia and Apocalypse
'Ameritopia': How Dumb Can Po­lit­i­cal Phi­los­o­phy Get? - The Chronicle Review
Review: A Singular Empire
What Makes Countries Rich or Poor? by Jared Diamond
debt by david graeber
Laurent Binet's "HHhH" and Historical Fiction