Reviews
So exclaims author Christopher Snowdon in his latest book The Art of Suppression: Pleasure, Panic and Prohibition since 1800 .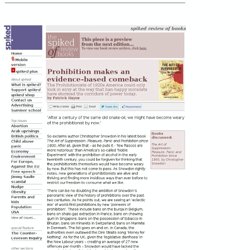 sp!ked review of books preview | Prohibition makes an evidence-based comeback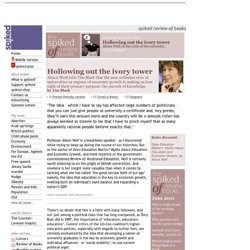 Professor Alison Wolf is a breathless speaker – as I discovered while trying to keep up during the course of our interview. But as the author of Does Education Matter?
sp!ked review of books | Hollowing out the ivory tower
The Emperor's New Drugs: Exploding the Antidepressant Myth by Irving Kirsch
The Epidemic of Mental Illness: Why? by Marcia Angell
When I first met William Styron, in the summer of 2001, he was frail, barely back on his feet after a brutal bout with depression. I met him and his wife, Rose, at a bookstore where we read from Unholy Ghost, a collection of essays on depression I'd edited, and to which both Styrons had contributed. I was taken aback by Styron's vulnerability.
William Styron, unlikely bard of depression. - By Nell Casey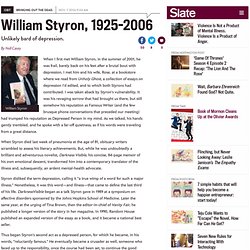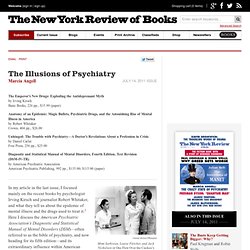 The Illusions of Psychiatry by Marcia Angell
The Emperor's New Drugs: Exploding the Antidepressant Myth
The Dawn of Politics by Adam Kirsch, City Journal Spring 2011
John Gray: The Knowns And The Unknowns
The God Species by Mark Lynas - review | Books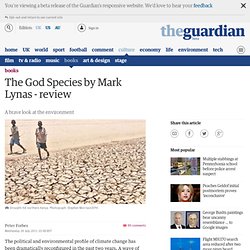 The political and environmental profile of climate change has been dramatically reconfigured in the past two years. A wave of activism has dissipated and a broad consensus on the necessary measures broken thanks to the failed Copenhagen summit and the anti-global-warming lobby's apparent triumph in the Climategate emails affair. Mark Lynas is one of a growing band of influential figures, along with James LovelockJames Lovelock, Stewart Brand and George Monbiot, who now argue that the approach of most Greens to climate change needs to change. Lynas puts it briskly in this new book.
sp!ked review of books preview | Admit it: environmentalism was an ugly experiment
Last November, Channel 4 aired What the Green Movement Got Wrong , which featured prominent environmentalists, including Lynas, reflecting on the failures of environmentalism. The film claimed that environmentalists' opposition to technologies that offered environmentally benign methods of energy and crop production had impeded their aim of creating an ecologically sustainable society. Since then, the debate between pro- and anti-nuclear environmentalists has deepened, exposing the many divisions that exist within the green camp.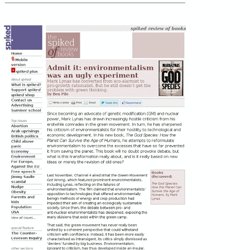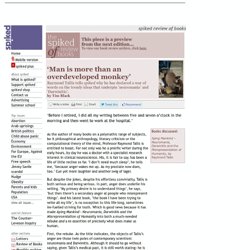 As the author of many books on a polymathic range of subjects, be it philosophical anthropology, literary criticism or the computational theory of the mind, Professor Raymond Tallis is entitled to boast.
sp!ked review of books preview | 'Man is more than an overdeveloped monkey'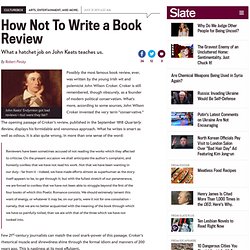 Three Golden Rules for book reviewing: What are they? - By Robert Pinsky
The snob's reference to "Cockney poetry" refers to an even nastier, more extreme, longer and less elegant review of Keats' Endymion by John Gibson Lockhart in Blackwood's Edinburgh Magazin e a month before. Lockhart, as crudely mean as the bad guy in a bad movie, is even more shamelessly ad hominem than Croker, though not as clever. Keats, he explains, suffers from the writing mania that has afflicted "farm-servants and unmarried ladies ... our very footmen compose tragedies."
Adam Kirsch Reviews Vasily Grossman's "Life And Fate"
WRITING THE STORY of the Holocaust is a futile ambition—not because the events of 1939 to 1945 are too horrible to be told, but because they are too various to be compressed into one definitive or representative story. The 6 million Jews murdered by the Nazis came from every part of Europe, from every social class and profession and age group, from every point on the spectrum of Jewish life between militant atheism and traditional piety. All these stories had a similar ending—but then, so do all human stories, and the monotony of death does not annul the immense multiplicity of life.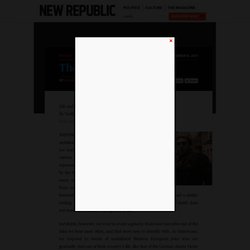 George Eastman House Collection. You quondam liberal-artists out there—veterans of lit-crit and queer theory, men and womyn formerly fluent in what Said said and all that Lacan cant—may yet remember that we live our lives according to a system of social constructs. The idea of race did not exist until colonialism required it.
Straight by Hanne Blank, reviewed
Suzanne Collins's "The Hunger Games," review
Rebecca Stead chose to set her children's novel "When You Reach Me"—winner of the 2010 Newbery Medal—in nineteen-seventies New York partly because that's where she grew up, but also, as she told one interviewer, because she wanted "to show a world of kids with a great deal of autonomy." Her characters, middle-class middle-school students, routinely walk around the Upper West Side by themselves, a rare freedom in today's city, despite a significant drop in New York's crime rate since Stead's footloose youth. The world of our hovered-over teens and preteens may be safer, but it's also less conducive to adventure, and therefore to adventure stories.
Ruth Franklin: Was 'Frankenstein' Really About Childbirth?
The Death of Ivan Ilych (1886) Leo Tolstoy In 1869, just after he finished War and Peace, Leo Tolstoy experienced a profound spiritual crisis as the result of an incident during a journey through the city of Arzamas, which is on the Tyosha River about 250 miles east of Moscow. As he described it in his unfinished story Notes of a Madman (so titled because Tolstoy was convinced his readers would find the tale implausible), a few hours after midnight he awakened "seized by despair, fear and terror such as [he had] never before experienced." After asking himself what there was to be afraid of, none other than Death himself answered, "I am here." Tolstoy, confronting the inescapability of his own death, panicked and raged against its power.
A Night in Arzamas - Jordan Smith
Nobel Winner Eric Kandel: 'The Age of Insight,' Memory, the Holocaust, and the Art of Vienna
In his classic 1984 essay, Richard Ben Cramer wonders if Jerry Lee Lewis got away with his wife's murder. Richard Ben Cramer died one year ago this week and he is still sorely missed. His career began at the Baltimore Sun during the Watergate Era, blossomed at the Philadelphia Inquirer, where he won a Pulitzer for his reportage in the Middle East, and broadened in the 1980s when he conquered the long magazine profile with his enduring Esquire piece on Ted Williams.
Steve Hahn: If X, Then Why?
Malcolm X: A Life of Reinvention By Manning Marable (Viking Press, 594 pp., $30) When Malcolm X died in a hail of assassin's gunfire at the Audubon Ballroom in February 1965, the mainstream media in the United States was quick to suggest that he reaped the harvest of bloodshed he had brazenly sown. Calling him an "extremist," "a demagogue," a "racist," and a "spiritual desperado," commentators often insisted that Malcolm advocated the use of violence, regarded whites as "devils," and was an embodiment—as a television series on the Nation of Islam had put it in 1959—of the "hate that hate produced."
Take A Picture
Book Review: Social Conquest of Earth
The Art of the Heist: Valuing Art through Its Theft
'Ameritopia': How Dumb Can Po­lit­i­cal Phi­los­o­phy Get? - The Chronicle Review
Review: A Singular Empire
What Makes Countries Rich or Poor? by Jared Diamond
debt by david graeber
Laurent Binet's "HHhH" and Historical Fiction