Pakistan
Why My Father Hated India. What's Wrong with Pakistan? - By Robert D. Kaplan. Perversity characterizes Pakistan. Only the worst African hellholes, Afghanistan, Haiti, Yemen, and Iraq rank higher on this year's Failed States Index. The country is run by a military obsessed with -- and, for decades, invested in -- the conflict with India, and by a civilian elite that steals all it can and pays almost no taxes. But despite an overbearing military, tribes "defined by a near-universal male participation in organized violence," as the late European anthropologist Ernest Gellner put it, dominate massive swaths of territory. "An India-Pakistan Thaw?" by Shashi Tharoor. Exit from comment view mode.
Click to hide this space NEW DELHI – India and Pakistan are enjoying one of the better periods in their turbulent relationship. Recent months have witnessed no terrorist incidents, no escalating rhetoric, and no diplomatic flashpoints. Pakistani President Asif Ali Zardari just made a successful, if brief, personal visit to India (mainly to visit a famous shrine, but with a lunch with Prime Minister Manmohan Singh thrown in). Sixteen years after India granted Pakistan most-favored-nation (MFN) trading status, Pakistan is on the verge of reciprocating. Pakistan's Middle Class Extremists. Since al Qaeda bombed the U.S. embassies in Kenya and Tanzania in 1998 and then attacked the World Trade Center three years later, the United States has dedicated billions of dollars and thousands of lives to addressing the threat of terrorism.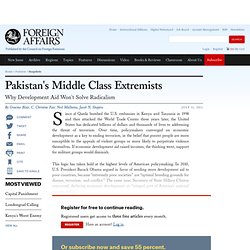 Over time, policymakers converged on economic development as a key to ending terrorism, in the belief that poorer people are more susceptible to the appeals of violent groups or more likely to perpetrate violence themselves. If economic development aid raised incomes, the thinking went, support for militant groups would diminish. This logic has taken hold at the highest levels of American policymaking. The Battle over Pakistan's Schools.
Can a small group of reformers modernize Pakistan's schools?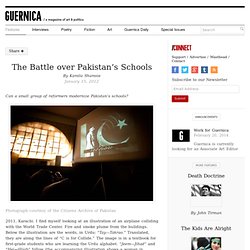 Photograph courtesy of the Citizens Archive of Pakistan 2011, Karachi. Pakistan IJT influence: Pakistan Islamist student group IJT said to terrorize campuses. Reporting from Lahore, Pakistan — After philosophy students and faculty members rallied to denounce heavy-handed efforts to separate male and female students, Islamists on campus struck back: In the dead of night, witnesses say, the radicals showed up at a men's dormitory armed with wooden sticks and bicycle chains.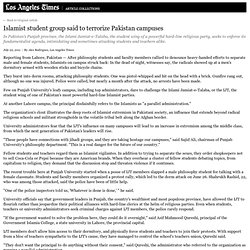 They burst into dorm rooms, attacking philosophy students. One was pistol-whipped and hit on the head with a brick. Gunfire rang out, although no one was injured. Police were called, but nearly a month after the attack, no arrests have been made. Mullen Takes on the ISI. The killing of Burhanuddin Rabbani, the former Afghan president who led the High Peace Council, illustrates all too well the tremendous obstacles to a meaningful reconciliation among Afghanistan's various factions.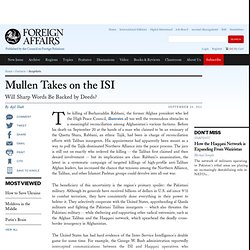 Before his death on September 20 at the hands of a man who claimed to be an emissary of the Quetta Shura, Rabbani, an ethnic Tajik, had been in charge of reconciliation efforts with Taliban insurgents. His appointment had apparently been meant as a way to pull the Tajik-dominated Northern Alliance into the peace process. The jury is still out on exactly who ordered the killing -- the Taliban first claimed and then denied involvement -- but its implications are clear. Hearts and Minds | The Majalla. On : Tuesday, 26 Jul, 2011 Egypt Victorious?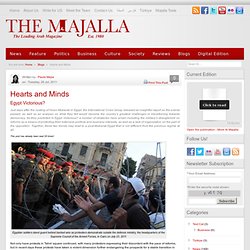 Just days after the ousting of Hosni Mubarak in Egypt, the International Crisis Group released an insightful report on the events passed, as well as an analysis on what they felt would become the country's greatest challenges in transitioning towards democracy. As they predicted in Egypt Victorious? A number of obstacles have arisen including the military's stranglehold on reforms as a means of protecting their extensive political and business interests, as well as a lack of organization on the part of the opposition.
Why They Get Pakistan Wrong by Mohsin Hamid. Pakistan Gets Tough. Between You and Me In 14 points, the Pakistani parliament has reinforced its stance against US violations of its sovereignty.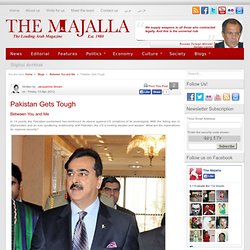 With the failing war in Afghanistan and an ever sputtering relationship with Pakistan, the US is looking weaker and weaker. What are the implications for regional security? Pakistan Prime Minister, Yousuf Raza Gilani. Between You and Me | The Majalla. Between You and Me Why has the US allied itself so closely with a government that "exports violence," and worse, provides support, however little, to extremist groups that count the US as one of their primary targets?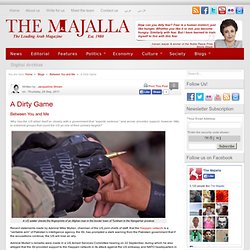 A US soldier checks the fingerprints of an Afghan man in the border town of Turkham in the Nangarhar province Recent statements made by Admiral Mike Mullen, chairman of the US joint chiefs of staff, that the Haqqani network is a "veritable arm" of Pakistan's intelligence agency, the ISI, has prompted a stark warning from the Pakistani government that if the accusations continue, the US will lose an ally. Admiral Mullen's remarks were made in a US Armed Services Committee hearing on 22 September, during which he also alleged that the ISI provided support to the Haqqani network in its attack against the US embassy and NATO headquarters in Kabul a week prior.
Pakistan on the Precipice - Shahid Javed Burki. Exit from comment view mode.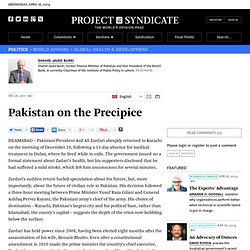 Click to hide this space ISLAMABAD – Pakistani President Asif Ali Zardari abruptly returned to Karachi on the morning of December 19, following a 13-day absence for medical treatment in Dubai, where he lived while in exile. The government issued no a formal statement about Zadari's health, but his supporters disclosed that he had suffered a mild stroke, which left him unconscious for several minutes. Pakistan's Slow-Motion Coup - by C. Christine Fair. Pakistan's civilian government, led by the Pakistan People's Party, has long been an irritant to the country's generals. President Asif Ali Zardari runs a corrupt and inept administration and has been far too willing to cozy up to Washington.
Husain Haqqani, until November 2011, was Pakistan's controversial envoy to the United States. He has been a thorn in the side of General Headquarters since publishing his book Pakistan: Between Mosque and Military in 2005 while at the Carnegie Endowment for International Peace. Why Pakistan's Zardari Will Not Fall to a Military Coup. (Athar Hussain / Courtesy Reuters) Pakistan's three pillars of state -- the army, the government, and the judiciary -- are locked in a draw. You know the kind: three gunmen, all with guns in both hands, aim fearfully at one another, each unwilling to make the first move. Steady As Islamabad Goes. The standoff between the governing Pakistan People's Party (PPP) and Pakistan's top court ended this week -- at least for now.
On Thursday, the Supreme Court found Pakistan's prime minister, Yousaf Raza Gilani, guilty of contempt of court. He was given a nominal sentence, which lasted only until the court adjourned. It was an imprisonment, those in the courtroom estimated, of around 30 seconds, after which he left the building a free man. What is Imran's game? Imran Khan is winning support, but can he avoid corruption? Imran Khan: surging in popularity, but winning power involves unsavoury compromises "Oh God, he's chewing gum," a party operative whispers.
"That's not good." We're squatting barefoot in a mosque in rural Punjab, craning over a sea of heads as local dignitaries make speeches. In the centre, settled on cushions flanked by party officials, sits Imran Khan: freshly showered, wearing an impeccable shalwar kameez and a look of concentration. "Healing the Sick Man of South Asia" by Shahid Javed Burki. Exit from comment view mode. Click to hide this space LAHORE – Pakistan is undergoing three transitions simultaneously. How they unfold matters not only for Pakistan, but also for much of the Muslim world, particularly as the Arab Spring forces change upon governments across the wider Middle East. Most Muslim countries were governed for decades by autocrats who had either emerged directly from the armed forces, or had strong "khaki" support.
That was the case in Egypt, Libya, Yemen, Syria, and, of course, Pakistan. To Be a Woman in Pakistan: Six Stories of Abuse, Shame, and Survival - Zara Jamal - International. Fighting the Great Firewall of Pakistan - By Rebecca MacKinnon. Why the Haqqani Network is Not on the Foreign Terrorist Organizations List. Pakistan's $10 Million Terrorist Talks. Pakistan: bombs, spies and wild parties | World news. US-Pakistan Relations: Common and Clashing Interests. Shotgun Divorce - By David Kenner. The Pakistanis Have a Point. Pakistan is the enemy: When is President Obama going to do something about it? "Peace in Kashmir?" by Shashi Tharoor. Is Pakistan Preparing for War? What Engagement With Pakistan Can -- And Can't -- Do. The Ally From Hell - Magazine. China's Pakistan Conundrum. A Hot Flash in the Cold War With Pakistan - Marc Ambinder - International. Talking Tough to Pakistan. How Obama Can Fix U.S.-Pakistani Relations. Pakistan jails doctor who helped find al-Qaeda chief Osama Bin Laden.
Five people who are not in jail in Pakistan. Judges Behaving Badly.
---