Old/Alternative Energy?
Wind Fights Solar; Triangle Wins. For me, the most delightful turn of events in the ultimate nerd-song "Particle Man" by They Might Be Giants, is that after introducing (in order of complexity) particle-man, triangle-man, universe-man, and person-man—and learning that triangle-man naturally beats particle-man in a match up—we pit person-man against triangle-man to discover that triangle wins—again.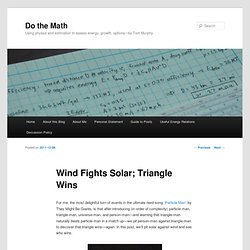 In this post, we'll pit solar against wind and see who wins. I will take my usual approach and estimate what I can—as opposed to researching the results of detailed studies. It's part of the process of personal mastery of the big-picture issues, while also providing a sanity-check. "Gone With the Wind" by Bjørn Lomborg. Exit from comment view mode.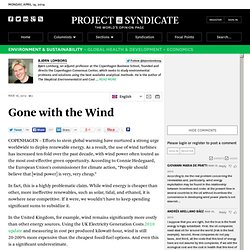 Click to hide this space COPENHAGEN – Efforts to stem global warming have nurtured a strong urge worldwide to deploy renewable energy. As a result, the use of wind turbines has increased ten-fold over the past decade, with wind power often touted as the most cost-effective green opportunity. According to Connie Hedegaard, the European Union's commissioner for climate action, "People should believe that [wind power] is very, very cheap." "Blowing Away Nuclear Power" by Christian Kjaer. Exit from comment view mode.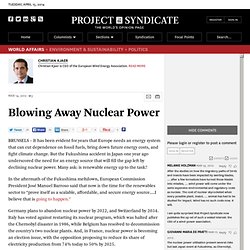 Click to hide this space BRUSSELS – It has been evident for years that Europe needs an energy system that can cut dependence on fossil fuels, bring down future energy costs, and fight climate change. But the Fukushima accident in Japan one year ago underscored the need for an energy source that will fill the gap left by declining nuclear power. Many ask: is renewable energy up to the task? In the aftermath of the Fukushima meltdown, European Commission President José Manuel Barroso said that now is the time for the renewables sector to "prove itself as a scalable, affordable, and secure energy source….I believe that is going to happen." Power paradox: Clean might not be green forever - environment - 30 January 2012.
Read full article Continue reading page |1|2|3 As energy demand grows, even alternative energy sources such as wind, solar and nuclear fusion could begin to affect the climate.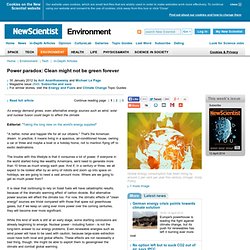 "The Post-Nuclear Transition" by Jürgen Trittin. BERLIN – The Fukushima disaster in March reminded the world, 25 years after Chernobyl, that nuclear energy is anything but clean, secure, and affordable.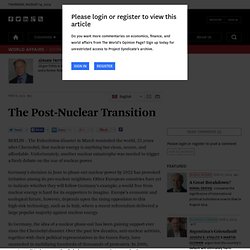 Unfortunately, another nuclear catastrophe was needed to trigger a fresh debate on the use of nuclear power. Germany's decision in June to phase out nuclear power by 2022 has provoked irritation among its pro-nuclear neighbors. Other European countries have yet to indicate whether they will follow Germany's example; a world free from nuclear energy is hard for its supporters to imagine.
Europe's economic and ecological future, however, depends upon the rising opposition to this high-risk technology, such as in Italy, where a recent referendum delivered a large popular majority against nuclear energy. Abandoning nuclear energy may not boost renewables - environment - 02 April 2012. The after-effects of Japan's megaquake and tsunami continue to be felt.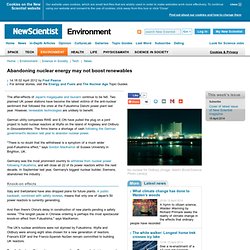 Two planned UK power stations have become the latest victims of the anti-nuclear sentiment that followed the crisis at the Fukushima Daiichi power plant last year. However, renewable technologies are unlikely to benefit. German utility companies RWE and E.ON have pulled the plug on a joint project to build nuclear reactors at Wylfa on the island of Anglesey and Oldbury in Gloucestershire. Fossil Fuels: I'm Not Dead Yet. From Monty Python: "Bring out your dead" Having looked at the major alternatives to fossil fuel energy production (summarized here), we come away with the general sentiment that the easy days of cheap energy are not evidently carried forward into a future without fossil fuels.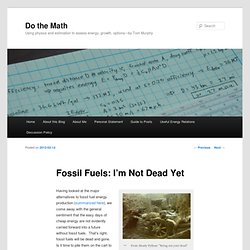 That's right, fossil fuels will be dead and gone. Is it time to pile them on the cart to be hauled away? In the slapdash scoring scheme I employed in the alternative energy matrix, the best performers racked up 5 points, whereas by the same criteria, our traditional fossil fuels typically achieved the near-perfect score of 8/10. The only consistent failing is in the abundance measure, which is ultimately what brings us all together here at Do the Math. Injection Wells: The Poison Beneath Us. This story first appeared on the ProPublica website.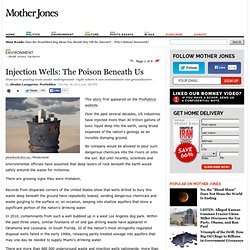 Over the past several decades, US industries have injected more than 30 trillion gallons of toxic liquid deep into the earth, using broad expanses of the nation's geology as an invisible dumping ground. No company would be allowed to pour such dangerous chemicals into the rivers or onto the soil. "Golden Age" for Natural Gas Might Prove Climate Challenge. The world is on the brink of a "golden age" for natural gas, with demand for the low-carbon fossil fuel slated to rise by 50 percent -- as much as demand for coal, oil, nuclear power combined -- over the next two and a half decades, according to a recent report by the International Energy Agency.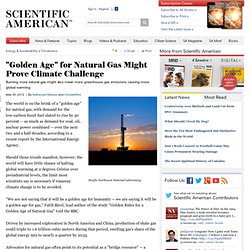 Should those trends manifest, however, the world will have little chance of halting global warming at 2 degrees Celsius over preindustrial levels, the limit most scientists say is necessary if runaway climate change is to be avoided. "We are not saying that it will be a golden age for humanity -- we are saying it will be a golden age for gas," Fatih Birol, lead author of the study "Golden Rules for a Golden Age of Natural Gas" told the BBC. Driven by increased exploration in North America and China, production of shale gas could triple to 1.6 trillion cubic meters during that period, swelling gas's share of the global energy mix to nearly a quarter by 2035.
U.S. Daily Oil Production At Highest Level Since 1998 | Plugged In. United States oil production is on the rise.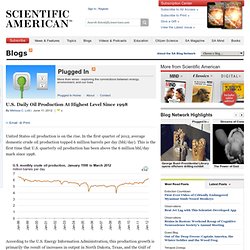 In the first quarter of 2012, average domestic crude oil production topped 6 million barrels per day (bbl/day). This is the first time that U.S. quarterly oil production has been above the 6 million bbl/day mark since 1998. According to the U.S. Energy Information Administration, this production growth is primarily the result of increases in output in North Dakota, Texas, and the Gulf of Mexico.
Asian Demand Forecasts Boom for Coal. China will widen its gap with the United States as the world's largest coal-producing country by the end of the decade, riding continued strong demand from its electric power and steel-making sectors, according to a new analysis from New York-based GBI Research. By 2020, the report projects China will produce 4.5 billion metric tons of coal annually, reflecting a 3.5 percent compounded annual growth rate over the next eight years.
Regionwide, coal consumption for the power generation in Asia stood at an estimated 2.7 billion metric tons in 2011. From 2012 to 2020, that figure is expected to rise to 4.4 billion tons annually, according to GBI. The Asian forecast contrasts sharply to projections for the United States, which is expected to see sagging domestic demand as power plants undergo fuel switching away from coal. Questions remain as to whether American exports of domestic coal can make up the difference. The End of Coal Burning in the U.S. The era of U.S. coal-fired electric power generation will effectively end as new federal regulations limiting carbon dioxide emissions from fossil plants take effect, a new analysis from Bloomberg Government concludes. The report, from energy analyst Rob Barnett, posits that the new U.S. EPA rule, rolled out last month and open for public comment until June 12, will effectively ban the construction of new coal-fired power plants because the CO2 emission rates required of fossil plants are so strenuous that no conventional coal plant could meet them.
China Is Developing a Grid Better for Coal than Renewables. China will fail to meet its carbon and energy intensity targets unless it makes dramatic changes to its electricity grid, a groundbreaking new report finds. The study, two years in the making, finds that China's grid is its "Achilles' heel," said lead author and Energy Transition Research Institute Research Director William Chandler. While newer and in many ways more technologically advanced than the U.S. grid, China's system is nevertheless being built to perpetuate the use of coal and large hydropower projects. "The most important thing in the world for meeting carbon goals is what China does in its overall energy policy in the next 10 years. And the big hole in meeting those targets is in the electric power system," Chandler said in an exclusive interview with ClimateWire.
"They are in serious danger of losing the battle to meet their carbon and energy-intensity goals," he said. "The Fukushima Syndrome" by Martin Freer. Exit from comment view mode. Click to hide this space BIRMINGHAM – The dramatic events that unfolded at Japan's Fukushima Daiichi nuclear-power plant after last year's tsunami are commonly referred to as "the Fukushima disaster." Japan's refusenik farmers tackle nuclear waste - environment - 09 March 2012. Nobuyoshi Ito watched the explosions at the crippled Fukushima nuclear plant from his hilltop farm, which lies just 30 kilometres away in Iitate village. Despite being urged to abandon his village, Ito was one of the farmers who refused to leave.
Instead, he began to study the effect of radioisotopes on crops. Fukushima-exposed children and workers 'OK for now' - health - 25 May 2012. "Beyond Fukushima" by Yukiya Amano. Fukushima's fate inspires nuclear safety rethink - tech - 09 March 2012. Fear after Fukushima to push up carbon emissions - environment - 08 March 2012. How to Rid the World of the "Element from Hell" Tough Love for Renewable Energy. Clean Energy Lags Put World on Pace for 6 Degrees Celsius of Global Warming. Warm and Fuzzy on Geothermal? Can Geoengineering Solve Global Warming? Can Tides Turn the Tide? The Inconvenient Science of Biomass Power. Basking in the Sun. "Germany's Sunshine Daydream" by Bjørn Lomborg. Oozing Biofuel: Algae Could Solve World's Fuel Crisis - SPIEGEL ONLINE - News - International. Fossil Free: Microbe Helps Convert Solar Power to Liquid Fuel. How to Increase Fuel Yields from Microbes.
---