Google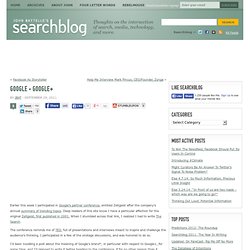 Google = Google+
Earlier this week I participated in Google's partner conference, entitled Zeitgeist after the company's annual summary of trending topics. Deep readers of this site know I have a particular affection for the original Zeitgeist, first published in 2001.
Jeff Bezos wasn't just rambling today when he was talking about Amazon's cloud services in the middle of the consumer-focused Kindle triple-launch. Amazon's Kindle has massive implications for the tablet market, but the Silk browser has some implications for the Web at large. And don't expect the Silk browser to stay confined to the Kindle Fire. By funneling traffic through Amazon's own servers, it may create some privacy implications and security concerns for individuals and businesses. It also changes the landscape a bit for cloud computing providers. Technical Implications
The Implications of Amazon's Silk Web Browser - ReadWriteCloud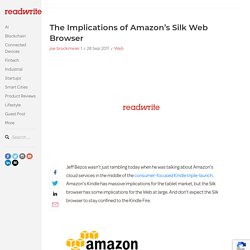 Google+ had a chance to compete with Facebook. Not anymore
AFP/Getty Images.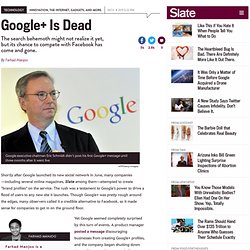 The Internet is entering its big-box phase, and Google wants to be Walmart. Reuters
GoogleMart: Google's Plan to Become the One-Stop-Shop of the Mobile Web - Jordan Weissmann - Business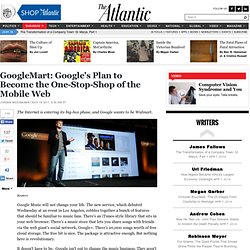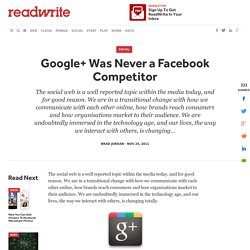 The social web is a well reported topic within the media today, and for good reason. We are in a transitional change with how we communicate with each other online, how brands reach consumers and how organisations market to their audience. We are undoubtedly immersed in the technology age, and our lives, the way we interact with others, is changing totally. The monumental success of Facebook, Mark Zuckerberg's world leading social platform, has enticed brands, consumers, investors alike, and the world is continually awaiting for that 'next big thing'. A likely reason therefore that the majority of news stories, magazine articles and blog posts on Google's latest foray into the social web repeatedly draw up comparisons to Zuckerberg's global giant. Brad Jordan is Head of Social at U.K.
Google+ Was Never a Facebook Competitor
Is Too Much Plus a Minus for Google? « StevenLevy.com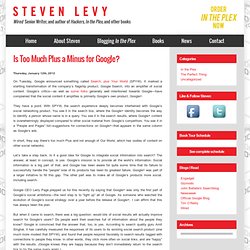 Thursday, January 12th, 2012
Daniel Soar reviews 'The Googlisation of Everything (and Why We Should Worry)' by Siva Vaidhyanathan, 'In the Plex' by Steven Levy and 'I'm Feeling Lucky' by Douglas Edwards · LRB 6 October 2011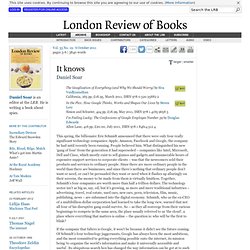 This spring, the billionaire Eric Schmidt announced that there were only four really significant technology companies: Apple, Amazon, Facebook and Google, the company he had until recently been running.
RV890, Norway 2011.
The Grand Map, Avi Steinberg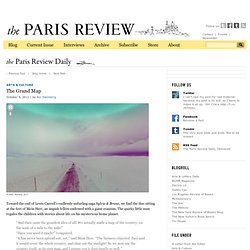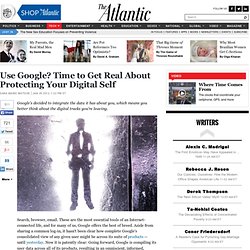 Google's decided to integrate the data it has about you, which means you better think about the digital tracks you're leaving. Search, browser, email.
Use Google? Time to Get Real About Protecting Your Digital Self - Sara Marie Watson - Technology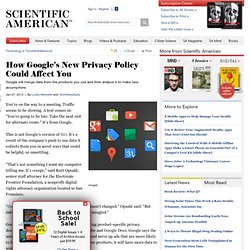 How Google's New Privacy Policy Could Affect You
Technology::TechMediaNetwork::January 27, 2012:: ::Email::Print Google will merge data from the products you use and then analyze it to make new assumptions
Search engines are morphing into something new: vast brains that don't just show links, but respond directly to questions you ask in everyday language Editorial: "Do internet companies have all the answers?" SEARCH engines have barely changed since Google was founded in 1998.
Why Google will soon answer your questions directly - tech - 06 June 2012
You probably entered the URL thinking you were going to a witty, counterintuitive take on some current news topic. Instead you find yourself disappointed to be reading this 404 page, which means our system couldn't retrieve the article you sought. But this is actually great news. Did you really want to read whatever it was you were looking for? Let's face it: Whatever article you thought you were going to read, you had probably already anticipated the arguments in your head.
Google+ comScore: Google's social networking lags behind FaceBook, MySpace
Look, Google, we've got a plan to help you win on social. There's only one catch: You have to give up on the notion that animates Google Plus.
Technology - Alexis Madrigal - How Google Can Beat Facebook Without Google Plus
(image) Here's a short overview of Google's past few months: It's angered policymakers and pundits with a sweeping change to its privacy settings. It's taken a beating for favoring its own properties in its core search results. It's been caught with its hands in Apple's cookie jar, and despite the fact Facebook and others previously condoned the practice, it was savaged for doing so.
Why Hath Google Forsaken Us? A Meditation.
This morning, the Pew Internet and American Life Project released the results of a February survey analyzing Americans' feelings about online privacy. The main takeaway is something of a paradox: The majority of us are uncomfortable with personalized search and targeted ads.
Americans Love Google! Americans Hate Google! - Megan Garber - Technology
It's Official: Google Is Now a Hardware Company
The Case Against Google
Google Wants to Legalize Same Sex Marriage Worldwide - National