Essays
When the Past is Always Present - Al Majalla
Ever since Nelson Mandela became president of South Africa after winning his country's first democratic elections in April 1994, the national anthem has consisted of two songs spliced—not particularly mellifluously—together. One is "Nkosi Sikelel' iAfrika," or "God Bless Africa," sung at black protest rallies during the forty-six years between the rise and fall of apartheid. The other is "Die Stem," ("The Call"), the old white anthem, a celebration of the European settlers' conquest of Africa's southern tip.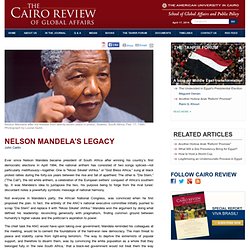 Nelson Mandela's Legacy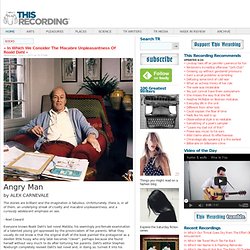 In Which We Consider The Macabre Unpleasantness Of Roald Dahl
Angry Man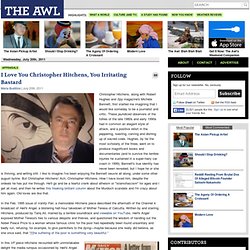 Christopher Hitchens, along with Robert Hughes and Spy magazine's Michèle Bennett, first started me imagining that I would like someday to be a journalist and critic. These jaundiced observers of the follies of the late 1980s and early 1990s had in common an elegant style of attack, and a positive relish in the peppering, roasting, carving and dishing up of sacred cows.
I Love You Christopher Hitchens, You Irritating Bastard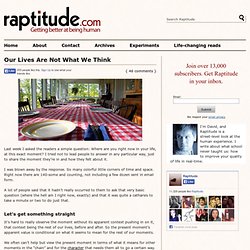 Last week I asked the readers a simple question: Where are you right now in your life, at this exact moment?
Our Lives Are Not What We Think | Raptitude.com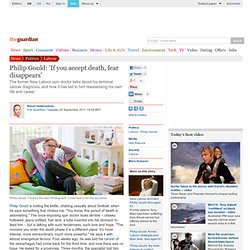 Philip Gould is boiling the kettle, chatting casually about football, when he says something that chokes me. "You know, this period of death is astonishing." The once-imposing spin doctor looks terrible – cheeks hollowed, jeans unfilled, hair lank, a tube inserted into his stomach to feed him – but is talking with such tenderness, such love and hope.
Philip Gould: 'If you accept death, fear disappears' | Politics
Murder Most Academic by Theodore Dalrymple
A Hanging
This material remains under copyright and is reproduced by kind permission of the Orwell Estate and Penguin Books. It was in Burma, a sodden morning of the rains.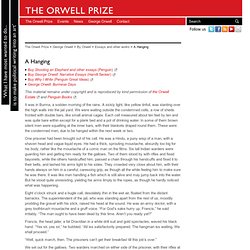 Eyewitness to an Execution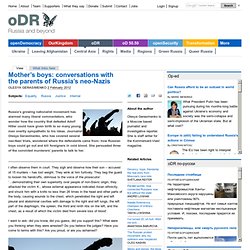 Mother's boys: conversations with the parents of Russia's neo-Nazis
I often observe them in court. They sigh and observe how their son – accused of 15 murders – has lost weight.
When I tell people what we are doing, they want to hear about the room where you produce.
The Age of Mechanical Reproduction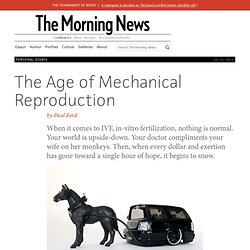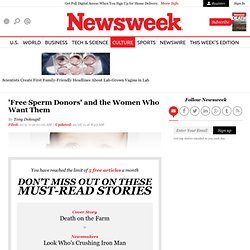 'Free Sperm Donors' and the Women Who Want Them
Cost is also a concern. In many states, insurance won't cover donor insemination unless a woman can show that she hasn't been able to get pregnant. This makes it hard for lesbian couples and single women who don't have male partners. And all couples face insurance caps that can mean thousands of dollars in out-of-pocket pay. Many women also believe their donor-conceived children have a right to know their fathers, something most sperm banks have resisted, fearing such openness would scare off potential donors. Even banks that do reveal dads' identities will do so only when a child turns 18.
My Fertility Crisis
Usually it's only the people who come out beaming on the other side, with a baby on one hip, who speak up about in vitro fertilization.
Things I have learnt from and about IVF
Encouraged by Belle & Tedra's recent posts, and just loving Jim Henley's recent comment: "I'd just like to say that all the ladyblogging about ladyparts and ladyissues only of interest to ladies around here lately has been awesome. I'm learning a lot from it";
The Virgin Father
America's First Great Global Warming Debate | History & Archaeology
The Secret History of Guns - Magazine
The Ku Klux Klan, Ronald Reagan, and, for most of its history, the NRA all worked to control guns. The Founding Fathers?
The Last of the Aryans
Nobody knows of their real origin or if they are indeed Aryans. But, regarded as long-lost members of a purebred 'Master Race' settled in the Himalayas, Brokpas attract curious visitors, some of who try to satisfy their fantasy of having pure Aryan babies
Our Experiments with Fasting
A dharna, Wikipedia informs us, 'is a fast undertaken at the door of an offender, especially a debtor, as a means of obtaining compliance with a demand for justice, such as payment of debt.'
One day in the early 1900s, a prominent American businessman named Claude C. Hopkins was approached by an old friend with an amazing new creation: a minty, frothy toothpaste named "Pepsodent" that, he promised, was going to be huge.
An excerpt from Charles Duhigg's The Power of Habit
Why Storytellers Lie - Maura Kelly - Entertainment
Better Off Dead
Why Go Out? | Brick Magazine
The Politics of FIFA and the Hijab - By Curtis R. Ryan
The Ritz-Carlton of Failed States - By Michael Z. Wise
The Aid Bitchslap « Shotgun Shack
Words as Weapons
Touré: Inside the Racist Mind
Talking With Your Fingers
Under the Gaze of Theory
Night Moves
The Lower Ninth Ward in New Orleans Gives New Meaning to "Urban Growth"
Elaine Pagels on the Book of Revelation
Jonah Lehrer on How to Be Creative
THE LAST DAYS OF THE POLYMATH
Intoxicating Trends
Future tense, IX: Out of the wilderness by Charles Murray
Deirdre N. McCloskey: Happyism
Adam Hochschild, Antiwar Critics Forgotten on Oscar Night
WHICH IS THE BEST LANGUAGE TO LEARN?
Will Success Spoil the Chicago School?
Why Elites Fail
I want to be alone: the rise and rise of solo living | Life and style
How Smart Phones Are Turning Our Public Places Into Private Ones - Technology
AS THE COACH AT A HIGH SCHOOL NEAR CHICAGO, MIKE POWELL - 02.13.12 - SI Vault
Albena Azmanova: Critical Political Judgement
Smithsonian Magazine's Annual Photo Contest - In Focus
Among the asexuals | Life and style | The Observer
The Mysterious Case of the Vanishing Genius
The Top Ten Strangest Self-Experiments Ever
Wasting Away: Can a Gates Foundation-Funded Toilet-Design Initiative End a Foul Practice in the Developing World?
Psyched Out - June 22, 2012
Porn's taboo transsexual stars
One billion slum dwellers
Brothel, Washington DC
Paying To Play: Interview With A John
Charles Nicholl · 'The Battle of Anghiari' · LRB 26 April 2012
A Brief History of Anxiety
Uncomfortable in our skin: the body-image report | Life and style | The Observer
Harvard sociobiologist E.O. Wilson on the origins of the arts | Harvard Magazine May-Jun 2012
Apocalyptic Daze by Pascal Bruckner, City Journal Spring 2012
The Hemingway Papers / Bullfighting is Not a Sport – It is a Tragedy
Why French Parents Are Superior by Pamela Druckerman
A Point of View: In defence of obscure words
Kids on the Internet: danah boyd's controversial idea that kids should be allowed to roam free
Killer at 70,000 Feet | Military Aviation