Drones
Drones on the Home Front. It started as a relatively routine cattle rustling investigation.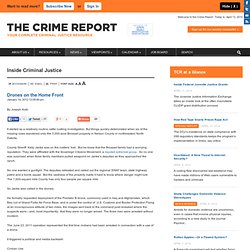 But things quickly deteriorated when six of the missing cows wandered onto the 3,000-acre Brossart property in Nelson County in northeastern North Dakota. County Sheriff Kelly Janke was on the rustlers' trail. But he knew that the Brossart family had a worrying reputation. They were affiliated with the Sovereign Citizens Movement, a reputed extremist group. How I Accidentally Kickstarted the Domestic Drone Boom | Danger Room.
Open source drones, like this ArduCopter Quad from 3D Robotics, now outnumber military drones in the US.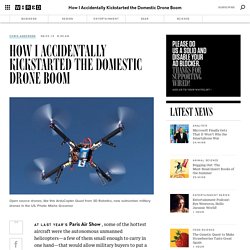 Photo: Misha Gravenor At last year's Paris Air Show, some of the hottest aircraft were the autonomous unmanned helicopters—a few of them small enough to carry in one hand—that would allow military buyers to put a camera in the sky anywhere, anytime. Manufactured by major defense contractors, and ranging in design from a single-bladed camcopter to four-bladed multicopters, these drones were being sold as the future of warfare at prices in the tens to hundreds of thousands of dollars.
FAA To Ease Rules For Police Agencies To Fly Unmanned Drones. LOS ANGELES (CBS) — Surveillance aircraft used by the U.S. military overseas could soon be coming to the skies above Los Angeles County.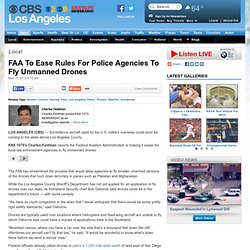 KNX 1070′s Charles Feldman reports the Federal Aviation Administration is making it easier for local law enforcement agencies to fly unmanned drones. The FAA has streamlined the process that would allow agencies to fly smaller, unarmed versions of the drones that hunt down terrorists in places such as Pakistan and Afghanistan. While the Los Angeles County Sheriff's Department has not yet applied for an application to fly drones over our skies, its Homeland Security chief Bob Osborne said drones could be in the department's future — with some caveats. "We have so much congestion in the skies that I would anticipate that there would be some pretty rigid safety standards," said Osborne. Drones for "urban warfare" - drones. In November 2010, a police lieutenant from Parma, Ohio, asked Vanguard Defense Industries if the Texas-based drone manufacturer could mount a "grenade launcher and/or 12-gauge shotgun" on its ShadowHawk drone for U.S. law enforcement agencies.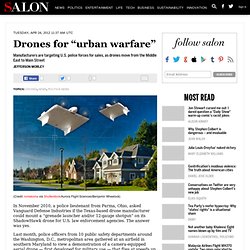 The answer was yes. Last month, police officers from 10 public safety departments around the Washington, D.C., metropolitan area gathered at an airfield in southern Maryland to view a demonstration of a camera-equipped aerial drone — first developed for military use — that flies at speeds up to 20 knots or hovers for as long as an hour. Groups Concerned Over Arming Of Domestic Drones. Get Breaking News First Receive News, Politics, and Entertainment Headlines Each Morning.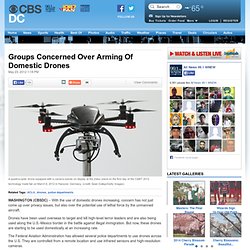 Sign Up. Drones invade campus - drones. For all the attention given to U.S. law enforcement's interest in adopting drones, the biggest users turn out to be not police departments, but universities.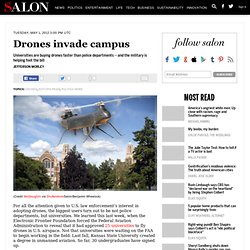 We learned this last week, when the Electronic Frontier Foundation forced the Federal Aviation Administration to reveal that it had approved 25 universities to fly drones in U.S. airspace. Not that universities were waiting on the FAA to begin working in the field: Last fall, Kansas State University created a degree in unmanned aviation. So far, 30 undergraduates have signed up. The spreading drone curriculum is, for better and worse, a sign of the coming normalization of drones in American life. Interviews with university officials revealed widespread excitement about the possibilities of unmanned aviation technology, which has the potential to transform fields like agriculture and disaster response.
8 Creepy Spy Technologies That Can Be Hitched to Your Neighborhood Drones | Civil Liberties. Photo Credit: Shutterstock March 13, 2012 | Like this article?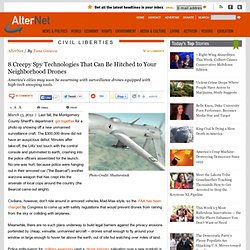 Join our email list: High-Altitude Surveillance Drones: Coming to a Sky Near You | Guest Blog. Last week President Obama signed a sweeping aviation bill that, among other things, will open the skies to "unmanned aircraft systems," more commonly known as drones.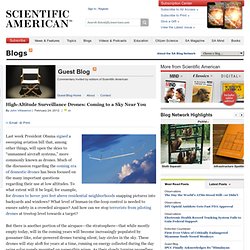 Much of the discussion regarding the coming era of domestic drones has been focused on the many important questions regarding their use at low altitudes. To what extent will it be legal, for example, for drones to hover 300 feet above residential neighborhoods snapping pictures into backyards and windows? What level of human-in-the-loop control is needed to ensure safety in a crowded airspace? And how can we stop terrorists from piloting drones at treetop level towards a target? Unaccountable Killing Machines: The True Cost of U.S. Drones - Joshua Foust - International.
Officials often portray the global expansion of deadly drone strikes as an unequivocal success.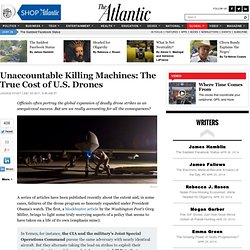 But are we really accounting for all the consequences? Reuters. Washington's Phantom War. One hot summer evening in 2009, in a small village in the remote Pakistani tribal agency of South Waziristan, a pair of Hellfire missiles fired from an unmanned Predator drone slammed into a house, killing the chief of the Pakistani Taliban, Baitullah Mehsud, along with his wife.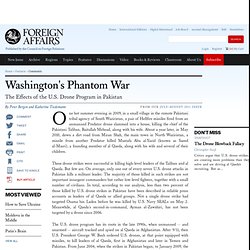 About a year later, in May 2010, down a dirt road from Miran Shah, the main town in North Waziristan, a missile from another Predator killed Mustafa Abu al-Yazid (known as Saeed al-Masri), a founding member of al Qaeda, along with his wife and several of their children. These drone strikes were successful in killing high-level leaders of the Taliban and al Qaeda. David Bell: In Defense Of Drones: A Historical Argument. Once upon a time, American military might was symbolized by the heavy boots of the Marine Corps, stomping ashore to reestablish order in unruly parts of the world. Today, increasingly, it is symbolized by unmanned drone aircraft, controlled from thousands of miles away, dropping bombs on accused terrorists. And to judge by the Obama Administration's new defense plan, released earlier this month, this shift will be strongly reinforced in the years to come. The plan aims to cut troops, ships and planes while concentrating our military energies more than ever on drones, spy technology, cyber warfare, jammers, and special operations forces.
With its explicit embrace of advanced technology over traditional methods of combat, the strategy seems designed to provoke the increasingly vocal critics who doubt the morality, effectiveness, and political implications of "remote control warfare." The Political Consequences of a Drones-First Policy - Joshua Foust - International. The global counterterrorism mission imposes substantial political costs to the U.S. Yet policymakers are rushing ahead anyway. Why we should start thinking more about politics, and less about killing bad guys. U.S. Defense Secretary Leon Panetta speaks to the media from the Pentagon Briefing Room in Washington, DC / Reuters If you talk to any security or intelligence professional, they'll tell you that the consequences of the Arab Spring -- it turned one this week -- have been devastating to U.S. security interests in the region.
U.S. drones targeting rescuers and mourners. On December 30 of last year, ABC News reported on a 16-year-old Pakistani boy, Tariq Khan, who was killed with his 12-year-old cousin when a car in which he was riding was hit with a missile fired by a U.S. drone. As I noted at the time, the report contained this extraordinary passage buried in the middle: What made that sentence so amazing was that it basically amounts to a report that the U.S. first kills people with drones, then fires on the rescuers and others who arrive at the scene where the new corpses and injured victims lie. In a just-released, richly documented report, the Bureau of Investigative Journalism, on behalf of the Sunday Times, documents that this is exactly what the U.S. is doing — and worse:
President's Top Terrorism Aid Calls Drone Killings "Legal," "Ethical," "Wise" President Obama's senior anti-terrorism advisor, John Brennan, on Monday gave the administration's most detailed explanation of the policy and considerations behind using unmanned drones to target and kill terrorists abroad, saying the process was "legal," "ethical," and "conformed to the principle of necessity" and "proportionality," in a speech at a Washington, D.C. foreign policy think tank.
"In the course of the war in Afghanistan and the fight against al-Qq'ida, I think the American people expects to use advanced technologies, for example, to prevent attacks on U.S. forces and to remove terrorists from the battlefield," said Brennan, Assistant to the President for Homeland Security and Counterterrorism. "We do and it has saved the lives of our men and women in uniform. " The Drone Blowback Fallacy. Recent revelations that the White House keeps a secret terrorist kill list, which it uses to target al Qaeda leaders, have spurred a debate over drone warfare. Progressive pundits excoriate the Obama administration for expanding the power of the executive branch. Senate Republicans, in turn, have demanded the appointment of a special counsel to probe the alleged leaks of classified information that brought the kill list to light.
As the political drama unfolds in Washington, however, the United States is intensifying its drone campaign in the arid mountains and remote plateaus of Yemen. With al Qaeda's center of gravity shifting from Pakistan to Yemen, the Central Intelligence Agency recently sought authority to conduct "signature strikes," in which drone pilots engage targets based on behavioral profiles rather than on positive identifications. Signature Strikes in Yemen | Waq al-Waq. US drone air strike kills al-Qaida terrorist wanted for USS Cole bombing | World news. Terrorist Fishing in the Yemen - By James Traub. US drone targeted al-Qaida deputy | World news. Where the Drones Are - By Micah Zenko and Emma Welch.
Secret 'Kill List' Tests Obama's Principles. 10 Things You Didn't Know About Drones - By Micah Zenko. When the US Government Can Kill You, Explained. An Executive Power to Kill? by David Cole. I Met a 16-Year-Old Kid. 3 Days Later Obama Killed Him | World. Border agency overextended on drone program. Drone Documents: Why The Government Won't Release Them. My Drone War - By Pir Zubair Shah. Our immoral drone war. The face of collateral damage. Hatred: What drones sow. In defense of Obama's drones. Fire When Ready - By Jack Goldsmith. The drones are coming — to America. What is a Drone, Anyway? | Guest Blog. Drones' new weapon: P.R. - drones. Orwells and Oppenheimers: Drone Opponents' Marriage of Convenience » Gunpowder & Lead. Israel's drone dominance. One Per Cent: GPS loss kicked off fatal drone crash. Drones, the Empty Aerial Assault.
---