Cuba
Snapshot The Vatican has recently made pointed calls for global financial reform, but the Church's teaching is grappling to accommodate the growing divergence between the immediate economic expectations of Catholics in developed European nations and those living in emerging economies. The Cathedral of the Virgin Mary of the Immaculate Conception in Havana. (Kimli / flickr) When Pope Benedict XVI visits Cuba next month, he will once again reinforce a strategy that the Vatican has allowed the local Catholic Church there to pursue for more than three decades: diligently avoid any political confrontation with the Castro regime, collaborate with Havana to combat the U.S.
How the Catholic Church is Preparing for a Post-Castro Cuba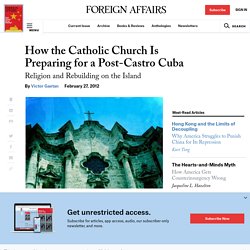 Little to commemorate, celebrate after pope's visit
After half century, Cubans again celebrate Good Friday
"On Tipping in Cuba" by Chris Turner | The Walrus | April 2012
ore than a million Canadians will travel to Cuba this year. The only places beyond our borders that attract more of us are the United States and Mexico. There is no other tourist destination on earth where Canadians are so dominant, and possibly none where the tourist economy is more vital to the nation's immediate economic health. With little in the way of formal policy and with no real intent on the part of the beach-bound hordes, we've established a relationship with Cuba that is unique in both our histories.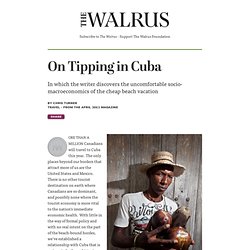 Cubans embrace enterprise - Wire Lifestyle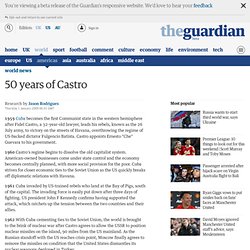 1959 Cuba becomes the first Communist state in the western hemisphere after Fidel Castro , a 32-year-old lawyer, leads his rebels, known as the 26 July army, to victory on the streets of Havana, overthrowing the regime of US-backed dictator Fulgencio Batista. Castro appoints Ernesto "Che" Guevara to his government. 1960 Castro's regime begins to dissolve the old capitalist system. American-owned businesses come under state control and the economy becomes centrally planned, with more social provision for the poor. Cuba strives for closer economic ties to the Soviet Union as the US quickly breaks off diplomatic relations with Havana.
50 years of Castro: Timeline of Fidel Castro's rule in Cuba | World news
"Tweeting to Havana" by Esther Dyson
Exit from comment view mode. Click to hide this space Comments View/Create comment on this paragraph HAVANA – I was taking my usual morning swim, but this time on the roof of the Parque Central hotel in Havana, where the sun does not rise until 6.30 a.m. even in May.
Yusimí Rodríguez Photo: Edwin Wiebe HAVANA TIMES, April 9 – Something strange often happens when I am with a foreigner and I criticize the system we have in this country. They're taken aback and rebuke me for being ungrateful, naive, and ignorant, in daring to criticize the reality in which I live because I don't know what the reality is like in other countries. Theirs, for example. Many of them are young students from neighboring countries on the continent, even from the United States, that do not have the opportunity to get a university education in their home country.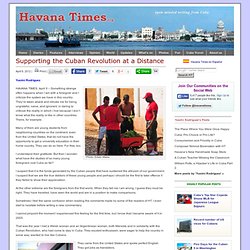 Supporting the Cuban Revolution at a Distance
The Real Cuba
U.S. Confirms Hostile Policy against Cuba
La policía de Boston arrestó esta madrugada a más de 100 manifestantes en esa ciudad de Massachusetts. La policía de Boston arrestó esta madrugada a más de 100 manifestantes en esa ciudad de Massachusetts, mientras que Nueva York y Washington D.C. ampliaron los permisos para la permanencia de congregados en las plazas. El diario The Boston Globe indicó que, vencido el plazo para la «ocupación» del parque Rose Fitzgerald Kennedy Greenway, las autoridades dieron a los manifestantes dos minutos para que se fuesen del área en la que se han instalado durante varios días. «Poco después de la una de la mañana unos 200 policías, muchos de ellos con equipos antidisturbios, se alinearon en la Avenida Atlantic», indicó el diario. La multitud empezó a corear: «El pueblo, unido, jamás será vencido», «Esta es una protesta pacífica» y «El mundo entero mira», y diez minutos más tarde los policías entraron al parque, rodearon a los manifestantes y procedieron a las detenciones.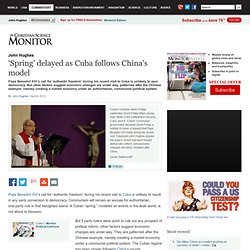 'Spring' delayed as Cuba follows China's model
Pope Benedict XVI 's call for "authentic freedom" during his recent visit to Cuba is unlikely to result in any early conversion to democracy. Communism will remain an excuse for authoritarian, one-party rule in that benighted island. A Cuban "spring," modeled on events in the Arab world, is not about to blossom. Skip to next paragraph Subscribe Today to the Monitor
Analysis: Springtime in Cuba?
The World Factbook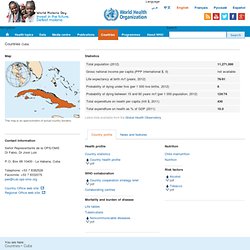 Cuba
Skip to main content Access Language