Windows Phone 7 Development
Jabby - XMPP client for Windows Phone 7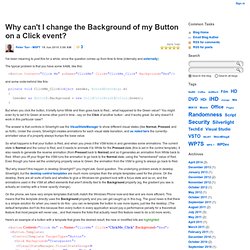 Why can't I change the Background of my Button on a Click event? - Peter Torr's Blog
I've been meaning to post this for a while, since the question comes up from time to time (internally and externally) The typical problem is that you have some XAML like this: and some code-behind like this:
January 2011 Update to the Windows Phone Developer Tools providing bug fixes, a new emulator, and utilities. This update is composed of two installation files and includes the contents of the deprecated October 2010 Update. Note: There are multiple files available for this download.
Download details: Windows Phone Developer Tools January 2011 Update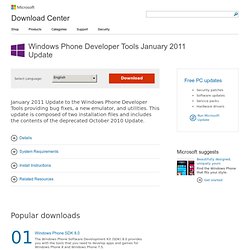 DotNetOpenAuth - OpenID, OAuth, and InfoCard for .NET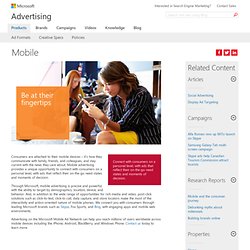 Connect with consumers on a personal level, with ads that reflect their on-the-go need states and moments of decision.
Monetize your Windows Phone 7 Apps
Code Samples for Windows Phone
Calling JavaScript Functions in Windows Phone 7 - Mike Ormond's Blog
Consuming WCF 4.0 REST Service in Windows Phone 7
Windows Phone 7 (WP7) is the upcoming next generation Mobile Operating System by Microsoft. My regular readers may have gauged that I am very passionate about WCF and so I have decided to write an article that shows how to consume WCF REST service in Windows phone application. In this application, I have created a WCF 4.0 REST service.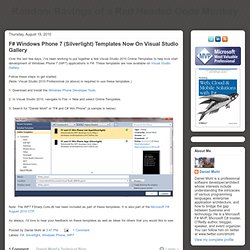 F# Windows Phone 7 (Silverlight) Templates Now On Visual Studio Gallery
Over the last few days, I've been working to put together a few Visual Studio 2010 Online Templates to help kick start development of Windows Phone 7 (WP7) applications in F#. These templates are now available on Visual Studio Gallery. Follow these steps to get started: (Note: Visual Studio 2010 Professional (or above) is required to use these templates.) 1. Download and install the Windows Phone Developer Tools.
Download details: Visual Basic for Windows Phone Developer Tools - RTW
United Nations News for Windows Phone 7