Windows Phone 7 Development
Jabby - XMPP client for Windows Phone 7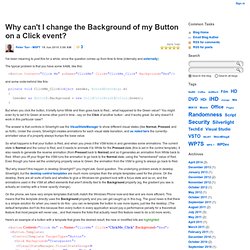 Why can't I change the Background of my Button on a Click event? - Peter Torr's Blog
I've been meaning to post this for a while, since the question comes up from time to time (internally and externally) The typical problem is that you have some XAML like this: and some code-behind like this:
January 2011 Update to the Windows Phone Developer Tools providing bug fixes, a new emulator, and utilities. This update is composed of two installation files and includes the contents of the deprecated October 2010 Update. Note: There are multiple files available for this download.
Download details: Windows Phone Developer Tools January 2011 Update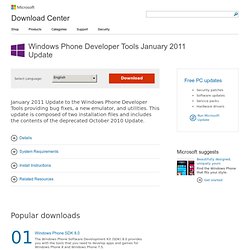 DotNetOpenAuth - OpenID, OAuth, and InfoCard for .NET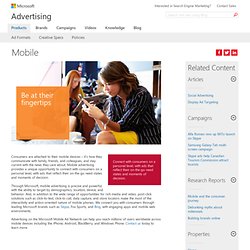 Connect with consumers on a personal level, with ads that reflect their on-the-go need states and moments of decision. Consumers are attached to their mobile devices – it's how they communicate with family, friends, and colleagues, and stay current with the news they care about. Mobile advertising provides a unique opportunity to connect with consumers on a personal level, with ads that reflect their on-the-go need states and moments of decision. Through Microsoft, mobile advertising is precise and powerful, with the ability to target by demographics, location, device, and behavior.
Monetize your Windows Phone 7 Apps
Code Samples for Windows Phone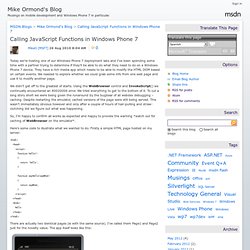 Calling JavaScript Functions in Windows Phone 7 - Mike Ormond's Blog
Today we're hosting one of our Windows Phone 7 deployment labs and I've been spending some time with a partner trying to determine if they'll be able to do what they need to do on a Windows Phone 7 device. They have a rich media app which needs to be able to modify the HTML DOM based on certain events. We needed to explore whether we could grab some info from one web page and use it to modify another page. We didn't get off to the greatest of starts.
Consuming WCF 4.0 REST Service in Windows Phone 7
Windows Phone 7 (WP7) is the upcoming next generation Mobile Operating System by Microsoft. My regular readers may have gauged that I am very passionate about WCF and so I have decided to write an article that shows how to consume WCF REST service in Windows phone application. In this application, I have created a WCF 4.0 REST service.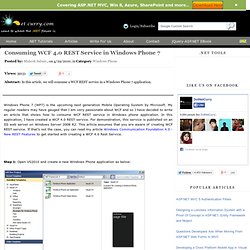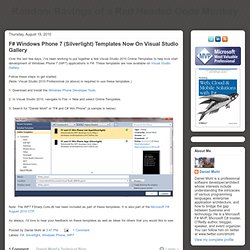 F# Windows Phone 7 (Silverlight) Templates Now On Visual Studio Gallery
Over the last few days, I've been working to put together a few Visual Studio 2010 Online Templates to help kick start development of Windows Phone 7 (WP7) applications in F#. These templates are now available on Visual Studio Gallery. Follow these steps to get started: (Note: Visual Studio 2010 Professional (or above) is required to use these templates.) 1. Download and install the Windows Phone Developer Tools.
Download details: Visual Basic for Windows Phone Developer Tools - RTW
CodePlexProject Hosting for Open Source Software United Nations News for Windows Phone 7 Project Description United Nations News lets you keep in touch with the latest news from the international community, global events and initiatives from around the world.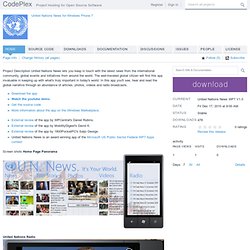 United Nations News for Windows Phone 7