Games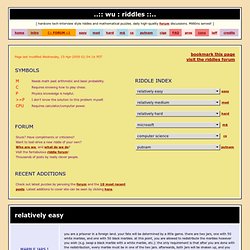 So, an eccentric entrepreneur by the name of Alphonse Null has sent out a press release about his new, mind-blowing hotel: The Hotel Infinity. Null informs the world that this hotel has an infinite number of rooms (specifically, an infinity equal to the cardinality of the integers). A quick tour puts skeptics' claims to rest; as far as anyone can tell, this hotel has infinite rooms. The consequences are mind-boggling, and Null sets up a press conference to answer questions...
Herd a Word
Knoword is a quick thinking game that helps boost vocabulary, spelling, speed of thought, as well as increasing analytical, observational and typing skills. When you begin, you will be greeted with a single letter. Underneath will be a dictionary definition to a word, which will begin with the letter in the box.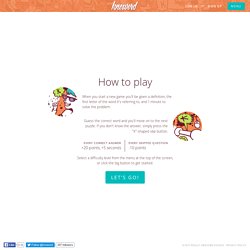 WordSplay: A Word-Building Game
Thanks for the interest in this game! It's not done yet, it's just a demo, but email me and I'll let you know when it's ready:jeresig+deepleap@gmail.com. Follow @deepleap on Twitter for updates! i1 point h5 points r2 points e1 point Help: Spell words from the tiles to gain points. 75 tiles drop every game, reload or click here to play a new game.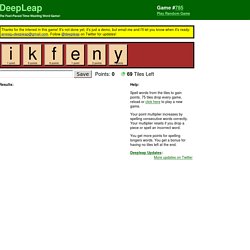 Cryptograms - Play Online or Print Your Own for Free!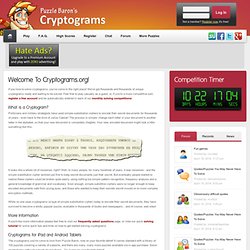 If you love to solve cryptograms, you've come to the right place! We've got thousands and thousands of unique cryptograms ready and waiting to be solved. Feel free to play casually as a guest, or, if you're a more competitive sort, register a free account and be automatically entered in each of our monthly solving competitions! Politicians and military strategists have used simple-substitution ciphers to encode their secret documents for thousands of years - even back to the time of Julius Caesar! The process is simple: change each letter in your document to another letter in the alphabet, so that your new document is completely illegible.
Add Problem | Register | Login Live Updates amine362 added explanation on problem A Beasty Sum 21 hours ago amine362 solved A Beasty Sum
Mathalon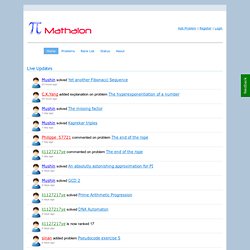 American Mensa | Games
Logic Problems  -  GridWorks™  -  Strimko™
Below you can find the Top 50 Brain Teasers and Games that Sharp­Brains read­ers have enjoyed the most. It is always good to learn about our brains and to exer­cise them! This is our selec­tion of fun and enlight­en­ing brain teasers for adults of any age.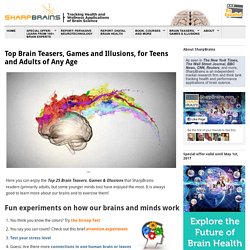 Brain Teasers, Riddles, Trivia, Brain Exercises, Games, Forums and more... With over 20,000 brain teasers, riddles, logic problems, quizzes and mind puzzles submitted and ranked by users like you, Braingle has the largest collection anywhere on the internet. Our large array of unique online multiplayer games will keep you entertained for hours, and if you want to improve your brain, check out the Mentalrobics section. If you crave a brain teaser, mind puzzle, riddle or game, we are the place to get it. Increase your creativity, boost learning and become a better person at Braingle. Get ready to have your brain tangled!