Logiciels
Audacity is available for Windows®, Mac®, GNU/Linux® and other operating systems. Check our feature list, wiki, and forum for more information. 05 février 2014: Audacity Unconference (AU14) Further to our recent announcement, our planned "Audacity Unconference (AU14)" will now take place on 11th and 12th July 2014 at UCLan in Preston, England. Bookings are now being taken.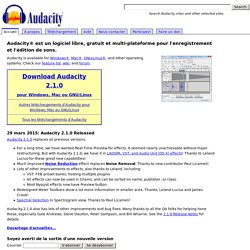 www.fixgroup.net/pdfs/edustar.pdf
Vocalab création | Edu 4
News - 12/06/2013 Dr. Stan Bogdanov has published Hacking Hot Potatoes: The Cookbook, available in paperback, PDF and ePub format. Check it out!A change to the user agent string in Firefox 17 results in Hot Potatoes and Quandary exercises showing an error message when loading in the browser.