Festivals
Reggae Area 2013
FIMU Festival International de Musique Universitaire
ECO-FESTIVAL CABARET VERT 2013 - Programmation cinéma : <p>Découvrez la <a href="prog_cine.php">programmation 2013</a> du Chapiteau aux images : clips déjantés ou films d'animation, images expérimentales et films courts...</p> ' />
Festival Décibulles 2013 - 12/13/14 Juillet 2013 à Vallée de Villé / Neuve Église (67)
Sziget - Festival 2011 :: News
Monegros Desert Festival
kaZantip 2011 ? music, dance and Partie Terre ? kaZantip festival Ukraine ? kaZantip R?publique
Bloc.
The festival is located at a beautiful camping site in a forest, 80km from Prague, from Friday 1st July 2011 until Wednesday 6th of July 2011. There, you can pitch your tent, park your van or rent one of the many bungalows available for the 5 days of the festival. You will also find a restaurant, bars and delicious food as well as a swimming pool for a refreshing swim during the day, showers, toilets, parking and a spectacular forest surrounding the site. The entire festival will be powered by Noise Control Audio sound systems, the deepest and purest systems in the industry!!Concerts stage 25/30KW - Chillout tent 7KW - Techno Dancefloor 18KW. Kids are welcome as a special place and performance area will be reserved for them with bubbles, fire shows, stilt walkers, a circus, monocycles and various other activities.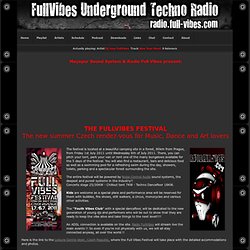 FullVibes Underground Electronic Radio
Le Guide des Festivals
Festival Skabazac
Bandas : festival de bandas à Condom
Festival Rio Loco 2012 Lusofonia -Toulouse 13 - 17 juin 2012
Fête de l'Huma
Festival Nördik Impakt, treizièmes rencontres des cultures électroniques à Caen, Basse-Normandie, France, du 4 au 8 Octobre 2011 - Nordik.org
VIKINGS AN 911 - Actualités
Le Rock Dans Tous Ses Etats 2011
Fête Viking - 12ème édition - Samedi 11 juin 2011 - Célébrons ensemble 11 siècles de Normandie !
festival Beauregard 2011
Faits d'hiver 2011 - danses d'auteur