Festivals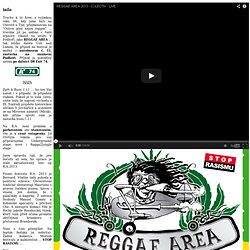 info Trochu k té Áree...s vyjímkou roku 06, kdy jsme byli na Ostrově u Tisé, přejmenováni na "Ostrov plný nejen reggae" ... trávíme již po sedmé v řadě srpnový víkend na letišti V Podhoří, jako REGGAE AREA ... tak blízko města Ústí nad Labem, že příjezd na festival je možný i autobusem č. 11, zastávka na znamení Podhoří. Příjezd je pohodlný autem po dálnici D8 Exit 74. Zpět k Busu č.11 ... bo ten Vás naloží i v případě, že přijedete vlakem. Pokud je to vaše cesta, vězte tedy, že naproti východu z Hl. Nádraží projdete historickou uličkou V Jirchářích a ocitenete se na Mírovém náměstí (Mírák), kde přímo oproti vám je zastávka busu č.11
Reggae Area 2013
FIMU Festival International de Musique Universitaire
ECO-FESTIVAL CABARET VERT 2013 - Programmation cinéma : <p>Découvrez la <a href="prog_cine.php">programmation 2013</a> du Chapiteau aux images : clips déjantés ou films d'animation, images expérimentales et films courts...</p> ' />
Festival Décibulles 2013 - 12/13/14 Juillet 2013 à Vallée de Villé / Neuve Église (67)
Sziget - Festival 2011 :: News
Monegros Desert Festival
kaZantip 2011 ? music, dance and Partie Terre ? kaZantip festival Ukraine ? kaZantip R?publique
"Jamie Playford of Parker Andrews was appointed Administrator of Base Logic Productions Limited T/A Bloc ("the Company") on 11 July 2012. A letter confirming the appointment as Administrator of the Company, and Form 2.12B, Notice of Administrator's Appointment, is available to download from this site. The Administrator's Proposals and any subsequent reports to creditors will also be made available to download in due course." It is with great sadness that we announce Baselogic Productions (who you all know as Bloc) has been placed into administration following the events of Friday evening.
Bloc.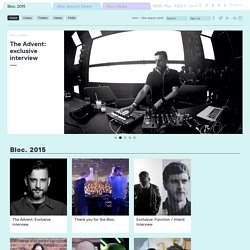 The festival is located at a beautiful camping site in a forest, 80km from Prague, from Friday 1st July 2011 until Wednesday 6th of July 2011. There, you can pitch your tent, park your van or rent one of the many bungalows available for the 5 days of the festival. You will also find a restaurant, bars and delicious food as well as a swimming pool for a refreshing swim during the day, showers, toilets, parking and a spectacular forest surrounding the site. The entire festival will be powered by Noise Control Audio sound systems, the deepest and purest systems in the industry!!Concerts stage 25/30KW - Chillout tent 7KW - Techno Dancefloor 18KW. Kids are welcome as a special place and performance area will be reserved for them with bubbles, fire shows, stilt walkers, a circus, monocycles and various other activities.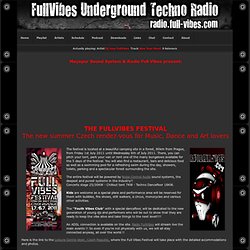 FullVibes Underground Electronic Radio
Warning: mysql_connect(): Can't connect to local MySQL server through socket '/var/lib/mysql/mysql.sock' (2) in /chroot/home/mindyour/dws.3136/framework/DB/mywbDB.php on line 89 Notice: Undefined variable: query in /chroot/home/mindyour/dws.3136/framework/DB/mywbDB.php on line 99 Fatal error: MySQL error: (2002) Can't connect to local MySQL server through socket '/var/lib/mysql/mysql.sock' (2) in /chroot/home/mindyour/dws.3136/framework/DB/mywbDB.php on line 388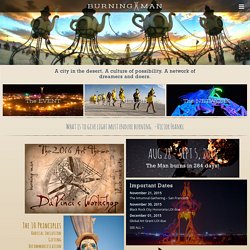 2014 Art Theme: Caravansary For centuries, Silk Route travelers crossed paths in caravansaries, bustling caravan stops offering more than just shelter from the desert wilderness; they were vital centers of cultural exchange, bringing together traders, pilgrims, monks, nomads, traveling entertainers, and wild-eyed adventurers from all points of the compass to share their stories around a common fire. What Is Burning Man? Once a year, tens of thousands of participants gather in Nevada's Black Rock Desert to create Black Rock City, dedicated to community, art, self-expression, and self-reliance.
Le Guide des Festivals
Exposition "Sur les traces de Miossec" France Inter, Le Printemps de Bourges, le Disquaire Day et la Discothèque de Radio France présentent « Sur les traces de Miossec ».... Lire la suite... Les scènes extérieures et gratuites Le Printemps de Bourges et ses partenaires programment, du mercredi au dimanche, 4 scènes extérieures et gratuites.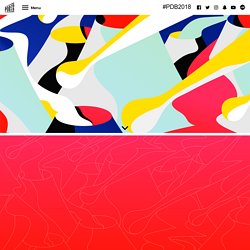 Festival Skabazac
C'est avec un profond regret que nous vous informons qu'il n'y aura pas d'édition 2011 du festival Skabazac. Depuis sa création, le festival est porté de façon associative par une équipe entièrement bénévole, qui n'a jamais cessé d'œuvrer dans un seul objectif : pérenniser une manifestation de musiques (...) En savoir + Toute l'équipe du festival tient à remercier les 30 000 festivaliers présents sur cette 12ième édition haute en couleurs, venus des 4 coins de France et d'Europe.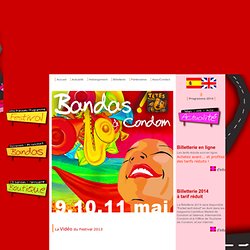 Bandas : festival de bandas à Condom
| La Vidéo du Festival 2013 | Les concerts du vendredi 9 mai Programmation 2014 Les concerts Festifs, enflamment la place St Pierre et le Cloître de Condom de 21 h 30 à 4 h du matin. Têtes Raides Billy Hornett
Festival Rio Loco 2012 Lusofonia -Toulouse 13 - 17 juin 2012
Fête de l'Huma
Festival Nördik Impakt, treizièmes rencontres des cultures électroniques à Caen, Basse-Normandie, France, du 4 au 8 Octobre 2011 - Nordik.org
VIKINGS AN 911 - Actualités
Le Rock Dans Tous Ses Etats 2011
Fête Viking - 12ème édition - Samedi 11 juin 2011 - Célébrons ensemble 11 siècles de Normandie !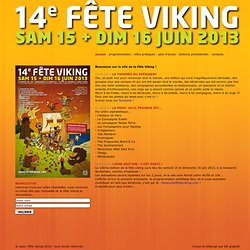 Bienvenue sur le site de la Fête Viking ! 25.06.2013 LA TOURNÉE DU PRÉSIDENT Ola, un petit mot pour remercier tout le monde, une édition qui s'est magnifiquement déroulée, des groupes plus que sympas et qui ont fait sauter tout le monde, des bénévoles qui ont encore une fois mis une belle ambiance, des compagnies accueillantes et chaleureuses, un spectacle et un bûcher ardents d'enthousiasme, une orga qui a assuré comme jamais et un public juste la classe. Merci à toi Public, merci à toi bénévole, merci à toi artiste, merci à toi compagnie, merci à toi orga !!! Pour voir les photos du week-end, c'est ici ! Suivez nous sur facebook ! 01.04.2013 LA PROG' 2013, PREMIER JET...
festival Beauregard 2011
Un dernier artiste restait à dévoiler pour que la programmation du festival Beauregard 2014 soit complète et plutôt que de nous précipiter, nous avons souhaité prendre du temps et vous offrir un cadeau, un artiste aussi mythique que rare dans l'Hexagone. lire la suite À tous les fans qui ont acheté leurs pass 3 jours avant l'annonce de STROMAE : le tarif exceptionnel à 26€ qui leur était réservé pour le jeudi 3 juillet vit ses derniers jours. Vous avez jusqu'au 11 avril pour bénéficier de cette offre, exclusivement au BBC/Big Band Café et sur présentation de votre pass 3 jours « fan ». Passé cette date, les tarifs normaux s'appliqueront à tous, le pass 4 jours restera également disponible.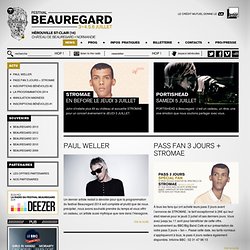 Faits d'hiver 2011 - danses d'auteur