Wedding
It seems Pretty Blog readers just can't get enough of their high teas these days! In honour of this truly wonderful tradition making a comeback into weddings and everyday life I've created a set of 3 vintage-inspired placemats – each a sweet and simple backdrop for your finest cake plates and tea sets. While I've used crisp white paper for my placemats these vintage illustrations will also look great on other soft hues like pale blue, blush and ivory.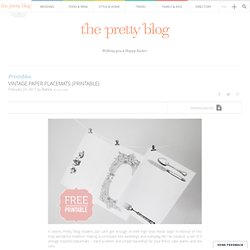 Music by Decade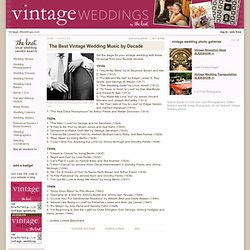 Set the stage for your vintage wedding with these hit songs from your favorite decade. 1910s 1. "You're My Baby" by A. Seymour Brown and Nat D. Ayer (1912) 2.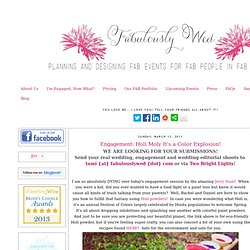 Send your real wedding, engagement and wedding editorial shoots to I am so absolutely DYING over today's engagement session by the amazing Jerry Yoon! When you were a kid, did you ever wanted to have a food fight or a paint toss but knew it would cause all kinds of trash talking from your parents?
Fabulously Wed: Engagement: Holi Moly Its a Color Explosion!
Lace Heart Garland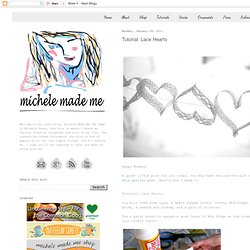 Happy Monday! A quiet little post for you today. You may have noticed the gift ornament in this earlier post.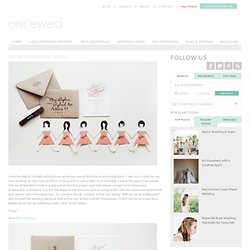 I love the idea of formally asking those whom you would like to be in your bridal party. I sent out a cards for my own wedding so that inspired me to come up with a cute project to do the same. I adore the paper chain people that we all learned to make in grade school and this project uses that simple concept to introduce your bridesmaids to everyone. Cut out the shape of the dress you plan on using in the color you desire and personalize each person with some paper hair.
Bridesmaid Request
S'mores Bar
Free Seating Chart For Your Wedding - Wedding Mapper
Music Ideas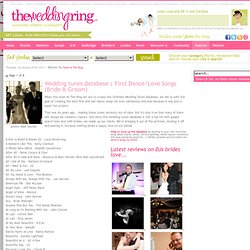 Thursday, 28 January 2010 14:37 | Written by Team @ The Ring photo: A&M Sounds When the team at The Ring set out to create the Ultimate Wedding Tunes Database, we did so with the goal of creating the best first and last dance songs list ever (obviously) and also because it was just a super fun project. That was six years ago... making these tunes seriously out of date.
Music Playlist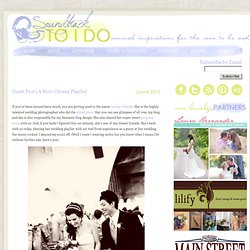 If you've been around here much, you are getting used to the name Jessica Velarde. She is the highly talented wedding photographer who did the styled shoot that you can see glimpses of all over my blog, and she is also responsible for my fantastic blog design. She also shared her super sweet proposal story with us.
Mismatched Bridesmaids
For the last few years, mismatch bridesmaid dresses has been one of the hottest trends on weddings. Everyday visiting my favorite blogs, I discover tons of style-savvy brides who find the most creative ways to follow this trend. After all, I believe that allowing your bridesmaids to choose their dresses according to their budget, taste and type of body is a fabulous idea. If you decide to incorporate this plan to your wedding, just remember, the biggest secret of successful mismatching bridesmaids is to make your girls wear different dresses yet still look like your team… your bridal party.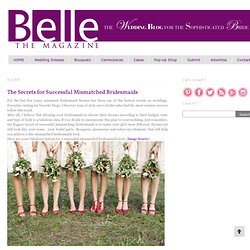 Posted June 24, 2011 | 6 Comments Today we're bringing you a round-up of 10 handmade wedding bouquets that are made to last forever. That's right, lovelies – no throwing away the bouquet at the end of the night! Instead, place in your love nest and admire for years to come.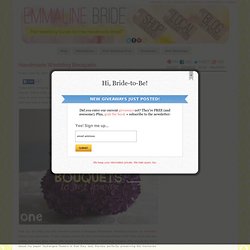 Paper Bouquets
I f you've decided to make a wedding cake at home, congratulations on your bravery! Now, relax: We've got everything you'll need to create a masterpiece. We've enlisted Melissa Murphy, owner of the Sweet Melissa Patisseries in Brooklyn, New York, to help, and she's designed an elegant three-tiered cake decorated with delicate rosebuds and filled with luscious lemon curd and fresh raspberries.
Wedding Cake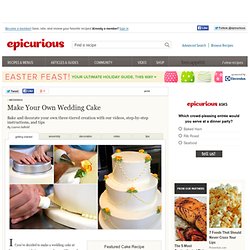 Welcome to ourweddingsongs.com. Wedding songs are a very important factor to consider when planning your wedding. They set the general mood and tone for your ceremony or reception, while also allowing you to express your feelings through music. That is why we have compiled a list of wedding songs in various categories that will undoubtedly make your wedding a day to remember! Simply use the navigation on the left, and click on the appropriate category to see a list of songs for that particular section. All songs are sorted by rating, so you'll see the most popular songs first.
Click Here To Upgrade If You Are An Existing OneStopWeddingPlanner.com Member One Stop Wedding Planner recently launched a new wedding planning website called BridePros. BridePros.com is an amazing wedding planning tool or considered to be the ultimate wedding planner that connects wedding couples, such as yourself, with wedding professionals in the area you're getting married. The BridePros wedding planning tools not only allow you to have full access to the most effective online wedding planning tools, but also enables you to search and communicate with professionals who can assist you with your wedding planning details.
I am loving the pastel colors of these spring time lanterns - a little reuse project I have been playing around with lately! The secret to all these lovely colors! Mod Podge colored with a bit of food coloring! I had a couple little stamped jars on hand and I got to thinking, if I colored them, they would probably resemble some of the vintage glass pieces that belonged to my great grandmother. So pretty on a spring brunch table set with vintage glass dishes. I wasn't sure whether to use acrylic paint or food coloring so I tested both.
Mason Jar Painting
Rustic DIY Wedding - Bridesmaid.com - StumbleUpon
Posted on June 19th, 2011. By Dessy Group. In: DIY Wedding,Real Wedding. With: 8 Comments