IWB GAMES
TES iboard
Reception Maths Practice
Light & Dark Learn about light & dark as well as light sources & reflections as you experiment with different objects in this fun activity. Does a mirror ball give out light or does it just reflect light from another source?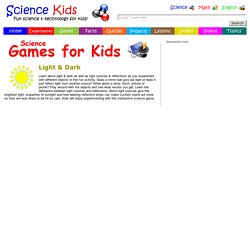 Light & Dark - Sources & Reflections - Science Games & Activities for Kids
BGfL - BGfL Homepage - BGfL Homepage
cmrgeneral
ict games
These programs were designed by Ian Bean to support many areas of the curriculum. They can be used with a range of assistive input devices including switches (emulating the spacebar or left mouse button); touch-screens and pointing devices. Our counting songs also accept input from keyboards including Intellikeys and Concept. All work brilliantly on an interactive whiteboard such as those produced by Smart, Prometheanor Plasma Screens.
Priory Woods School and Arts College - Free Program Resources