Tricot
bla bla pour les enfants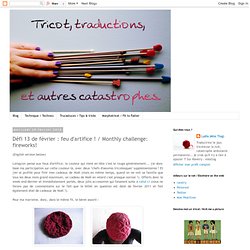 (English version below)
feu d'artifice ! / Monthly challenge: fireworks!
The Marius sweather | Dirty Embroideries - Naughty Knitting
The most popular sweather in Norway for the last 60 years, has been the "Marius-genser". Made in the national colours red, white and blue, and among others worn by King Harald when he was a crown prince and Gro Harlem Brundtland when she was our Prime Minister, it is my opinion that this sweather has become a national icon. Women all over the country have been knitting this sweather with it's name after the war hero and slalom skier Marius Eriksen.
» Emily Stoneking
Tricot Méthode Frankenstein
The Coolest Jumbo Knits
Otillie's Closet
Internet Archive "Knitting"
Instructions for reading these files You have to download the latest version of Adobe Reader from Install it (it doesn't install automatically), and then make sure your browser points to the right version.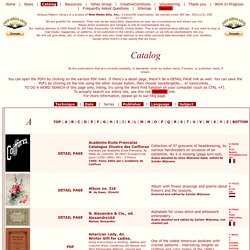 Latest Post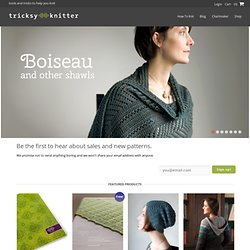 Plein de petits bonnets pour le Tricothon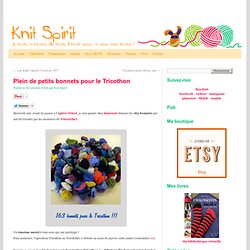 Mercredi soir, avant de passer à l'Apéro-Tricot, je suis passée chez Innocent déposer les 163 bonnets qui ont été tricotés par les membres du Tricot(thé).
needled
Mamie Tricot Social Club
object by gallery deux poissons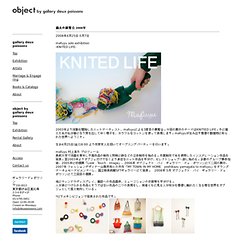 2008年4月25日-5月7日 mafuyu solo exhibition -KNITED LIFE-
One Little Red Fox
Aujourd'hui un DIY fait maison, qui mixe mes 2 passions du moment : Les animaux et le fluo! Il y a quelques jours, J'avais craquée sur des illustrations naturalistes des année 60 ICI, et surtout sur celle représentant l'écureuil!! J'ai tout de suite eu envie d'en faire une jolie trousse pour mon petit maquillage!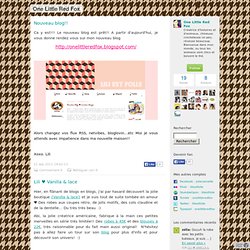 bathroom curtains | KnitHacker
03 décembre 2009 un petit cache col contre les angines... Et voilà un petit cache col pour garder ma gorge au chaud cet hiver, d apres un modèle gratuit de Ravelry