LBS
Stalger. SimpleGeo. Adlocal :: Your Location Based Mobile Advertising Utility :: Hom. Placecast. LBS location based services. NowSpots - Local ads that work. Local.com Buys Domain Advertising Company OCTANE360 For Up To $1. Local business directory and search engine Local.com this morning announced the acquisition of the assets of OCTANE360, a technology startup based out of Los Angeles that provides domain-based local advertising solutions to small businesses, domain portfolio owners, agencies and channel partners.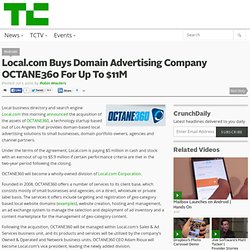 Under the terms of the agreement, Local.com is paying $5 million in cash and stock with an earnout of up to $5.9 million if certain performance criteria are met in the two-year period following the closing. OCTANE360 will become a wholly-owned division of Local.com Corporation. Founded in 2008, OCTANE360 offers a number of services to its client base, which consists mostly of small businesses and agencies, on a direct, wholesale or private label basis.
POIdo. TappLocal - Hyperlocal Mobile Advertising. Mscape – GetOut + Explore.
---