Downloads
JavaScript must be enabled in order to use all of the site's features. Please enable JavaScript in your browser and refresh the page. Sort by: | 1 - 20 | 20 items total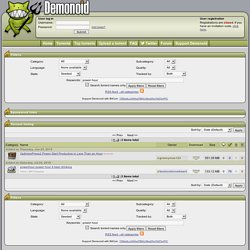 Torrent list
This site allows you to download closed-captions (subtitles) from YouTube videos that have them in .srt format. Watch an example video with closed-captions. As an added bonus, you can also choose from a variety of qualities to download the video.Note: Javascript must be enabled for this site to work. Here's a video explaining how to use this website. If you need any help, leave a comment at that video! YouTube video URL: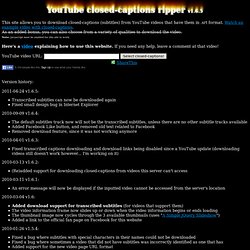 Directors: Jennifer Abbott, Mark Achbar Synopsis: In the mid-1800s, corporations began to be recognized as individuals by U.S. courts, granting them unprecedented rights. The Corporation, a documentary by filmmakers Mark Achbar and Jennifer Abbott and author Joel Bakan, delves into that legal standard, essentially asking: if corporations were people, what kind of people would they be? Applying psychiatric principles and FBI forensic techniques, and through a series of case studies, the film determines that this entity, the corporation, which has an increasing power over the day-to-day existence of nearly every living creature on earth, would be a psychopath. The case studies include a story about how two reporters were fired from Fox News for refusing to soft-pedal a story about the dangers of a Monsanto product given to dairy cows, and another about Bolivian workers who banded together to defend their rights to their own water supply.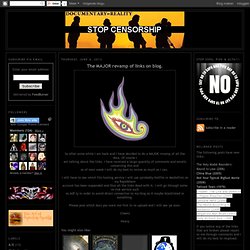 Documentary Reality
The Pirate Bay - The galaxy's most resilient bittorrent site
Welcome to my favorite @nime Movie & Short OVA Super Pack Part 1! I've been putting this together for quite some time now. I've searched far and wide and have managed to put together over 60 different movies & short OVAs.
`My Favorite Anime Movie & Short OVA Super Pack Part 1 (Dual-Audio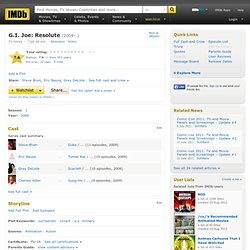 Trivia Out of the small cast, Charles Adler is the only one to have ever voiced a character on G.I. Joe (1985).
G.I. Joe: Resolute (TV Series 2009)
Forum • Index page