Augmented reality in Flash
Augmented reality in Flash. Boffswana » Blog Archive » Papervision - Augmented Reality. Boffswana » Blog Archive » Augmented Reality and Video. The Flash Blog » Inverted augmented reality with Pixel Bender. I had the idea that I wanted to do an augmented reality project that used a white rectangle on black instead of the usual black on white.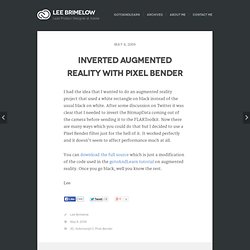 After some discussion on Twitter it was clear that I needed to invert the BitmapData coming out of the camera before sending it to the FLARToolkit. Now there are many ways which you could do that but I decided to use a Pixel Bender filter just for the hell of it. It worked perfectly and it doesn't seem to affect performance much at all. You can download the full source which is just a modification of the code used in the gotoAndLearn tutorial on augmented reality. Once you go black, well you know the rest. YouTube - Augmented Reality by Hitlab. Papervision3D. AS3 Augmented Reality in Flash and Papervision 3D a. Augmented reality is a very cool technology.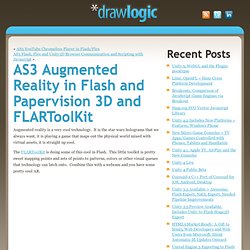 It is the star wars holograms that we always want, it is playing a game that maps out the physical world mixed with virtual assets, it is straight up cool. The FLARToolKit is doing some of this cool in Flash. Augmented reality in Flash (with Papervision and FLARtoolKit) - Getting Started with Augmented Reality and the Flash Platform |
---