Photographie
No Photoshopped Scenes in Studio
Ces photos qui marqueront à jamais l'Histoire - Actupus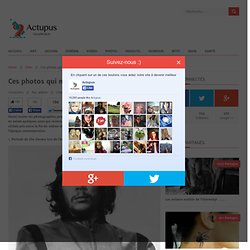 Parmi toutes les photographies prises à travers le monde pour illustrer des moments historiques, il en existe quelques unes qui resteront à jamais gravées dans les mémoires. C'est le cas de ces 13 clichés pris entre la fin du 20ème siècle et le début du 21ème qui illustrent des faits poignants de l'époque contemporaine. 1.
Nature Masterpieces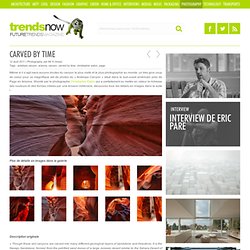 Carved by Time
Même si il s'agit sans aucuns doutes du canyon le plus visité et le plus photographié au monde, un très gros coup de coeur pour ce magnifique set de photos du « Antelope Canyon » situé dans le sud-ouest américain près de Page en Arizona. Shooté par le photographe Christopher Eaton qui a parfaitement su mettre en valeur la richesse des couleurs et des formes créées par une érosion millénaire, découvrez tous les détails en images dans la suite ! Plus de détails en images dans la galerie Description originale
Exploding Food
Twisting Architecture
Underwater Nude Series
Body Motion
Irina Werning / Back to the future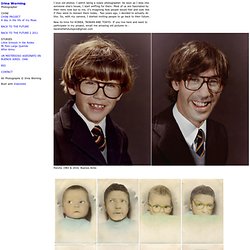 I love old photos. I admit being a nosey photographer. As soon as I step into someone else's house, I start sniffing for them. Most of us are fascinated by their retro look but to me, it's imagining how people would feel and look like if they were to reenact them today… Two years ago, I decided to actually do this.
Raymond Depardon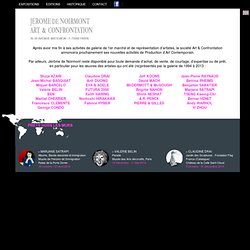 Après avoir mis fin à ses activités de galerie de 1er marché et de représentation d'artistes, la société Art & Confrontation annoncera prochainement ses nouvelles activités de Production d'Art Contemporain. Par ailleurs, Jérôme de Noirmont reste disponible pour toute demande d'achat, de vente, de courtage, d'expertise ou de prêt, en particulier pour les œuvres des artistes qui ont été (re)présentés par la galerie de 1994 à 2013 :
Pierre et Gilles
Mark is an international award-winning photographer with 20+ years of experience in capturing a full spectrum of people and places and specialises in shooting people, fashion and still life underwater.His Aqueous work has become very collectable and an Aqueous video was projected onto the walls of Buckingham Palace for the backdrop of Sir Paul McCartney during The Queen's diamond jubilee concert. A book of Mark's Aqueous work is available through www.blurb.com He is represented by several galleries and his personal work is in many private collections around the world. The Sophie Maree Gallery, The Hague, www.sophie-maree.comModern ArtBuyer, UK, www.modernartbuyer.comSubject Matter, Japan, www.subjectmatter.jp 2009 Sovereign Asian Art Awards - Finalist2010 International Aperture Awards - Silver2010 Dabomba Creative Awards - Platinum & Gold2011 Dabomba Creative Awards - Gold2012 The London Awards - Shortlisted.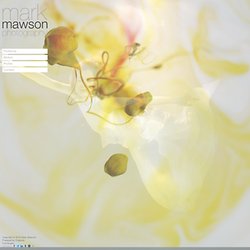 www.mondino-update.net Мондино, Жан-Батист Жан-Бати́ст Мондино́ (фр.
Mondino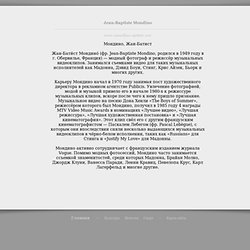 Vertical Strips
Pallalink