Photographie
No Photoshopped Scenes in Studio
Ces photos qui marqueront à jamais l'Histoire - Actupus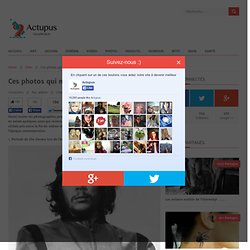 Parmi toutes les photographies prises à travers le monde pour illustrer des moments historiques, il en existe quelques unes qui resteront à jamais gravées dans les mémoires. C'est le cas de ces 13 clichés pris entre la fin du 20ème siècle et le début du 21ème qui illustrent des faits poignants de l'époque contemporaine. 1.
Nature Masterpieces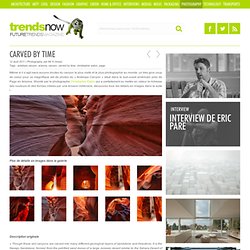 Carved by Time
Même si il s'agit sans aucuns doutes du canyon le plus visité et le plus photographié au monde, un très gros coup de coeur pour ce magnifique set de photos du « Antelope Canyon » situé dans le sud-ouest américain près de Page en Arizona. Shooté par le photographe Christopher Eaton qui a parfaitement su mettre en valeur la richesse des couleurs et des formes créées par une érosion millénaire, découvrez tous les détails en images dans la suite ! Plus de détails en images dans la galerie Description originale
Exploding Food
Twisting Architecture
Underwater Nude Series
Body Motion
Irina Werning / Back to the future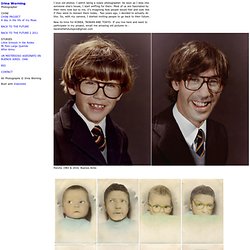 I love old photos. I admit being a nosey photographer. As soon as I step into someone else's house, I start sniffing for them. Most of us are fascinated by their retro look but to me, it's imagining how people would feel and look like if they were to reenact them today… Two years ago, I decided to actually do this.
Raymond Depardon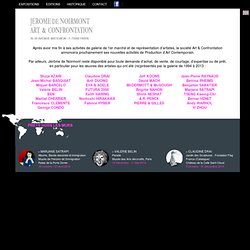 Née en même temps que leur histoire d'amour en 1976, la collaboration artistique de Pierre et Gilles n'a cessé depuis plus de 30 ans de mettre en commun leurs émotions et leur créativité au service d'une œuvre unique, mêlant photographie et peinture, devenue incontournable au sein de la scène artistique française et internationale. Reflets intimes de leur univers quotidien, leurs créations se déploient, tel un vaste album de famille mettant en scène leurs amis anonymes ou célèbres. Leurs œuvres sont conçues sous la forme de photographies peintes, à travers un processus créatif précis. A partir d'un dessin de leur projet commun, ils créent eux-mêmes le décor de leur mise en scène théâtrale, usant d'artifices divers et d'accessoires ramenés de leurs nombreux voyages. Ils réalisent également le costume, la coiffure et le maquillage de leurs modèles, parfois aidés de grands professionnels. Pierre photographie ensuite la scène.
Pierre et Gilles
www.mondino-update.net Мондино, Жан-Батист Жан-Бати́ст Мондино́ (фр.
Mondino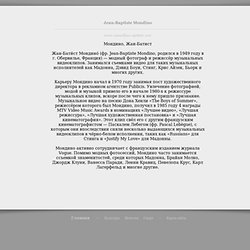 Vertical Strips
Pallalink