Hotels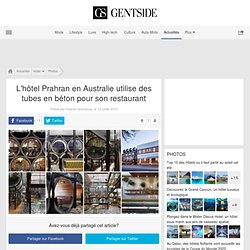 L'hôtel Prahran en Australie utilise des tubes en béton pour son restaurant
Vous aimez nos contenus ? Recevez gratuitement la meilleure news et vidéo du jour, et profitez des conseils de Consogazette pour améliorer votre pouvoir d'achat Situé à Melbourne en Australie, cet étonnant hôtel fait appel à de larges tubes de béton pour la réalisation de son restaurant.
Imagine a private sanctuary of tranquility and balance where the smallest of details have been carefully crafted with your experience in mind. Imagine an escape destined to expand your journey, while ensuring your privacy. Imagine Kenoa , a first wave Eco-chic design resort. The Kenoa villa is eccentric, indeed a rustic luxury residence in harmony with nature's seascape.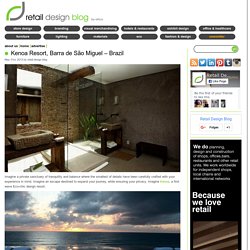 Kenoa Resort, Barra de São Miguel – Brazil
Rehabilitation Hotel Moure by Abalo Alonso Arquitectos, Santiago de Compostela – Spain
At the beginning the building was still working as a student's guesthouse accommodating the owners' dwelling on the first floor. Two main interventions have been performed on the ground floor. Firstly, entry to the building has been reduced favoring access, and both ramp and steps have been refitted to create the waiting area without resorting to the standard check-in desk. The rear part of the building has been pierced by a patio, which polarizes, illuminates, ventilates and shapes the limits in between rooms. Auxiliary services are contained in four wood boxes. The first one is provided by a lattice structure functioning as windbreak.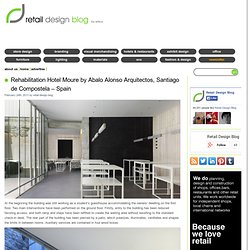 Wanderlust Hotel
Drew House
25Hours Hotel HafenCity Interior by Stephen Williams Associates
Ayada Maldives
Infinity Pools
Igloo Hotel
Alila Villas Bali
Leaf House
Wadi Rum Resort
East Hotel by CL3 Architects
Zaha Hadid Architects » Hotel Puerta America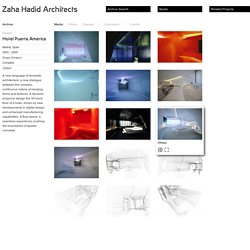 Hotel Puerta America allowed us full autonomy to design a floor of its property, comprising 30 rooms and all common parts. Our masterstroke, in response to clichéd hotel rooms, was to explore the fusion of elements, forms and textures, where floors, walls and furniture become one continuous surface; one seamless skin. Every single element merges and flows, from bedroom doors with LED lights, bathtubs and vanity units to beds, shelves and chairs.
Volcano Hotel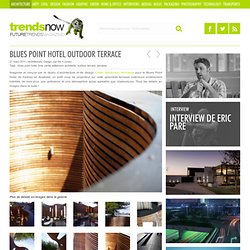 Blues Point Hotel Outdoor Terrace
Imaginée et conçue par le studio d'architecture et de design Carter Williamson Architects pour le Blues Point Hotel de Sydney en Australie, un petit coup de projecteur sur cette splendide terrasse extérieure entièrement habillée de bois pour une ambiance et une atmosphère aussi agréable que chaleureuse. Tous les détails en images dans la suite ! Plus de détails en images dans la galerie Description originale