Pretty Pictures
- StumbleUpon. Best wallpapers. PLACES AND SPACES. PLACES AND SPACES / Colorado. 20 Majestic Mountain and Canyon Photographs. Mountain photography and canyon photography both offer opportunities for photos that portray a grand sense of scale.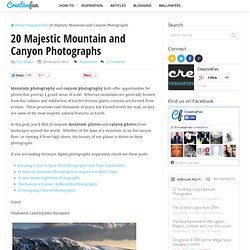 Whereas mountains are generally formed from the collision and subduction of Earth's tectonic plates, canyons are formed from erosion. These processes take thousands of years, but it's well worth the wait, as they are some of the most majestic natural features on Earth. In this post, you'll find 20 majestic mountain photos and canyon photos from landscapes around the world. 25 Most Beautiful Animals Photography on StumbleUpon | Beautiful Animals. Photography. Wild Scenics Pictures. Amazing-red-sky-wide.jpg (JPEG Image, 1920x1200 pixels) Awful Drawings.
35313_1293916901_large.jpg from cgsociety.org - StumbleUpon. Things I Love / in this moment now capture it, remember it. - StumbleUpon. Flora. Trees. Handi'Chiens by Jean-Paul Boulinguet. - StumbleUpon. - StumbleUpon.
Computer wallpapers / wallbase.cc. - StumbleUpon. - StumbleUpon.
---