Food
Indonesian Ginger Chicken Recipe : Ina Garten
Ingredients 1 cup honey 3/4 cup soy sauce 1/4 cup minced garlic (8 to 12 cloves) 1/2 cup peeled and grated fresh ginger root 2 (3 1/2 pound) chickens, quartered, with backs removed Directions Cook the honey, soy sauce, garlic, and ginger root in a small saucepan over low heat until the honey is melted. Arrange the chicken in 1 layer in a shallow baking pan, skin side down, and pour on the sauce. Cover the pan tightly with aluminum foil.
Crispy-Skinned Chicken a l'Orange Recipe : Melissa d'Arabian
Ingredients Kosher salt and freshly ground black pepper 3 skin-on bone-in chicken breast halves 1 tablespoon vegetable oil 1/2 cup frozen orange juice concentrate 4 tablespoons honey Directions Preheat the oven to 375 degrees F. Liberally salt and pepper the chicken breast halves.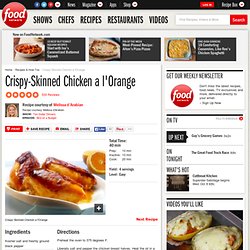 Banana dessert
I have been a fan of Karly and her blog, Buns In My Oven, for quite some time now. So it's pretty darn exciting to have her here sharing a recipe with us today! Do you know what I love the most about Karly? Well not only does she share a ton of yummy recipes... but her photography is always just... well... perfect! I'm pretty sure she could make liver and brussel sprouts look pretty.