Net Neutrality
It could be worse: data caps around the world. Here at Ars we spend a lot of time writing about data caps—those ceilings on how much broadband data you can use before your ISP taps you on the shoulder and tells you it's time to pay more.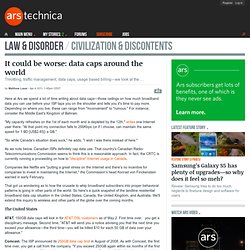 Depending on where you live, these can range from "inconvenient" to "ruinous. " For instance, consider the Middle East's Kingdom of Bahrain. Wireline Costs and Caps: A Few Facts. Bandwidth costs in the U.S. are between 2% and 5% of what we pay for broadband, a very minor part of the cost.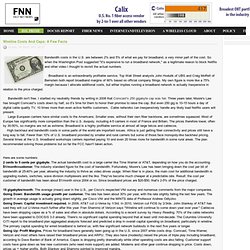 So when the Washington Post suggested "It's expensive to run a broadband network," as a legitimate reason to block Netflix and other video I thought to revisit the actual numbers. Broadband is an extraordinarily profitable service. Dailymotion chiffres clés Monde et France (Mars/Avril 2009) Dailymotion MONDE 59,3 millions de Visiteurs Uniques / Mois(source : comScore World Metrix, Avril 2009) 1,7 milliards de Pages Vues / Mois(source : comScore World Metrix, Avril 2009) 27 Minutes Passées sur le site par utilisateur / Mois(source : comScore World Metrix, Avril 2009)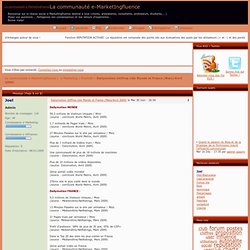 Amazon Enters OTT Video Subscription Business, Takes on Netflix, Hulu | Telecompetitor. Amazon just became a major player in the OTT video subscription business.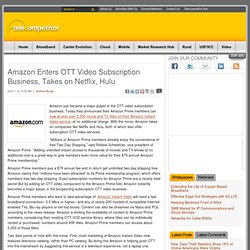 Today they announced their Amazon Prime members can now access over 5,000 movie and TV titles on their Amazon Instant Video service, at no additional charge. With the move, Amazon takes on companies like Netflix and Hulu, both of which also offer subscription OTT video services. "Millions of Amazon Prime members already enjoy the convenience of free Two-Day Shipping," said Robbie Schwietzer, vice president of Amazon Prime. Eric Besson, la neutralité du Net et les autoroutes de l'information. Désengorger les "autoroutes de l'information" en instaurant des "voies prioritaires" : c'est l'une des mesures clés du projet qu'a dévoilé le ministre de l'économie numérique, Eric Besson, mardi 8 février, lors d'un discours aux rencontres parlementaires sur le numérique.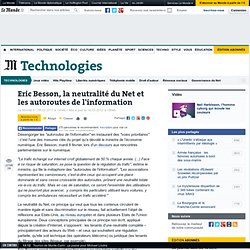 "Le trafic échangé sur Internet croît globalement de 50 % chaque année. (...) Face à ce risque de saturation, se pose la question de la régulation du trafic", estime le ministre, qui file la métaphore des "autoroutes de l'information". "Les associations représentant les camionneurs, c'est-à-dire ceux qui occupent une place dominante et sans cesse croissante des autoroutes, prônent une neutralité totale vis-à-vis du trafic. Mais en cas de saturation, ce seront l'ensemble des utilisateurs qui ne pourront plus avancer, y compris les particuliers utilisant leurs voitures, y compris les ambulances nécessitant un trafic accéléré. " Dailymotion's traffic surges – not being YouTube can be an advantage.
Remember Dailymotion?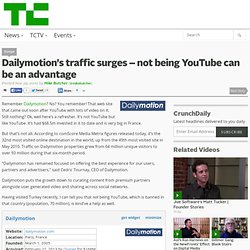 No? You remember! Auひかりにおける大量データ送信制限の開始について | auひかり(auの光ファイバーサービス) 2011年2月1日 auひかりにおける大量データ送信制限の開始について 平素は、auのインターネットサービスauひかりをご利用いただきまして、誠にありがとうございます。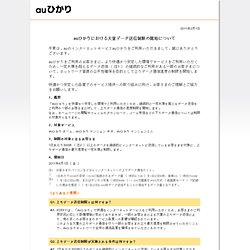 Average Web Page Size Quintuples Since 2003 - web page statistics and survey trends for page size and web objects. Summary: Within the last five years, the size of the average web page has more than tripled, and the number of external objects has more than doubled.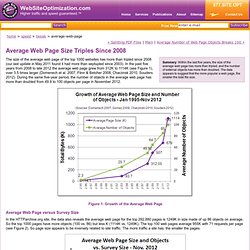 The data appears to suggest that the more popular a web page, the smaller the total file size. The size of the average web page of the top 1000 websites has more than tripled since 2008 (our last update in May 2011 found it had more than septupled since 2003). In the past five years from 2008 to late 2012 the average web page grew from 312K to 1114K (see Figure 1), over 3.5 times larger (Domenech et al. 2007, Flinn & Betcher 2008, Charzinsk 2010, Souders 2012).
---