Lyd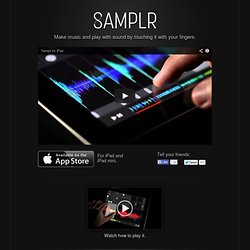 5 sound effects, 6 simultaneous samples (with 8 voices each) and 8 different ways to interact with the sound. All modes are Multi-Touch ready. Slicer mode: Tap on a sample slice to play it. Looper mode: Loop fragments of the sample using two fingers. Bow mode: Loop a small fragment of the sample around your fingers. Tape & Scratch mode: Horizontal position of the finger controls the sample playback speed.
Samplr for iPad · Make music and play with sound by touching it with your fingers.
Samplr: Your Audio Scratchpad
There's no question that the iPad has become a superb tool for artists of all kinds, including professional musicians, who have been spoiled by the presence of robust apps for audio development. As the iPad becomes increasingly powerful, developers are becoming more ambitious with their designs, as evidenced by the realtime sample manipulation app, Samplr. But does their reach exceed their grasp? Like the article? You should subscribe and follow us on twitter.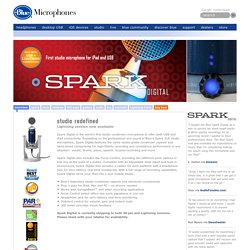 What's the difference between Spark Digital and Yeti or Yeti Pro? Spark Digital is the only mic that directly connects via a 30-pin/Lightning or USB-- an advantage if you want to switch between working on an iPad or a computer. Spark Digital also has a larger diaphragm capsule and only one pattern-- less versatility than Yeti or Yeti Pro, but more fidelity and sensitivity.
Blue Microphones | Spark Digital - Turns Your iPad Into A True Mobile Studio.
The Spark Digital is the first studio-grade condenser microphone available for iPad
As a musician who is also gadget-happy, I've accumulated more guitar input devices for my iPad than I knew what to do with. So, I'm going to share my experiences with the available options to connect to your axe to your iOS device. These allow you to use your iOS device as an amp, or allow you to record your guitar, bass or keyboard on GarageBand for iOS. One of the ways I use them is if I'm going on vacation and want to play my guitar, I'll throw one of these in my guitar case with some headphones and be able to jam without bringing my amp.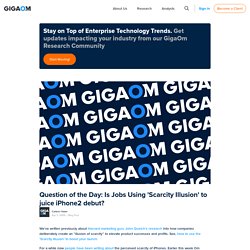 Guitar Jamming: Audio interfaces for your iOS devices — Apple News, Tips and Reviews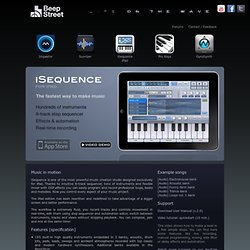 Music in motion iSequence is one of the most powerful music creation studio designed exclusively for iPad. Thanks to intuitive 8-track sequencer, tons of instruments and flexible mixer with DSP effects you can easily program and record profesional loops, beats and melodies. Now you control every aspect of your music project.
iSequence synth
Korg iMS20 synth
Moog Music Inc
Animoog: A Professional Grade Synthesizer for iPad
One of my favorite genres of iPad apps and one that gets very little love, all things considered, is music creation apps. The large touch screen has the potential to be very useful in the studio, as well as a platform for unique instruments and creation interfaces that can't necessarily be recreated elsewhere. If you're interested in electronic music, you've no doubt heard the name Moog, one of the most prolific names in synthesizers.
Looptastic Sound Trends LLC
A 'real' iPad instrument. by Earl C Grey I'm reminded of The Chapman Stick.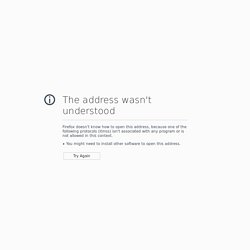 Mugician for iPad on the iTunes App Store
Bloom - Generative Music - Creative apps for the iPhone and iPod touch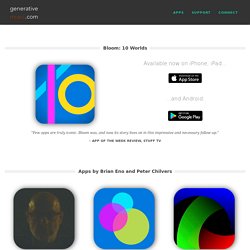 Scape makes music that thinks for itself. From Brian Eno and Peter Chilvers, creators of Bloom, Scape is a new form of album which offers users deep access to its musical elements. These can be endlessly recombined to behave intelligently: reacting to each other, changing mood together, making new sonic spaces. Can machines create original music? Scape is our answer to that question: it employs some of the sounds, processes and compositional rules that we have been using for many years and applies them in fresh combinations, to create new music.
Pro Audio To Go
Auria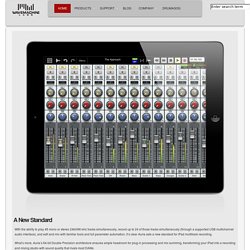 A New Standard With the ability to play 48 mono or stereo 24bit/96 kHz tracks simultaneously, record up to 24 of those tracks simultaneously (through a supported USB multichannel audio interface), and edit and mix with familiar tools and full parameter automation, it's clear Auria sets a new standard for iPad multitrack recording. What's more, Auria's 64-bit Double Precision architecture ensures ample headroom for plug-in processing and mix summing, transforming your iPad into a recording and mixing studio with sound quality that rivals most DAWs. The depth is in the details. Like customizable pan laws.
DAW Remote HD | EUM
iPad - Play and record music with GarageBand.
It's finally arrived – Auria from WaveMachine Labs ($50) offers 48 tracks of simultaneous playback and up to 24-tracks of recording (anyone with info on how to get 24-tracks at one time into an iOS device, please let us know). The effects are top notch and includes VST support. Check out details they've included: Even if you aren't ready to make sound with the iPad in your studio or stage setup, it makes an excellent controller. Midi Studio ($11) is one such controller that let's you send MIDI information via a virtual keyboard, faders, knobs, and various different drum pads. We're really happy the to see velocity sensitivity, modulation, pitch, arpeggiation, as well as custom key scales.
Apps | iOS Recording