CREATIVAS
Inside of Hot Air Balloon - Раздел репортаж. Размеры этого огромного "чудовища" можно оценить по размерам тени человека.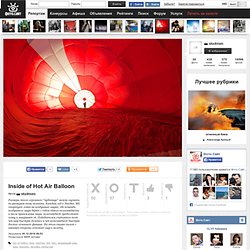 Каждый год в Natchez, MS стартует гонка на воздушных шарах, где команда воздушного шара берет с собой одного велосипедиста и после приземления шара, велосипедист продолжает гонку и завершает её. Победителем считается тот чей шар быстрее долетел и чей велосипедист быстрее достиг основного финиша. На этом снимке пилот с внешней стороны готовит шар к полету. Mark Jenkins // Street Installations. 36 Pictures That Look Photoshopped – But Are Not. The power of Photoshop is amazing, but still it doesn't beat the power of imagination.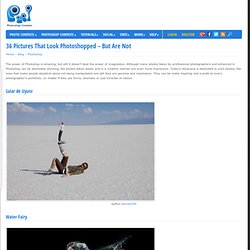 Although many photos taken by professional photographers and enhanced in Photoshop can be absolutely stunning, the photos taken wisely and in a creative manner are even more impressive. Today's showcase is dedicated to such photos, the ones that make people skeptical about not being manipulated and still they are genuine and impressive. They can be really inspiring and a pride to every photographer's portofolio, no matter if they are funny, dramatic or just miracles of nature. Salar de Uyuni Water Fairy. Artistic-Photography-6.jpeg (JPEG Image, 1024x840 pixels) - Scaled (76%) Drums_0003_dw-terry-bozzio_2560.jpg (JPEG Image, 2560x1600 pixels) - Scaled (39%)
Little People – A tiny Street Art Collection (1 of 2) | Street Art Utopia. Still life: Bent objects. UPDATE: The Return of Bent Objects Wires transform these objects from inanimate to hilarious works of art.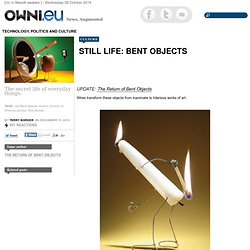 Little polish girl. From 1945 to 2010. Tribute to James Cameron's "The abyss" - How'd They Do That? 10 Best Ad Campaigns "Life's too short for the wrong job". Sidewalk chalk guy. Viewing Entry - 'SOCIETY'
American City of Future (1925) #2. BACK TO THE FUTURE : Irina Werning - Photographer. I love old photos.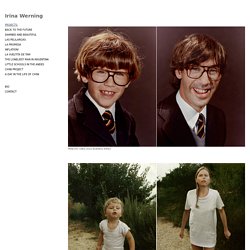 I admit being a nosey photographer. As soon as I step into someone else's house, I start sniffing for them. Most of us are fascinated by their retro look but to me, it's imagining how people would feel and look like if they were to reenact them today… Two years ago, I decided to actually do this. So, with my camera, I started inviting people to go back to their future.. 205826_1206443974_large.jpg (JPEG Image, 1200x699 pixels) - Scaled (84.
Lost Camera - The Bored Ninja – Fun, Interesting, and Cool Stuff on the Internet. Rg_h2o.jpg (JPEG Image, 592x640 pixels) Amazingly Creative Drawing Vs Photography. Lori Nix. Darth-on-cat.jpg (JPEG Image, 450x679 pixels) - Scaled (94%) AgeMaps. Mai474big.jpg (JPEG Image, 1000x666 pixels) - Scaled (96%)
Home-surfing.jpg (JPEG Image, 1186x873 pixels) - Scaled (73%)
---