Travel in asia
Maps: Exploration, Resources, Reserves, and Production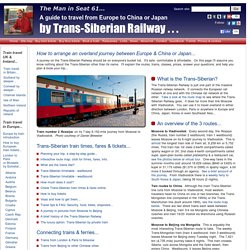 Here is a summary of all the most important trains on the Trans-Siberian Railway. Make sure you read the notes! The times shown are departure times unless it says otherwise, at most stations you can assume the arrival time will be 5 to 15 minutes before departure. There are other slower trains not shown here, simply use the Real Russia online system here to find train times for all possible trains, or to confirm these times. All trains run to Moscow time whilst in Russia, and all Russian timetables quote Moscow time, even though local time can be up to 7 hours ahead of Moscow. So the times shown in the timetable below for all Russian locations are Moscow time, but the times shown for locations in Mongolia and China are local time.
How to plan & book a journey on the Trans-Siberian Railway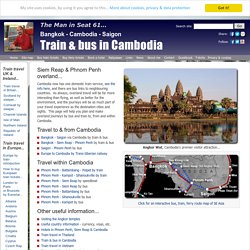 Train & bus travel in Cambodia | Bangkok to Angkor Wat & Phnom Penh, HCMC to Phnom Penh
Visiting Cambodia.... Cambodia currently has no train service, but there are bus links to neighbouring countries. As always, overland travel will be far more interesting than flying, as well as better for the environment, and the journeys will be as much part of your travel experience as the destination cities and sights. This page will help you plan and make overland journeys by bus and train to, from and within Cambodia. International travel to Cambodia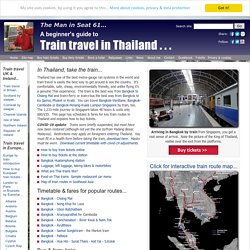 How to use the trains in Thailand... Thailand has one of the best metre-gauge rail systems in the world, and train travel is easily the best way to get around & see the country. Train travel in Thailand is comfortable, safe, cheap, environmentally friendly. And unlike flying, it's a genuine Thai experience making the journey as much a part of your trip as the destination. Taking the train is easily the best way to travel between Bangkok & Chiang Mai, a train+ferry combo is the best way from Bangkok to Ko Samui, and a train+bus combo is the best way from Bangkok to Krabi or Phuket.
Train travel in Thailand | Train times & fares from Bangkok to Chiang Mai, Ko Samui, Phuket, Nong Kai etc.
* = On trains 20 & 21, only one 2nd class sleeper & one 2nd class seats car run to & from Hat Yai. The rest of the train including 1st class sleepers only runs between Kuala Lumpur & Padang Besar. If you're going to or from Hat Yai, stick with the comfy 2nd class sleepers, don't bother with 1st class. 3 = 3rd class seats (Economy). Modern & fairly comfortable, but basic.
How to travel by train Singapore - Kuala Lumpur - Penang - Bangkok