E-commerce
Ces Ecommerçants qui font 15 K€/mois E. Chez Blog-Ecommerce, nous discutons tous les jours avec des ecommerçants de toutes tailles.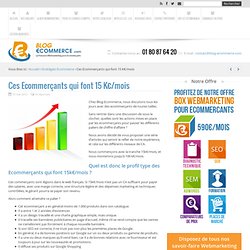 Sans rentrer dans une discussion de sous le clocher, quelles sont les actions mises en place par les ecommerçants pour passer les différents paliers de chiffre d'affaire ? Nous avons décidé de vous proposer une série d'articles qui seront le reflet de notre expérience, et cela sur les différents niveaux de CA. Nous commençons avec la tranche 15k€/mois, et nous monterons jusqu'à 100 k€/mois. Quel est donc le profil type des Ecommerçants qui font 15k€/mois ? Ces commerçants sont légions dans le web français.
The 8 Google Analytics Features Every Site MUST Have Enabled. I'm going to lay it to you straight: Google Analytics doesn't offer any value out of the box.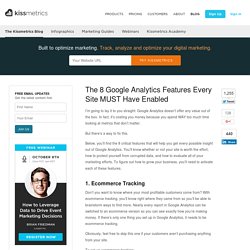 In fact, it's costing you money because you spend WAY too much time looking at metrics that don't matter. But there's a way to fix this. Below, you'll find the 8 critical features that will help you get every possible insight out of Google Analytics. You'll know whether or not your site is worth the effort, how to protect yourself from corrupted data, and how to evaluate all of your marketing efforts. Feb 2012 eCommerce Survey | Tom Robertshaw. Read the latest results in the October 2012 edition of the eCommerce survey The February 2012 eCommerce survey found 33,632 sites in the Alexa Top 1 Million.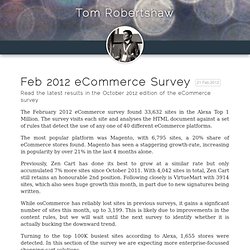 The survey visits each site and analyses the HTML document against a set of rules that detect the use of any one of 40 different eCommerce platforms. The most popular platform was Magento, with 6,795 sites, a 20% share of eCommerce stores found. Magento has seen a staggering growth-rate, increasing in popularity by over 21% in the last 4 months alone.
Previously, Zen Cart has done its best to grow at a similar rate but only accumulated 7% more sites since October 2011. Ecommerce Pictures - Icones, boutons, logos et images gratuites pour le e-commerce. Est-ce que vous êtes client chez vous ? Vous avez passé des mois à peaufiner votre business plan, à négocier avec vos fournisseurs, à développer votre site de ecommerce.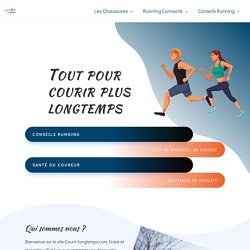 Vous avez pensé à tout ce qui vous passait par la tête. Maintenant, ça y est : votre site est là. Vous attendez le chalant. Alors ? Alors ? Artistick.com: boutique en ligne de stickers et autocollants - I stick art!
Magento
Ecommerce icons. Marketing : Comment calculer le seuil de rentabilité de son site e-commerce et savoir si on va dans le mur. Vous croyez encore que le silence est d'or ?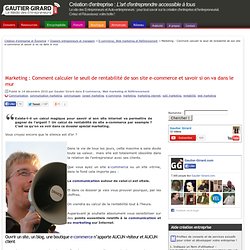 Dans la vie de tous les jours, cette maxime a sans doute toute sa valeur… mais elle est totalement obsolète dans la relation de l'entrepreneur avec ses clients. Que vous ayez un site e-commerce ou un site vitrine, dans le fond cela importe peu : La communication autour de celui-ci est vitale.
---