TOOLS
Home. On April 6, 1994 Gunter Pauli arrived in Tokyo at the invitation of Heitor Gurgulino de Souza, then Rector of the United Nations University who with the support of the Japanese Government decided to create a think tank which was to imagine a competitive business model in a world guided by the Kyoto Protocol.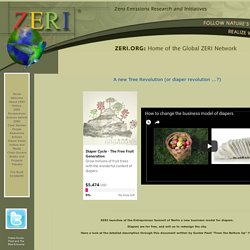 Twenty years later, the philosophy of zero emissions, where waste is converted to revenues, and unused yet widely available resources are cascading into a chain of value generation, can look back at nearly 200 implemented projects, the generation of €4 billion in investments and an impact as a concept that created to an estimated 3 million jobs. The most widely copied project is the farming of mushrooms on coffee (+1,000), the most advanced is the biorefinery with the inauguration of the first and second phase in Porto Torres, Italy in a few months. GiS, GPS, Map Tools.
OSCAR - Open Source Simple Computer for Agriculture in Rural Areas. Our main sources of inspiration for this project.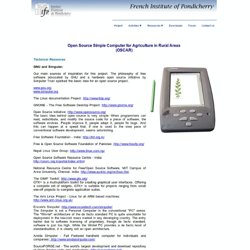 The philosophy of free software advocated by GNU and a hardware open source initiative by Simputer Trust sparked the basic idea for an open source project. www.gnu.org www.simputer.org The Linux documentation Project: Cartographie - Framasoft Logiciels Libres. Logiciels libres ▶ Sciences ▶ 18 logiciels libres Indispensables.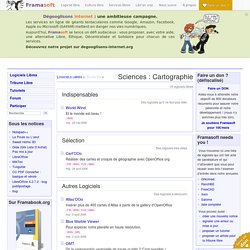 Wild plant collective elder map. Transport - Geolocalisation - Traffic - Voitures. Surface meteorology and Solar Energy - Location.
---