Landing Pages
You don't need to have any technical or design experience to easily create a beautiful online store. Simply choose a stylish ecommerce website design, easily customize your online store, add products, and you're pretty much ready to accept payments. Got a question? Simply ask your very own Support Guru and they'll be happy to help! Whether you already have products, are looking to sell digital goods or are interested in drop shipping — Shopify has a complete solution for you.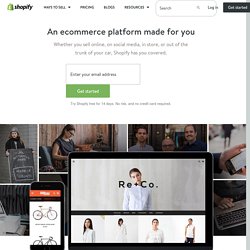 Ever wonder where Warren G likes to get his grub and drink on? Well, LA Community Manager Connie C sat down with the Godfather of G-Funk and found out where you might spot him around LA and the LBC… Warren G: I'm producing a lot of music. I've got a few other things in the pipeline – I'm planning on dropping two EPs and then I'm going to drop a full length, .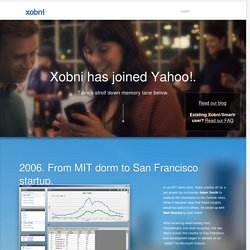 In an MIT dorm room, Xobni started off as a pet project by co-founder Adam Smith to analyze the information in his Outlook inbox. When it became clear that these insights would be useful to others, he joined up with Matt Brezina to start Xobni. After receiving seed funding from YCombinator and other investors, the two drove across the country to San Francisco, and development began in earnest on an "addon" for Microsoft Outlook.
The Leader in CRM and Cloud Computing - salesforce.com UK
7 Elements of a Winning Landing Page
Learn the basics and implement them to see improved conversion rates on your landing pages. If landing pages didn't exist and you were designing one for the very first time, what ingredients would you need to make your new creation a success? On day 1 of our 7 Days to a Better Landing Page series, we're going to take look at the anatomy of a landing page , and we'll define the building blocks of a successful online marketing campaign. The purpose of this first post is to define the types of content that you should consider for your landing pages. As we progress through the week we'll build on this foundation piece by piece. So grab some paper and a pen and sketch out a page for your next campaign as we step through the 7 elements.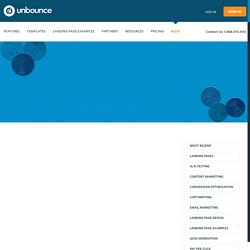 We (at Visual Website Optimizer) are starting a series on the blog where the experts in A/B testing, landing pages, conversion rate optimization will share everything they know about how to increase sales and conversions online. If you know someone whom I can interview or want to contribute a guest post yourself, please shoot me an email at paras@wingify.com. The first interview in this series is by Oli Gardner (@unbounce on Twitter), who is a Co-founder of Unbounce.com – the DIY Landing Page Platform. He created the Unbounce conversion blog to discuss a variety of marketing subjects such as landing pages, conversion centered design, social media conversion and ethical lead capture for business.
Landing Page Best Practices: the definitive guide (with infographics)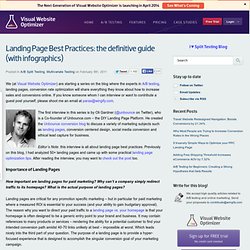 Spark – The Perfect Landing Page. Is a good solution because it distills what is great about your product by giving customers a bird's-eye view of the features and benefits they are getting. TheLanding Landing Page. Is a simple landing page with half or full header video options! Easily customize the landing page with the included instructions.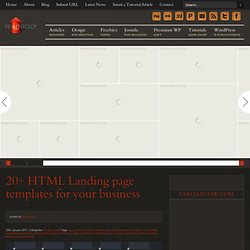 20+ HTML Landing page templates for your business