Linux
Get flash to fully experience Pearltrees
GetDeb is an unofficial project with the mission to provide the latest open source and freeware applications for the current Ubuntu Linux release, in an easy to install manner. The GetDeb repository extends the official repositories by providing latest versions and new applications. Unlike the official packages, GetDeb packages do not have a predefined release schedule - new software versions are provided as they become available from their authors. There is a short and limited testing phase instead of a full testing cycle to ensure packaging quality, however it is less strict than Ubuntu's official requirements.
Understanding and Using File Permissions In Linux and Unix, everything is a file. Directories are files, files are files and devices are files. Devices are usually referred to as a node; however, they are still files. All of the files on a system have permissions that allow or prevent others from viewing, modifying or executing. If the file is of type Directory then it restricts different actions than files and device nodes.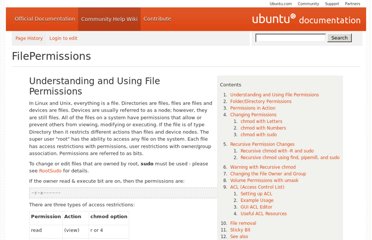 L'astuce suivante vous permettra d'accéder à distance à votre machine de manière graphique. Nous allons utiliser le serveur VNC inclu dans Ubuntu (Vino) en le sécurisant par ssh. Vous pourrez alors accéder à distance à votre PC avec ssh et vnc (Par exemple sous Windows en emportant putty et tvncviewer sur clé USB).
Follow us: Facebook , Twitter , RSS Feed farkess Error 404: No Page Found!
Solaris is Sun Microsystem's Unix-based operating system, the latest incarnation being version 10. For those wishing to pursue a Solaris certification, there are three main certification tracks: The SCSA is Sun's entry-level Solaris administration certification, with the SCNA and the SCSECA being more advanced, specialized certification tracks. The SCSA is a prerequisite for the SCNA (however not the SCSECA) meaning you must become SCSA qualified before you are eligible for the SCNA track.