Ferreemoney
Neil Ferree
Tech Savvy Social SEO Consultant
How Much Does a Website Cost? Planning on starting a website?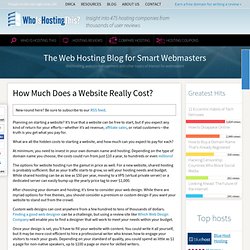 It's true that a website can be free to start, but if you expect any kind of return for your efforts—whether it's ad revenue, affiliate sales, or retail customers—the truth is you get what you pay for. What are all the hidden costs to starting a website, and how much can you expect to pay for each? The Epic Post on Epic Posts: The Ultimate Guide to Writing Epic Conte… Pin by Ferree Money on Best of. Is Google Panda 4.0 the Topical Authority Content Update of 2014? - Case Study. In the last week, many speculations have been made regarding what Panda 4.0 has really impacted in terms of ranking and site.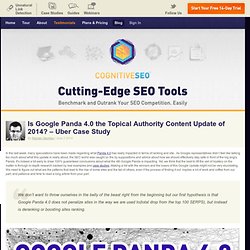 As Google representatives didn't feel like talking too much about what this update is really about, the SEO world was caught on fire by suppositions and advice about how we should effectively stay safe in front of the big angry Panda. It's indeed a bit early to draw 100% guaranteed conclusions about what the 4th Google Panda is impacting. Yet, we think that the best to lift the veil of mystery on the matter is through in-depth research backed by real examples and case studies. Making a list with the winners and the losers of this Google Update might not be very elucidating. We need to figure out what are the patterns that lead to the rise of some sites and the fall of others, even if the process of finding it out implies a lot of work and coffee from our part, and patience and time to read a long article from your part.
Pin by Ferree Money on Best of. Pin by Ferree Money on Content Marketing. FerreeMoney : The Chronological History of... GeoCities - Wikipedia, the free encyclopedia. Yahoo!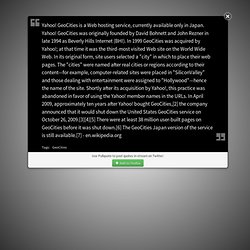 GeoCities is a Web hosting service, currently available only in Japan. Yahoo! GeoCities was originally founded by David Bohnett and John Rezner in late 1994 as Beverly Hills Internet (BHI). In 1999 GeoCities was acquired by Yahoo! ; at that time it was the third-most visited Web site on the World Wide Web. FerreeMoney : Twitter Audience Measurement... PeekAnalytics - Unparalleled Twitter Demographics. Twitter Audience Measurement PeekAnalytics delivers enterprise-class Twitter analytics that help marketers understand their social consumers.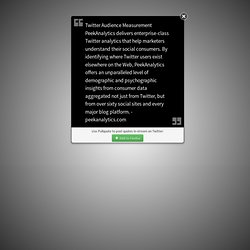 By identifying where Twitter users exist elsewhere on the Web, PeekAnalytics offers an unparalleled level of demographic and psychographic insights from consumer data aggregated not just from Twitter, but from over sixty social sites and every major blog platform. - peekanalytics.com. Pin by Ferree Money on Content Marketing. Pinterest. Pin by Ferree Money on Best of. 101 Best Email Subject Lines | Free PDF Download. We send email to millions of people… every week.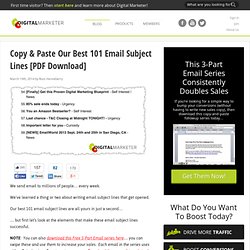 We've learned a thing or two about writing email subject lines that get opened. Our best 101 email subject lines are all yours in just a second… … but first let's look at the elements that make these email subject lines successful. NOTE: You can also download this Free 3-Part Email series here… you can swipe these and use them to increase your sales. Each email in the series uses either Gain, Logic or Fear to get a response.
10 Social Media Blogs You Should Follow. Pin by Ferree Money on Best of. Pin by Ferree Money on Google Plus. SocialCompass - Promo Video. Pin by Ferree Money on Content Marketing. The Sponsorship Marketplace™ Pin by Ferree Money on Google Plus. Pin by Ferree Money on Best of. Pin by Ferree Money on iMaps. The Rocket Science Of How Web Links Pass Authority - gifographic. Pin by Ferree Money on Best of. Social Media Marketing Dashboard in Chrome. Making it easier to manage pages on your blog. Adding pages to your blog can be a great way to organize content - like 'About me' or 'Advertise' sections.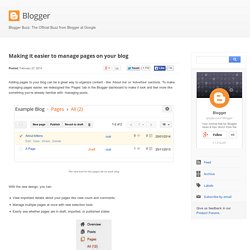 To make managing pages easier, we redesigned the 'Pages' tab in the Blogger dashboard to make it look and feel more like something you're already familiar with: managing posts. With the new design, you can:View important details about your pages like view count and commentsManage multiple pages at once with new selection toolsEasily see whether pages are in draft, imported, or published states Managing the Pages Widgets Managing the Pages Widgets for your blog is now done through the Layouts UI. Pin by Ferree Money on Social Media Marketing. Criminal Defense Lawyers. Pin by Ferree Money on Google Plus. Pin by Ferree Money on Kannaway Hemp Oil. Steven M. Sweat. Pin by Ferree Money on Google Plus Pro Tips. Hanging With 10,000 Friends! Pin by Ferree Money on Kannaway Hemp Oil. Pin by Ferree Money on Content Marketing. Pin by Ferree Money on Kannaway HempOil. Neil Ferree's Vizify Bio | Overview. Pin by Ferree Money on Best of. Google Plus Local Listing for #FerreeMoney using the ... | Google Plus.
Famous Failures that #FerreeMoney found on Google+ post by ... | Best… Backlinks for your Blog. 15 Google+ Tips to sink your teeth and mouse in too for ... | Google … Neil Ferree - Web 2.0 Properties. Ferreemoney Neil Ferree Your Social Sphere of Influence is Driven by your Social Link Wheel.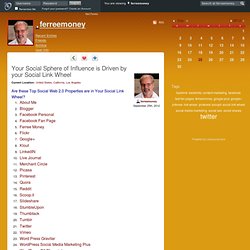 Social SEO. The 1st Supersonic Private Jet coming soon ... | Social Media Marketi… Quora in Your Earned Media Efforts Spin Sucks. By Gini Dietrich Last month, a question on Quora appeared: What was it like to help develop Paper?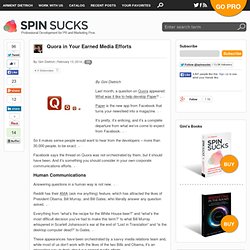 + Top 1% Most Viewed Decks on SlideShare in 2013 ... | Social Local Vid… Build Your Authority, Not Your Author Rank. It's been a frustrating few weeks of discussion about Authorship and Author Rank.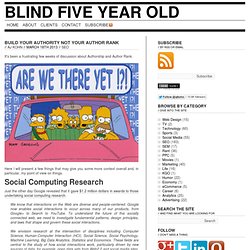 Here I will present a few things that may give you some more context overall and, in particular, my point of view on things. Social Computing Research.
Social Shares is The New SEO. Get Ranked on Google. Social Media Marketing Plus. Content Marketing 2013. Google+ Social SEO Scoop.it. Content Marketing Strategies 2013. Law Firms on Google+ Social Signals Flickr.
---
ferreemoney Jul 27 2011

thx -just found it this AM. looks very cool. need to spend time behind the wheel and see if I can connect the dots.
---