Mutual Funds
The American Association of Individual Investors. Asset Allocation Models | AAII: The American Association of Individual Investors. Our asset allocation area is an unbiased educational resource for anyone interested in asset allocation and portfolio building.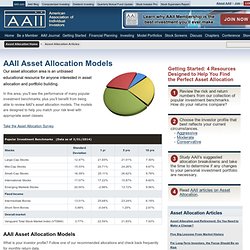 In this area, you'll see the performance of many popular investment benchmarks; plus you'll benefit from being able to review AAII's asset allocation models. The models are designed to help you match your risk level with appropriate asset classes. Take the Asset Allocation Survey. AAII Asset Allocation Models. Morningstar Stock, Mutual Fund, Hedge Fund, ETF Investment Research. Mutual funds India, nav mutual, sip mutual fund, Life Insurance India, Health Insurance India, Portfolio management Services(PMS) India, Real estate investments in India, Company Fixed Deposits.
Vanguard - Mutual funds, IRAs, ETFs, 401(k) plans, and more.
Invesments
BigCharts - Symbol Look-up. Mutual Fund Search Engine, Jobs, News, Regulatory and Resources.
---