Life
Lifehacks. Stepcase Lifehack : Productivity, Getting Things Done and Lifeha. 50 Tricks to Get Things Done Faster, Better, and More Easily - S. We all want to get stuff done, whether it's the work we have to do so we can get on with what we want to do, or indeed, the projects we feel are our purpose in life.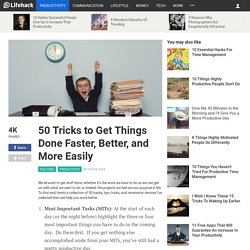 To that end, here's a collection of 50 hacks, tips, tricks, and mnemonic devices I've collected that can help you work better. Most Important Tasks (MITs): At the start of each day (or the night before) highlight the three or four most important things you have to do in the coming day. Do them first. If you get nothing else accomplished aside from your MITs, you've still had a pretty productive day.Big Rocks: The big projects you're working on at any given moment.
Empresarismo
Clifton StrengthsFinder.
---